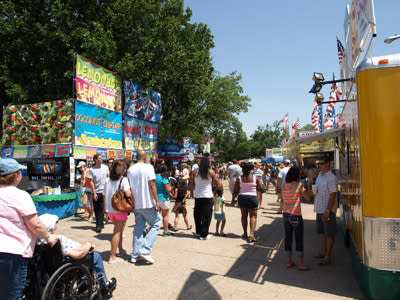 Tapping my toes and nodding my head to the sounds of salsa, jazz, rock and Latin music, I spent a good part of this June afternoon sipping sweet tea under the shade of a huge oak tree during the Smoky Hill River Festival in Salina. As I reached to admire my newly-purchased treasure – a sculptured container designed from cream, brown and green handmade paper – that I found at the craft show, drums and other hand percussion instruments begin beating an energetic rhythm nearby, beckoning me to get up and dance. Ahhh, this is the life![[endteaser]]
The festival's brochure cover states this is "A Festival Like None Other!" and I heartily agree! So here are my top 10 favorite things – in no particular order - about this extraordinary arts adventure:
Listening to all types of music including big band, bluegrass, rhythm and blues, pop, folk, bagpipe, show tunes, gospel, symphony, and even fife and drum on four, yes four, stages.
Watching artists at work creating glass marbles spun from molten glass, pens turned from wood, and adorable fish from styrofoam, paper mache and paint.
Enjoying other entertainment such as the zany improvisation of a juggler performing physical comedy, a puppet theater, and African acrobats tumbling to a benga beat.
Seeing the pride on kids' faces as they show their parents original pieces of artwork - created by a Festival artist or craftsperson - that they chose all by themselves and purchased for $5 or less.
Admiring the work of the Fine Art Show exhibitors where I discovered polished hand-blown glass, whimsical watercolor paintings, natural light photography mounted on aluminum, contemporary metal wall sculptures and pop art paintings of animals.
Seeing art everywhere, including a fabric dragon enveloping a bridge, colorful masks peering through tree branches, robot groundskeepers at work on the lawn, and a mural painted on the riverbank grass.
Walking through the Four Rivers Craft Show deciding whether to purchase natural bath soaps, functional ceramic pottery, recycled plastic bag art, batik clothing, holiday folk art or a ceramic water fountain.
Hearing the squeals of kids building designs with Legos®, getting their faces painted, and creating their own art pieces from popsicle sticks, yarn or paper.
Noticing, really noticing, for the first time art I'd never paid attention to before, like the colorful designs on the signs identifying each food vendor.
Sharing new discoveries  - "Did you see the woman who sculpts glass beads?" – with my friends under the shade tree.
What are your favorite things about the Smoky Hills River Festival?
Cecilia Harris is a professional freelance writer from Abilene who enjoys discovering fascinating attractions, events and people that reflect the arts, culture and heritage found in Kansas. She has been a longtime regular contributor to KANSAS! magazine and also has written for such publications as Midwest Living, Sunflower Living, Kansas Heritage and The Greyhound Review to inspire others to explore and appreciate her home state. She also has authored two books, "Historic Homes of Abilene" and "Abilene's Carousel."