Not far from the Kansas City Metro area, nestled in the southeastern part of the state is the Somerset Wine Trail of Miami County, Kansas. Often recognized for its orchards and popular cider attractions, a new show is hitting the area with a pop of the cork![[endteaser]]
My friend Carrie (whom I consider to be a wine expert) and I set out one Saturday afternoon for the trail. Leaving from Lawrence, the drive was beautiful through lush farmland along Highway 68, toward Paola.
The Somerset Wine Trail is a collection of four wineries and vineyards no more than six miles apart. Each winery has its own story to tell, flavors of wine and an ambiance that is indicative of its creators. Attracted to the area, many of the owners note that  Miami County is situated far enough south that its soils tend to yield more growth and the temperatures offer a slightly extended growing season.
Good news for aspiring wineries, even better news for wine lovers!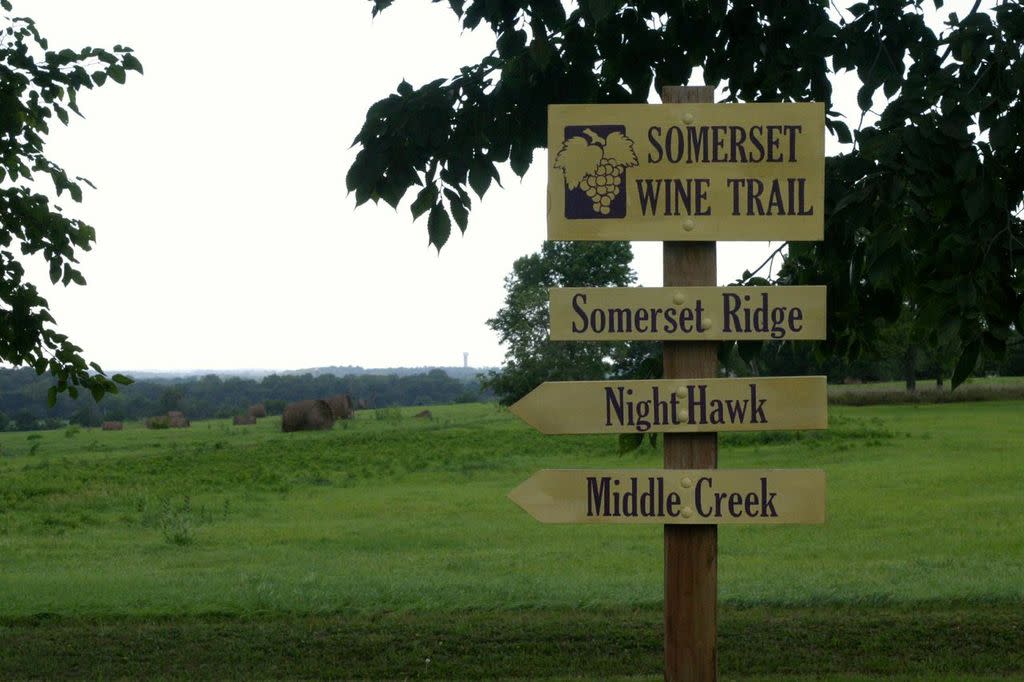 Somerset Ridge
We made Somerset Ridge our first stop where we tasted a handful of their 21 wines, many award-winning. Owners Dennis and Cindy Reynolds are often found on the tasting floor sharing about their wines, the vineyard and Miami County.  Their varieties range from dry whites, to semi-sweet reds to dessert wines-as seen by the fields of grapes!
Also a buzz at Somerset Ridge is the weekend's special event-Wines & Canines. As folks sip their wine and enjoy the peaceful scenery, pups are playing around in kiddie pools or catching some shade underneath the tables. Other events include live music, visiting food trucks (we had just missed the wood-fired pizza!) and harvesting parties.
As the first winery and vineyard in the area, Dennis and Cindy have become patriarchs of wine in the area, helping to spearhead the Somerset Wine Trail. Their enthusiasm is infectious and their wines delicious, almost making me wonder if I am in Napa and not Kansas.
NightHawk Winery
Just a little less than 6 miles down the road is NightHawk Winery-our next stop. As we pulled up I was certain we weren't in Kansas anymore, the entire setting reminded me of a European countryside; needless to say, it made for a nice spot to enjoy a glass of wine. 
Don and Cathy Warring own and operate NightHawk Winery next to their unique straw and aluminum can home. Their petite tasting room is an extension of their personalities as well as their appreciation of the land. Their artisanal wines have been in production since 2010 offering fresh blends and varieties, including desert wines and full-bodied reds. Much like its counterparts, NightHawk offers special events featuring live music, wine dinners and even yoga!
Don gives tasters a tour of the vines, picking grapes from the various rows and offering an "organic" tasting of sorts. This kind of experience helps novices learn more about the wine, but also what inspires Cathy when she's making it. 
White Wind Farms
White Wind is considered the baby of the bunch, having only opened last year; their collection of wines might be smaller but are no less delicious.
Located on Highway 68, White Wind is perched at the top of the hill offering a beautiful view of Miami County. Owner Gilbert Hermes brings years of working with his nursery, Emerald Prairie, to the winery where the passion of his neighbors moved him to try his hand at wine.
The four varieties are delectable and punctuated with unique labels imitating the creatures they come across at the farm (like the owl or raccoon). And among the special events, we are a weekend early in meeting the artist who designed the labels, an exclusive event that will be sure to bring plenty of tasters and art lovers.
Since we visited White Wind Farms at the end of tour, we splurged for the "Picnic Basket" featuring a perfect array of munchies to go with our glass of wine and the pair of Adirondack chairs outside.  
Middle Creek
Also on the Wine Trail is Middle Creek Winery (it was unfortunately not open during our visit). Its barn-turned-tasting room is well worth a stop during a future visit. 
The Trolley
New to the Wine Trail is the Miami County Trolley Available to rent, the trolley has become a popular way to see the Wine Trail with friends.
The Somerset Wine Trail has become to perfect staycation for wine lovers in Kansas. Bravo to the vineyards and maybe we'll see you soon at harvest!
Cheers!

Katy Ibsen is a writer and editor living in Lawrence. When she's not blogging, writing or serving her community, she's embarking on the outdoor life among Kansas' picturesque landscape.