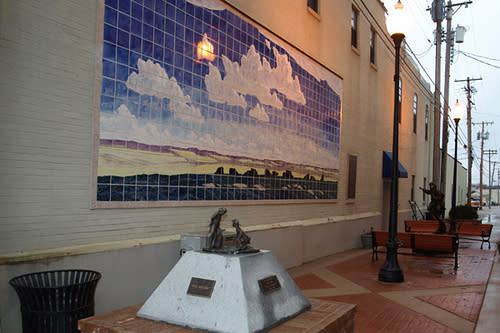 I know a secret about El Dorado. Actually, I know several secrets, and they all involve works of art. One lies in an alley, another sits on the sidewalk, and one's in a back room. Since it's not hush-hush, however, I'll first reveal the best-kept secret of all…it's the Coutts Memorial Museum of Art. Did you know it houses one of the largest collections in the Midwest of bronze sculptures by Frederic Remington? Or that is has the largest collected works in the country by world-renowned painters Americo, Eva, and A.B. Makk? The artwork here is diverse; you'll find Renoir, Degas, Thomas Hart Benton, and Charles M. Russell. My favorite exhibit features the Prairie Print Makers, a group organized in 1930 to promote art in Kansas. [[endteaser]]

If you promise to tell, I'll let you in on the Coutts' top secret plan…the galleries will have a new look to be revealed in June, so schedule your visit during the summer. And by then, a new elevator currently being installed will allow easier access to the museum's three floors in the historic bank building.

The warm days also will be the perfect time to view the gigantic, tile mosaic mural of the Flint Hills adorning the outside wall of a historic building in what's called, appropriately, Sculpture Alley, right next to the Coutts. The 10x25-foot scene, two sculptures, and a painting make what once was a barren space between two buildings an inviting place to relax.Even the sidewalks here hold the unexpected. Walking down El Dorado's Main Street, I found a beautiful sculpture of a little girl reading a book. On down the block, I looked up to see a hawk captured in flight. You'll have fun spotting all 16 – count them, that's 16 – pieces of art that line the streets, and be sure to check out the four private art galleries along the way.

In the back room of The Circle Gallery is The Iron Horse Concert Hall, where artsy guitars line the walls. Tune in on a Saturday night to hear a Kansas musician or group perform folk, pop rock, blues, classical, jazz, or ragtime on the acoustic guitar, piano, banjo, fiddle, or hammered dulcimer.

It's no wonder El Dorado is known as The City of The Arts. What secret art can be found in your community?



Cecilia Harris is a professional freelance writer from Abilene who enjoys discovering fascinating attractions, events and people that reflect the arts, culture and heritage found in Kansas. She has been a longtime regular contributor to KANSAS! magazine and also has written for such publications as Midwest Living, Sunflower Living, Kansas Heritage and The Greyhound Review to inspire others to explore and appreciate her home state. She also has authored two books, "Historic Homes of Abilene" and "Abilene's Carousel."