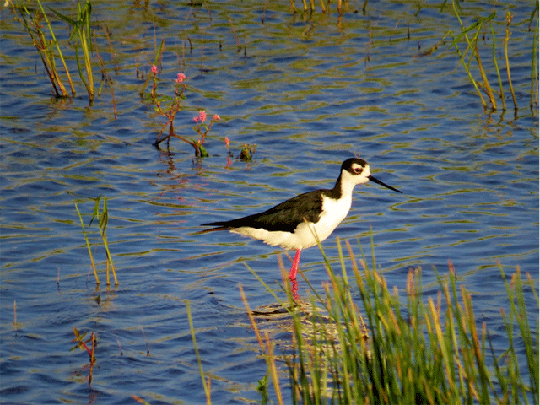 When pioneers traveled the Santa Fe Trail, they considered traveling through Southwest Kansas to be among the most difficult parts of the journey. Times have changed since then, but today many birders and wildlife-viewing enthusiasts still consider the southwest corner of the state to be the most challenging place to visit. 
Sure, there are well-known gems like the Cimarron National Grasslands and Clark and Meade State Lakes. And people come from all over the world to try their luck at seeing a rare Lesser Prairie-Chicken on the Kansas prairie. But there is so much more to the experience. 
If you're up for a bit of adventure and a world-class birding sensation, these five secrets will ignite your enthusiasm for Southwest Kansas birding and wildlife-watching:
5) Look for Water in the Desert
It may sound obvious, but it can't be overstated: Wildlife loves water! In Southwest Kansas, there is less water than in other parts of the state, so the water that does exist is sure to be a wildlife hotspot. 
There are a few fishing holes in Southwest Kansas. You're certain to find birds and wildlife at Meade State Lake, Kiowa State Fishing Lake and the fishing ponds on the Cimarron National Grasslands. Places like Arkalon Park in Liberal and Frazier Park in Ulysses do innovative things with their wastewater, and these parks have become two of my favorite places to visit. You can find a few sandpits along the Arkansas River watershed – like Sam's Pond in Syracuse. These attract wildlife, like Bald Eagles, Ospreys and Western Grebes, that have no other place to stop in dry country. Visits to these permanent bodies of water in Southwest Kansas never disappoint, and you may be surprised to learn which kind of birding is often the best – aquatic birding. 
Most towns and feedlots in Southwest Kansas have no shortage of a secret wildlife treasure – sewage. Where there is sewage, there is bird food and salamander habitat. And where there are birds and salamanders, there are larger predatory birds like Peregrine Falcons and Great Blue Herons patrolling. At any given time, there is likely to be more wildlife packed around a wastewater treatment lagoon in southwestern Kansas than anywhere else nearby. Geese, Ducks, Shorebirds, Herons, Cormorants, Gulls, Terns, Pipits, Swallows and more are frequently seen around wastewater ponds. These birds can be seen in mesmerizing concentrations because sewer ponds might be the only water source within 50 miles! The birding is almost never bad at a large wastewater lagoon; in fact, it's often thrilling. It's best to not think about the source and just enjoy the birds, just like the sign at the Elkhart Wastewater Treatment Plant suggests. It's never OK to trespass at a sewer pond or feedlot pond, but many birds can be viewed from the road or with permission. 
4) Take a Hike
Although any trip to Southwest Kansas is sure to include many miles on the road, the fourth biggest secret to finding birds and wildlife here is to enjoy some of those miles on foot! You see more wildlife when you're outside of a vehicle than you can from inside of one – and this rings especially true in the southwest. When you're on foot, you hear things. You smell things. You feel things. In a car, you only see things and maybe catch that whiff of the feedlots. 
Within what may seem like endless miles of wheat country hide several secrets you'll never have the pleasure of knowing unless you walk around them. Finding notable hiking in Southwest Kansas may seem difficult, but it doesn't have to be. The list of public places where one can hike is longer than you may realize. A few of my favorite places to hike are the Arkansas River trails at the Syracuse City Park, the Arkansas River at Cimarron Crossing Park (in Cimarron), around Ford and Clark County State Lakes, along the Cimarron River in Morton County, and the Manter Dam Recreation Area in Stanton County.  There are also designated trails at Scott and Meade State Parks. 
It's easy to find beauty, peace and fulfillment while hiking these places without going anywhere more exotic. John Muir famously stated that, "In every walk with nature one receives far more than one seeks." Hiking in the solitude of Southwest Kansas exemplifies this quote brilliantly, and the possibility for discovery here is a thrilling, added bonus for hikers. These wild areas, and a long list of others in western Kansas just like them, are known for producing vagrant bird sightings and are the best way to also enjoy the other native wildlife and wildflowers. Enjoy it, but use caution – walking around rocky cliffs (yes, cliffs!) and patches of Cholla cactus (yes, cactus!) can turn painful if you don't watch your step!
You can never go wrong with the relaxed pace of a hike! And don't limit yourself to the paths. Some dirt roads in Southwest Kansas are just as dreamy. A trip to Southwest Kansas without any hiking is a trip wasted.
3) Go into Town
The third secret to birding in Southwest Kansas? To check the largest diversity of birds off your list, you should always visit … town? Yes, town. In the Great American Desert of Southwest Kansas, cities of all sizes are often the only places that include clusters of trees, and that's why they're an oasis for migrating birds. During the peak of songbird migration, towns offer the largest "forests" that migrating birds see for hundreds of miles. If the conditions are right, in a single morning a birder may find dozens of species of Warblers, Vireos, Flycatchers, Grosbeaks and Orioles in the middle of Southwest Kansas' largest towns. Even casual observers often note the myriad of Collared-Doves, Western Kingbirds and Great-tailed Grackles. You may also notice that nearly every town has Turkey Vultures roosting on the water tower every night, spring through fall. Turkey Vultures love the city life, too!
Some of the best places to go birding are city parks, and nearly every town has one – often with large, densely planted trees. City parks in Ashland, Meade, Sublette, Johnson City, Deerfield and Kinsley (to name a few) are great places to observe both migrant and resident birds. In Garden City, the superb Lee Richardson Zoo is a fun place to see both resident animals and wild birds, like the nesting Black-Crowned Night Heron. Cities like Elkhart, Jetmore and Garden City often have large cemeteries with mature trees that are teeming with birds and wildlife. The junipers and pines attract birds migrating southeast from the Rocky Mountains, such as the Red-Breasted Nuthatch and rarities like Red Crossbills. 
Finally, Southwest Kansas is the most exciting place in the state to observe the hummingbird migration, which begins in late summer. Five different species of hummingbird regularly pass through here, and they're most easily observed in towns. That's why it can seem like the wildlife flocks to the humans here, instead of the other way around. Larned, Dodge City, Garden City, Satanta and Elkhart are renowned by birders for their hummingbird migrations, and most municipalities have gardens or birdfeeders that often attract migrating hummingbirds. 
If you're seeking nature in Southwest Kansas and traveling for more than a day trip, Fort's Cedar View Bed & Breakfast in Ulysses is fun. In addition to spectacular breakfast and accommodations, you can walk the property to find nesting Great Horned Owls. And in the winter, you may see rarities like the Western Scrub-Jay and Curve-Billed Thrasher.
Why not take the time to stop in town and bring your binoculars? You have to get gas somewhere anyway. Make each stop a birding adventure!
2) Take Me to the Beach
Playa lakes are the second secret to birding in Southwest Kansas. Many people, even those who have lived around playa lakes for the entire lives, have never heard of them. "Playa" is the Spanish word for beach/shore. Playa lakes, also known as mud holes or buffalo wallows, provide critical wildlife habitat and some of the most exciting birding in Kansas. 
Playas are usually small, shallow natural wetlands that serve as recharging and purification zones for the High Plains' Ogallala Aquifer. In Southwest Kansas, many playas hold water only once every 10 years or more, adding the thrill of rarity to the experience. Many playas are along rural roads in agricultural areas, and there are a few lesser-known public areas with playas, including Wild Turkey, Stein and Herron Playa Wildlife Areas in Ford County. No matter where you find a playa, you are sure to find wildlife nearby! 
During annual migration, more than 20 species of shorebirds may stop at a playa during their lengthy journey. As the shorebirds depart, extensive flocks of waterfowl and geese move in to spend the winter. Huge flocks of Black Terns comically yet elegantly feed on insects in late spring and early fall, and Sandhill Cranes use the playas as a safe spot to rest. When playas begin holding water for longer periods, amphibians abound, and the Black-Crowned Night-Heron, White-Faced Ibis and other wading birds arrive to feast. 
In early September, one of the greatest yet least known wildlife spectacles takes center stage at playas across Southwest Kansas when hundreds of migrating Swainson's Hawks arrive in large flocks. The sight of hundreds of majestic raptors on the ground and in the air around a small playa is not soon forgotten! So much wildlife can be found around an active playa, it's worthwhile to enjoy, especially in areas that have endured rainy seasons. In dryer times, the playas that do have water will concentrate wildlife. Many species of birds can be appreciated from public roads, but most playas are only known by locals or explorers who seek them out.
1) Catch the Late Show
You often hear that, for the best birding, you should be out in the field (unpleasantly) early. While there are great sights to see at dawn in Southwest Kansas, some could argue the best show here cranks up at dusk! The sunsets in Southwest Kansas are awe-inspiring by themselves. Then, when you notice the wildlife that is also part of the show, you may truly have a Zen experience! And in Southwest Kansas, CRP grasslands along any quiet county road are the premier place to enjoy it. 
During any season, you're likely to see or hear Coyotes, Jackrabbits, White-Tail and Mule Deer – and perhaps a cackling Pheasant or a gobbling Wild Turkey. If you're lucky and have a quick eye, you may see my favorite critter – the Kangaroo Rat – hopping across the road in sandy areas. 
In winter, you can observe the prairie's changing of the guards. As the Northern Harriers and other hawks go to roost, Short-Eared and Barn Owls begin cruising the fields to hunt rodents on the night shift. This is also a good time to keep an eye on the sky for the thousands of Ducks, Geese, Blackbirds and other birds flying to their roosts. 
In spring and summer, the show takes on a different feel. The sound of a distant Prairie Chicken will probably make you chuckle if you've never heard its pops or gobbles. The sounds of songbirds intensify throughout spring, peaking in late May and June, and various snakes, lizards, turtles and frogs begin crossing the roads at late summer twilight, all the while Common Nighthawks zip overhead with strong wing beats. Many prairie birds found here have adapted displays to stand out on the treeless plains. Birds like the Cassin's Sparrow and Lark Bunting sing their most beautiful melodies while flying high and fluttering slowly back to Earth – a display called a skylark. Skylarking is most often seen and heard around dusk and continues into the night, especially when the moon is bright. The abundant Meadowlarks and Grasshopper Sparrows may have a drab appearance, but their lovely songs add to the perfection of a prairie summer sunset. 
By autumn, the Hawks reappear, the bird melodies taper off, and the crisp air paired with the colors of the season create some of the finest sunsets of the year. Migrating Sandhill Cranes often stop in the southwest, bringing large-flock trumpeting over the Kansas prairie at dusk that is truly inspiring. 
If you experience this top secret of Southwest Kansas birding, you're in one of the best places in Kansas to gaze at the stars. It doesn't get much better than this.