Lucas and its neighbors brim with fanciful art. Tour a sculpture garden world-famous for its weirdness, and make a pit stop at one of the artsiest public restrooms ever.
LUCAS
This farm community of about 400 was designated the Grassroots Art Capital of Kansas. And why not? The world's largest souvenir travel plate welcomes you to town, and Civil War veteran S.P. Dinsmoor left a strange legacy here, building a cabin from concrete and limestone and surrounding it with bizarre sculptures full of political and religious imagery. Tour Dinsmoor's Garden of Eden to get the full story, including a look (if you dare) at his not-so-well-preserved body, displayed (per his wishes) in a concrete coffin with a glass lid.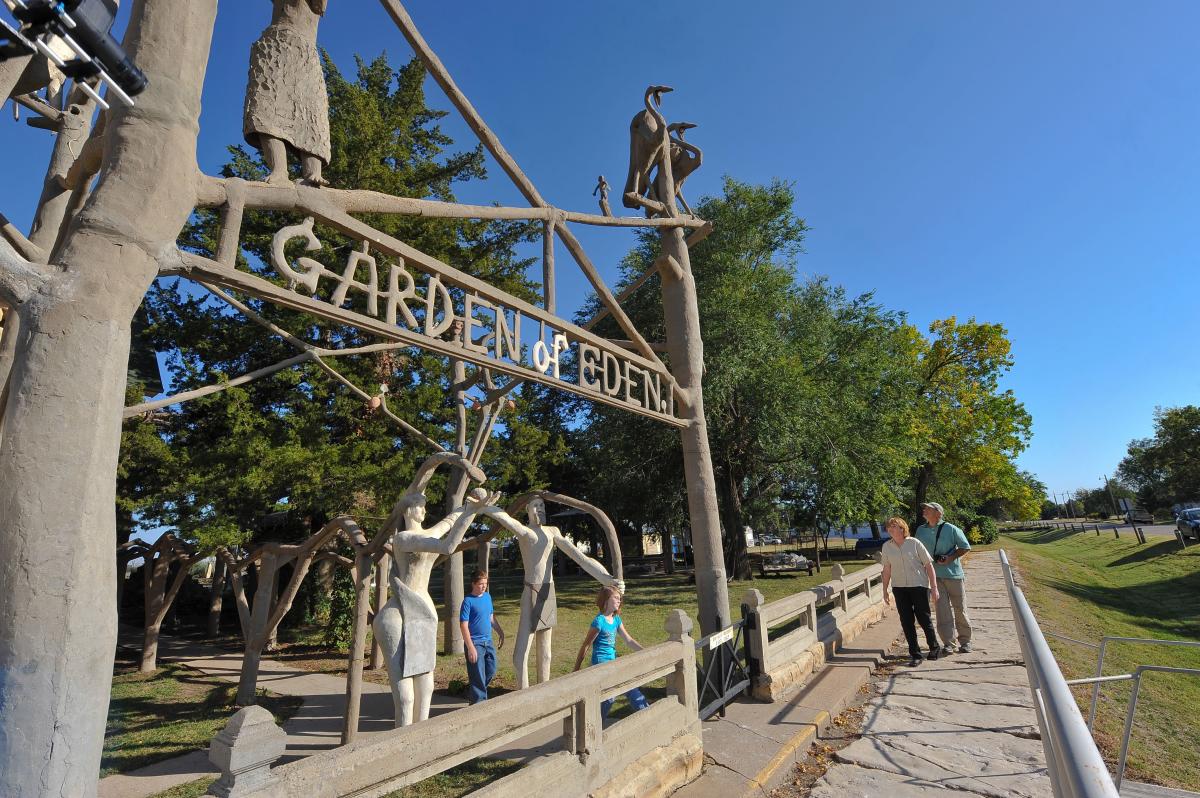 Credit: KDWPT
Elsewhere in Lucas, the Grassroots Art Center exhibits sculptures made from found materials, while a mural honors the town's Czech heritage. Even the town's public bathroom is a work of art. Toilet-shaped Bowl Plaza features elaborate mosaic tile work inside and out. It was recently awarded Quirkiest Toilet Experience by the International Toilet Tourism Awards.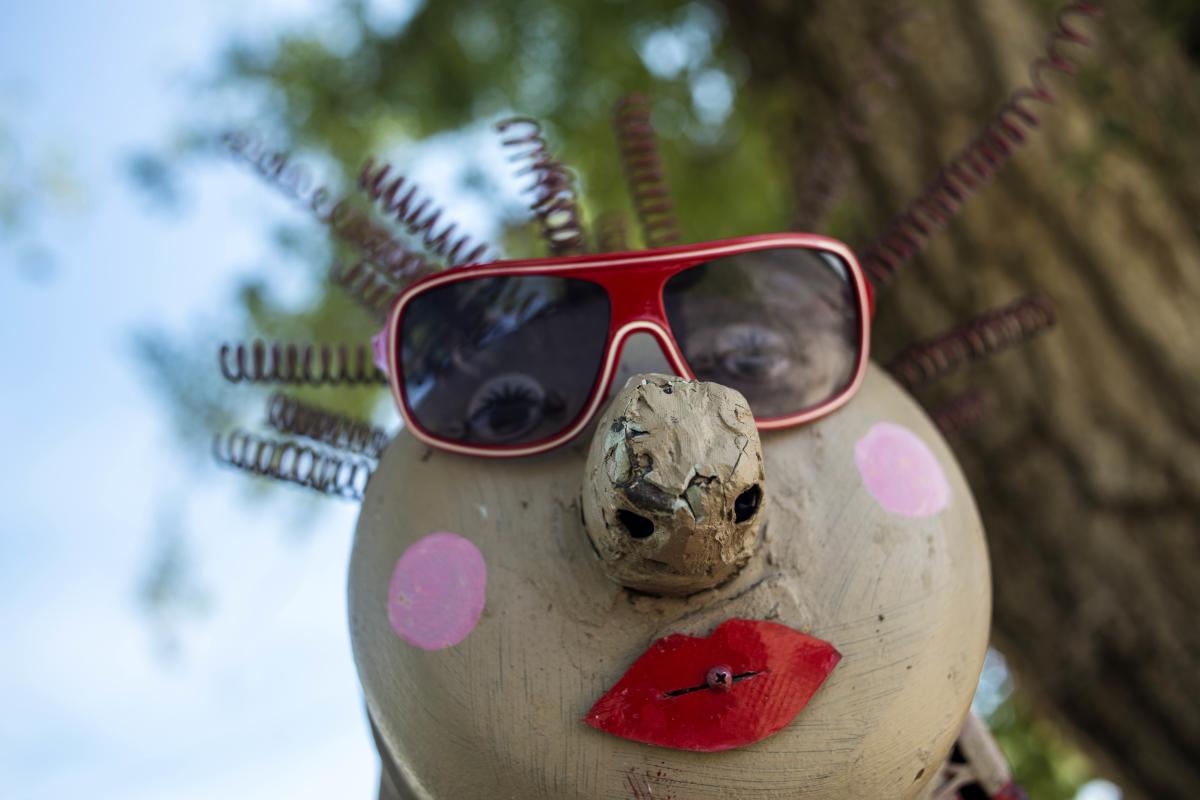 Credit: Doug Stremel
Four More to Explore
CONCORDIA
Discover a little-known era in U.S. history at the National Orphan Train Complex, which recalls the placement of abandoned New York City children in homes along rail lines across the country. The town's Whole Wall Mural incorporates state symbols (sunflowers, trains, miners) on its 140-foot-long surface.
MARYSVILLE
Brake for Black Squirrels on Parade—21 painted fiberglass figures that decorate the town. You may spot real-life versions of the relatively rare coal black critters. Also see the Pony Express Barn and three interactive glass-tile murals at Pony Express Plaza.
SALINA
The art-centric downtown offers a sculpture tour, independent shops and restaurants, and shows at the historic Stiefel Theatre for the Performing Arts. Check out the works of more Kansas artists (plus indie films) at the Salina Art Center.
BELLEVILLE
Be fascinated by the tiny mechanisms at work in the Boyer Museum of Animated Carvings. Admire downtown's Art Deco buildings, such as the Republic County Courthouse and Blair Theatre. There's shopping downtown, too.
Local Flavor
On a swing through Salina, stop for kimchi and the many meat and noodle dishes at Seoul USA Korean Restaurant. Or grab a sack of sliders from The Cozy Inn. In business since 1922, you can dine outside on vintage-style seating. For old-world Italian, order the house-made meatballs or specialty pizza at Martinelli's Little Italy.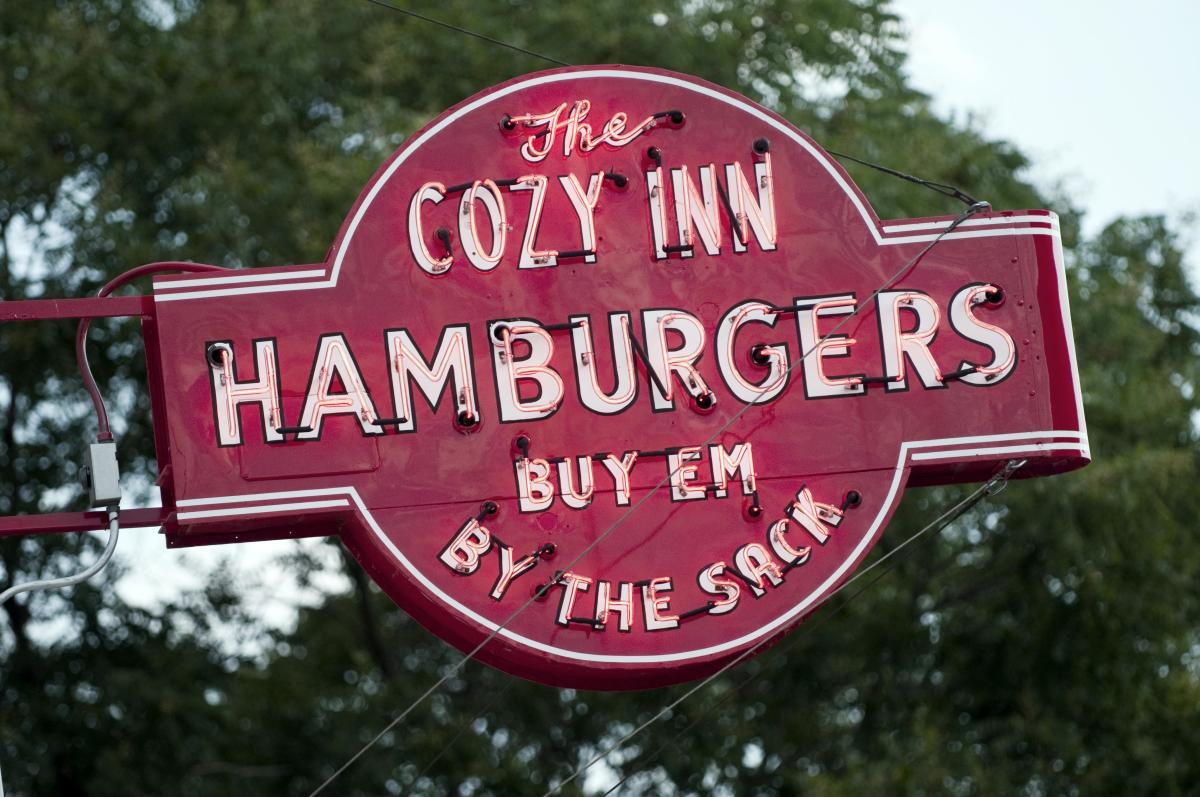 Credit: Courtesy of Meredith Travel Marketing
In Washington (about 20 miles west of Marysville), Kansas Territory Brewing Company crafts beers with rhubarb and lemonade, and also serves traditional ales and lagers. Owned by a crop duster, Fly Boy Brewery and Eats in Sylvan Grove dishes tasty steaks, garlic fries and beer flights amid aviation-theme decor.
Explore more towns in the North Central region at https://www.travelks.com/regions-cities/regions/north-central/, and check out the 2019 Official Kansas Travel Guide for great discoveries across the state.