Recently I took a short drive to Overbrook with my family to see some "real, live" buffalo. After all, it is our state animal and my kids and I had never seen one up close. We pulled into the Lone Star Ranch and had a picture perfect view of the snowy Kansas prairie and the herd, settled in and grazing just beyond the old fashioned country store. We were greeted right away by Terri Gibbs, who along with her husband Don, owns the property. The buffalo were a majestic sight indeed and unlike us, were not bothered by the winter temps in their thick fur coats. [[endteaser]]
We watched these gentle giants in their habitat, remaining quiet so as not to scare them away. The kids had been so excited to see them because of their rarity and my daughter later commented on how furry and big horned they were, which in the midst of everyday life, is something I have taken for granted. In our busy life, this was just the thing we needed to slow down and enjoy together as a family. Who knew that visiting a buffalo herd for the first time would be so meaningful to children and adults alike? The next stop was the ranch store, where for the 10 and under crowd, there were a lot of enticing buffalo related souvenirs. The shop offers many meat products for sale that they carry at any one time. We chose to take home some ground meat.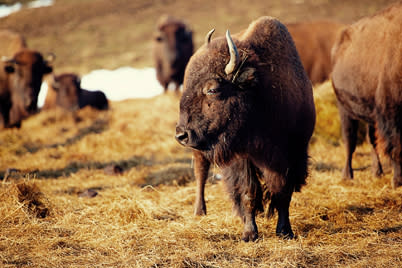 After leaving I had one question, "What happened?" I knew the song as a child about buffalo roaming on the range but where did they go? I'm embarrassed to say that I am a Kansan and before now could not recite why buffalo faced extinction.
I did some research and found that at one time nearly 20 million buffalo called the Kansas prairies their home. One count estimates a single herd southwest of Dodge City at over 4 million members! However, as America grew with the settlers, the buffalo were no longer just hunted for their resources (food, hides, and bones for dice, buttons and china). They were seen as a nuisance as well. Imagine traveling by train and being stopped for eight hours while waiting for an unending herd to cross. Train companies began hiring men to exterminate them and buffalo killing contests were being held.
1872 was a most notable year for buffalo slayings. Between January and March alone, more than 43,000 hides and nearly 1.5 million pounds of meat were shipped from Kansas. With hundreds being killed in days and thousands in a matter of months, it is no wonder that by the 1900s there were only an estimated 500 left in the United States.
Buffalo can now be found on private land and in state parks. There are many places to see buffalo in our state and if you find yourself near a herd or just desiring a day trip to take in some Kansas scenery, I would recommend treating yourself to a viewing. Many offer tours of their ranches or operate a store that sells the meat (a healthier alternative to beef). I found at least one that will drive tourists out to the pasture in a wagon and will be adding this to my list of summer to do's.
You may be wondering what we did with ours? My husband made some juicy buffalo burgers and the kids could not even tell a difference. It's so hard to make everyone happy but my picky eater was tricked into eating two and my not-so-picky eater also gave them a thumbs up. By the way, one of the dogs gave them four paws up but that's a whole other story!
Here are just a few herds you can visit:
Lone Star Ranch in Overbrook
Plumlee Ranch in the Flint Hills
Homestead Ranch near Goodland
Frontier Park in Hays
Butterfield's Buffalo Ranch near Beloit
Maxwell Wildlife Refuge near Canton

Jenni Harrison is a Topeka native and graduate of Washburn University who owns her own business. She stays busy as a leader for a Girl Scout Troop, Cub Scout Den and the never ending duties of being a mom. Besides her high school sweetheart whom she married many years ago and their three children, her other loves include two parrots and the three dogs who surround her at all times while she is working from home.