On a recent road trip around the north end of Tuttle Creek Reservoir and part of Milford Lake, we drove into the community of Leonardville, a town of less than 500 people, situated between the north ends of the two nearby lakes. As we entered town, we drove past the "Welcome to Leonardville" sign, which boasted "Home of Jordy Nelson, Super Bowl XLV." Nelson earned All-American honors as a wide receiver at Kansas State University, was drafted in the second round of the 2008 NFL Draft  and as of this writing, plays for the Green Bay Packers. [[endteaser]]
During Nelson's senior year at K-State, his parents, Alan and Kim, opened Nelson's Landing Restaurant and Sports Bar in Leonardville. The Nelsons are lifelong farmers and most of the ground beef in their burgers come from the family herd. As much as possible, steaks and other cuts of meat on the menu come from local beef butchered in Leonardville. In fact, our server, Casey, also works at the meat plant and was proud to tell us she had personally cut some of the beef being served that evening.
The Nelson's Landing appetizer menu offers a variety of favorites you'd expect from a sports bar, including nachos, wings and chips with homemade salsa. We tried the spicy fried pickle spears, which are served with a  side of ranch dressing. Zesty and crunchy, the pickles disappeared quickly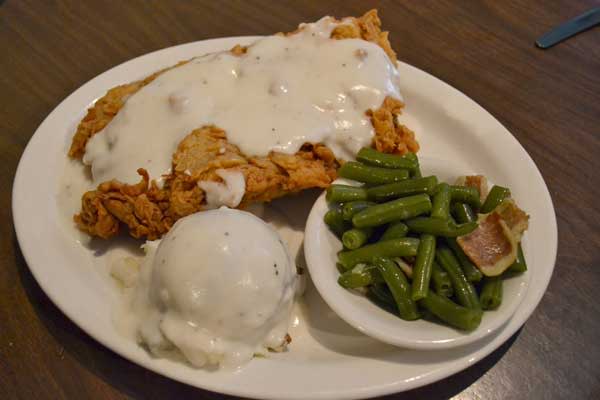 Nelson's is known for its chicken fried steak. These things are huge (and deliciously tender)! My parents split an order and Hubby had one of his own. The steaks were served with homemade mashed potatoes (skins still on!) and everything was smothered in sausage gravy. The side order of  green beans was cooked in bacon, just like my mother-in-law makes.
We just happened to be visiting on the third Saturday of the month, when Nelson's serves prime rib. That's my steakhouse favorite, so I gave it a try. The meat was thick-cut and served with salad, homemade bread with sweet cinnamon butter, a large baked potato and green beans. The dark brown ring around the prime rib told me this cut had been dry-aged, a process that takes extra time but pays off with rich, savory flavor. I enjoyed every bite, dipping alternatively into the horseradish cream and au jus that were served alongside.
Friends said that Nelson's homemade pies are a must-have, and although we had no room left for dessert, we were a little disappointed when Casey explained that all the pies had been sold earlier in the day during a motorcycle poker run. She said that Kim Nelson's mother and father make all the pies from scratch. Local favorites include Snickers, coconut cream, banana cream and fruit pies.
We were seated in the sports bar side of Nelsons, appointed with lots of TVs and a large projection screen that would be perfect for watching Jordy Nelson and the Packers during football season. This area also features a pool table, where my son challenged me to a game after dinner. The other half of the restaurant is more like a family diner, but it is also decorated with Jordy, K-State and Green Bay memorabilia. During the big pool game, Mom shopped Mara Sassy, a fun boutique of shabby chic gifts and home décor adjacent to Nelson's operated by family friend Sarah Massie.
Bellies (and shopping bags) full, our family left Nelson's Landing with plans to come back again to enjoy a meal and some of those homemade pies. Maybe next time we'll start with dessert first!
My tips and picks for Nelson's Landing:
- reservations suggested; Nelson's serves 300-400 people on weekend evenings
- visit on the third Saturday of the month and enjoy the prime rib dinner (and save room for pie!)

Teresa Jenkins is all business during the week, but on the weekends, she, her husband and 12-year old son enjoy loading up the car and hitting the Kansas byways in search of good food and the great people who prepare and serve it. Her favorite cuisines are Mexican, Italian, and "anything with flavor!"