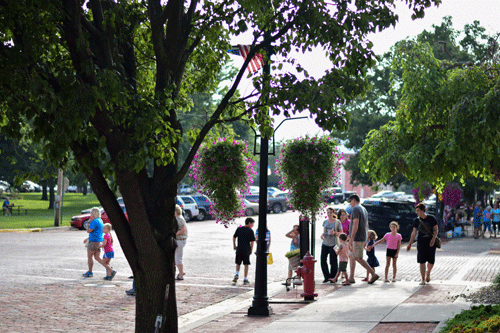 I have to say that I love a courthouse square with a water trough!  That means the Jackson County Courthouse square in Holton is one of my favorites.  There are some dandy squares in the state.  Here is a sampling of five:  

Jackson County Courthouse Square, Holton
With a horse's watering trough (circa 1880) anchoring the northeast corner of the neatly-landscaped lawn, the stage is nicely set for the vibrant shopping district that surrounds the 1921 tan-brick and stone trim courthouse.  Tree-lined sidewalks will take you to glass art and an occasional glass blowing demonstration at More Than Lemons, a soda fountain inside Koger's Variety (that has a variety of almost everything!), a yummy light lunch at 5th Street Sandwich Shop, coffee and snacks at Penny's Coffee (former J.C. Penney building), and treasures in a delightful array of shops. 

Barton County Courthouse Square, Great Bend
I've always thought the white stone 1918 Barton County Courthouse was one of the most impressive in the state.  The large exterior windows and the interior majestic marble walls and stairs add to the allure.  Since 2012 a huge statue of Jack Kilby, the man who invented the microchip, has stood as a beacon on the west lawn.  An architectural stand-out on the square is the 1950 Crest Theater. Rosewood Winecellar features wines made in the county and has plenty of inventory to please anyone on your gift list.  
Doniphan County Courthouse Square, Troy
Who else has a tree stump sculpture of an Indian chief with a headdress  on their courthouse lawn?  No one!  Peter Toth's 1978 sculpture accents the beautiful red-brick 1906 George Washburn courthouse.  A Statue of Liberty replica, a Pony Express marker, a 1943 memorial to the sheriff and undersheriff who drowned, and a veteran's memorial all share space on the elevated lawn. Just off the square is a restored house where Abraham Lincoln stopped to visit on a campaign speech in December 1, 1859.  Make sure to eat at the Feed Store Cafe!   

Philips County Courthouse, Phillipsburg
One thing that puts 1913 Phillips County Courthouse with clock tower on the Must-See Courthouse Square list is the Third Street Bakery!  I could easily eat a dozen of the morning do-wich's, a combo of a donut and croissant.  If you love yarn and fiber art you'll want to stop at Shepherd's Mill, the first fiber mill in the state.  The Rollin' J Boutique is another great stop.  Bonus!  You can park on either side of the street or right in the middle!

Republic County Courthouse, Belleville
With its marble interior and staircase railings made of brass and steel, this 1939 structure is said to be the best example of courthouse art deco architecture in the state.  Another accent on the square is the Blair Theatre with its 1928 Spanish Colonial façade and colorful mustard yellow and red marquee.  In the library you can find 17 pairs of historic dolls and intricate wooden models.  Just off the square is the post office where 1939 Section artwork by Birger Sandzen graces a lobby wall.

And that's just five courthouse squares.  Enjoy more in Garnett, Hiawatha, Clay Center, Iola, Yates Center, Jetmore, Lyons, Washington…and the list goes on!