Does anyone else find it odd that beef jerky, meant to have a long shelf life, always seems to be completely devoured in just a few days?  My family's favorite dried, salty meat sticks come from Luther's Smokehouse, where it is dried perfectly to bend but not break, isn't too chewy, and has a peppery flavor that leaves taste buds yearning for more. You can purchase some at jerkyusa.com or in convenience stores, but if you visit this establishment in LeRoy you're sure to also get a big helping of humor. Just look for the flying manure spreader and you've found the smokehouse.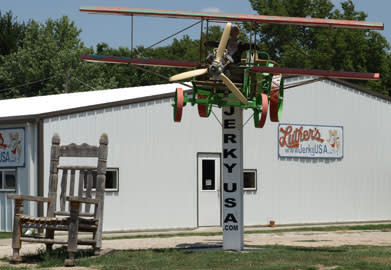 More about the flying manure spreader later. Luther's naturally smoked beef jerky is made from choice steaks and seasoned with black pepper and salt. The more pepper, the hotter the jerky, so sample both the mild and hot varieties and, if you love extra spicy, try the jalapeno. The flavorful teriyaki jerky is quite chewy and the Mild Pemmican (Native American for jerky) is sweeter from raisins mixed in the ground beef. Pig out on the Midnight Special Pork Jerky for a smoked ham taste and Cowboy Pork Jerky with sweetened cranberries. Or, if you like garlic, gobble up the Mild Turkey.
Owners Martin and Shirlee Luther sell the jerky at their restaurant/convenience store where you can order Martin's smoked ribs, brisket, ham and pork. I ate my ribs at a swinging table facing a clock that tells time backwards. And that flying yard art? The farm implement with attached wings and propeller sits atop a 10-foot-high post. Martin appreciates oddities and definitely has a sense of humor; his business card says Luther's Smokehouse is open eight days a week.
Have you had your picture taken while sitting on the Paul Bunyan-size rocking chair underneath Luther's flying manure spreader? Post it here!
Cecilia Harris is a professional freelance writer from Abilene who enjoys discovering fascinating attractions, events and people that reflect the arts, culture and heritage found in Kansas. She has been a longtime regular contributor to KANSAS! magazine and also has written for such publications as Midwest Living, Sunflower Living, Kansas Heritage and The Greyhound Review to inspire others to explore and appreciate her home state. She also has authored two books, "Historic Homes of Abilene" and "Abilene's Carousel."