Come to the state's southeast corner to get basic training in military history and sample the beauty and bounty of the land.
Fortified Fun
Steeped in military history, the town of Fort Scott commands an arsenal of U.S. Army-related attractions, chiefly the Fort Scott National Historic Site. Guided tours offer insights into soldiers' lives.
The site's annual Candlelight Tour (December) brings mid-1800s Army life to light—literally. More than 1,000 candle lanterns illuminate the grounds as 100 reenactors school you in the era. You participate, too: Join in a dance, get an etiquette lesson and even "enlist" in the Army.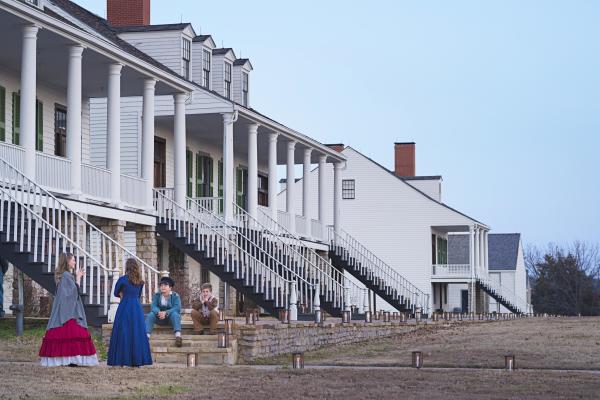 Fields and Flavors
When you get some leave time, visit The Lavender Patch farm, where you can wander fields of the fragrant plants. Pick up a free Lavender Lemon Bars recipe and buy bundles of the purple flowers. Find more of nature's sensory delights at Vinedo del Alamo vineyard and winery. Sip Chardonnay while watching the sheep and chickens who roam the organic farm. 
Arts and Mines
Pittsburg State University anchors the arts and culture scene in Pittsburg. Each year, the Bicknell Family Center for the Arts on campus hosts dozens of activities—including a Best of Broadway series—at its performance venues.
Off-campus, try your hand at throwing pottery, fusing glass or carving wood at ArtForms Gallery, a downtown cooperative that offers weekend workshops and sells its members' works.
Storytelling's an art, too, one that powers country music. The industry's top acts perform at Kansas Crossing Casino.
And here's something you'll really dig: Just south of West Mineral stands Big Brutus, the largest electric coal mining shovel in the world. It's 16 stories tall and features a 150-foot-long boom.