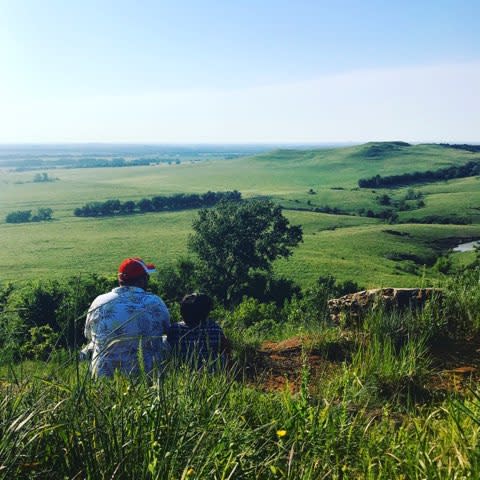 Think of the song, Home on the Range. We'll get back to that. But, seriously sing it in your head if you know the lyrics; or quickly listen to it online. It will only take a few minutes. That's how little time it takes to be swept into Kansas wherever you may be in the world. Like I said, we'll be getting back to that.
The Sunflower State has been discovered, explored, and written about by countless authors, journalists, hobbyists, travelers, artists, photographers, and now bloggers throughout the history of Americana. Their words and pictures describe what they experience, and we all get our imaginations sparked by their stories and photographs. However, there is much work to be done because no one who has tapped into Kansas, resident or visitor, that has been able to tell the entire story. The rest of the tale of the westernmost region of the Midwest is far from complete and I found that out myself when I rolled into Little Sweden. A nickname for a town I never heard of, nor would I have ever guessed it was in Kansas. Somewhere over…. over the…. somewhere over the…. Well, it'll come to me. Lindsborg is far from a "sleepy" little town. Not at all. Lindsborg has a population that will never rival the major metro areas of nearby Kansas City, Wichita, Lawrence , the Little Apple or Topeka. And that's just the way the locals and the stream of visitors like it. But this town is not free of variety, heritage, delicious restaurants, events, art galleries, culture, higher education, modern enjoyments, outdoor adventures and family owned retailers that will look up at you as if they see a trusted regular sweeping in  through the front door.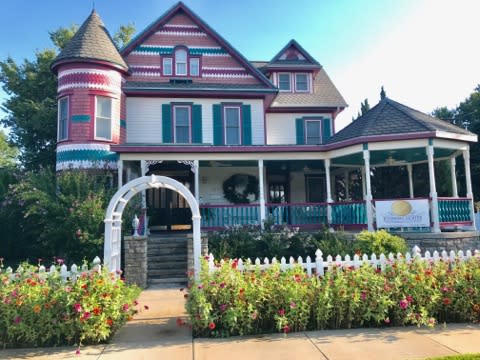 My daughters and I arrived at Lindsborg on a warm August day still having the welcomed musk of the Cozy Inn's irresistible and historic sliders in Salina. With grilled onions, mustard and juicy Kansas raised ground beef fresh on our memories and pallets, we checked into the Rosberg House Bed and Breakfast in Lindsborg. Let's back up a little. Before checking in, we parked our minivan close to the curb on East State Street and looked at the historic B&B with genuine amazement. Its exterior is colorful and not just when it comes to the house itself. The landscaping that surrounds the home is kept and arranged in a masterful way that brings visitors to the property who aren't even staying there. This is all before you immerse yourself into the Victorian era time capsule inside the Rosberg.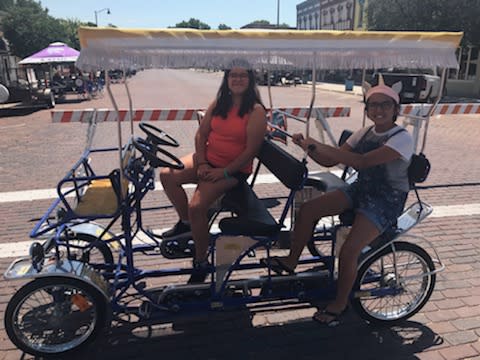 Literally just feet from the front porch of the Rosberg is Main Street-Lindsborg. Steps away from where one of the Kansas' best B&B host's welcomes guests of McPherson County is a district that opens to you in a way that is unique to this beautiful community. The welcoming and small-town nature is everywhere, and it twirls within a bevy of shopping, art galleries, quadricycle rentals, and colorfully designed Dala horses all over town. These authentic Swedish artworks are in front of nearly every business and this includes where you can eat authentic Swedish cuisine.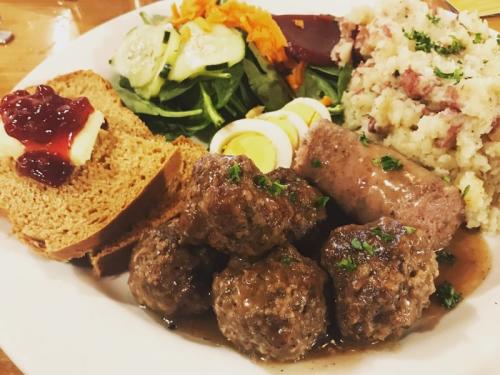 The Swedish Crown is operated and managed by the students from nearby Bethany College and they take pride in serving locals and visitors some of the tastiest food you're going to find in Kansas. The Swedish Platter is heaping with Swedish meatballs in gravy, Swedish potato sausage, dill potatoes, cucumber salad, Swedish rye, and the staple of lingonberries to spread all over that soft bread. If Lindsborg had a flavor it would taste like this. And the crown isn't the only taste of the old country you'll get in this town. Ol Stuga is the local tavern that makes legendary sandwiches and offers Swedish cheeses and classic pickled herring with onions. The Courtyard Gallery and Bakery entices you with fresh pastries, rolls, cookies, and more. The best part is that this hometown bakery uses the honor code method of payment with baskets to place your cash in. That's a trustworthy touch you won't see everywhere you go, and it welcomes you back to town all over again.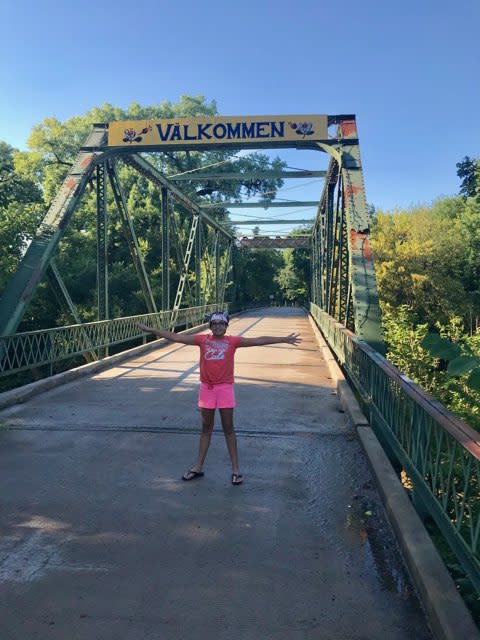 If you have a daily goal on your step tracker, you'll most likely crush it in Lindsborg. The downtown district will naturally keep you moving and close to all the action on Main Street is the Valkommen Trail. Walk, jog, bike, or just plain mosey your way through the interior of Lindsborg in a beautiful way on this long path that hugs the vibrant landscape of the Smoky River. This was just our second favorite way to enjoy the great outdoors in this historic community.
Not too far from the Lindsborg city limits is Coronado Heights and one of the most spectacular overlooks in Kansas and the Midwest. The 1930s WPA structure that mimics an old-world castle is positioned above the wild landscape and farmland surrounding the park. Sitting atop of a large hill, you'll see just how much the elevation will change the vegetation and plant life by climbing just slightly in elevation. Its been said it was here at this spot that the Spanish and their leader, Coronado, ended their search for the Seven Cities of Gold and begrudgingly turned back south to Mexico. About 300-plus years later, the Swedish settled in and the rest is artistic, tasty, and entertaining history with unforgettable kindness.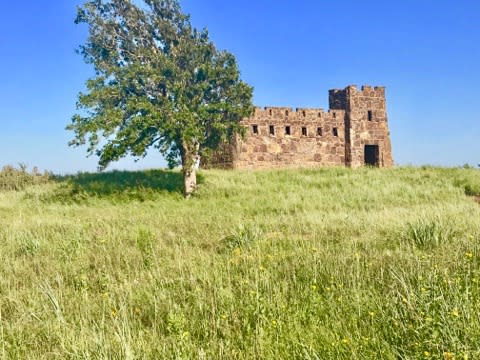 There's a handful of viewpoints you can have when writing about Kansas. As a current resident, a visitor, and someone who is homesick for this state. I have never resided in Kansas but have traveled through several times. Over the recent years we have become regular visitors to this region that has caught the imaginations of generations before us. I can genuinely report that I am extremely homesick for Kansas as I write this and feel that way when I reminisce about all our stops there. Did you listen to Home on the Range yet? The word, Kansas is never referenced in the lyrics. Not once. But your mind goes right to the Sunflower State when you hear it. When you take a break from the range, deer and antelope, I suggest you take it in Little Sweden-USA and what will feel like your hometown of Lindsborg.