My first experience on the Kansas River was in 2012 - April to be exact - when I received a newsletter from a local outfit; the weekend forecast was "85 and Sunshine." With that one email and a hungry need for warm weather, my inaugural kayaking season would commence with a last minute float down the Kansas River.[[endteaser]]
Kayaking was something I had spent the last couple of years wanting to try, but never had the opportunity. I began thinking that with all the state lakes and local rivers, canoeing and kayaking must be a relatively popular sport - turns out I was right.
In 2012 U.S. Secretary of the Interior Ken Salazar designated the Kansas River Trail as a National Water Trail. While the fancy title is meant to increase outdoor interest in Kansas and the Midwest, it so happens they also named one of the world's longest prairie rivers, the Kansas River, to this prestigious status. The river is 173 miles long and the watershed is the size of Ohio River.
Many refer to the Kansas River as the "Kaw," where seasoned paddlers will make multi-day treks, area fishermen will waste a few hours, or local groups will sync up and float down river for a few hours. When I first arrived at Rising Sun boat ramp near Perry and Lecompton, I wasn't sure what to expect, in fact I didn't even see any boats. The water was moving at a normal pace, the sun was happily shining down, and my fellow kayakers looked eager to "dip in."
The Kansas River features 19 access points from Junction City to Kansas City, Kansas; Rising Sun being one of them. Friends of the Kaw, also know as the Kansas Riverkeepers, help maintain access points, information on water levels and initiatives to expand education and adventure upon the Kaw. Going beyond the call of duty, the Kansas Riverkeepers' hard work is what aided in the Kaw being designated part of the National River Trail system.
 So what's it like?
Once on the water, which is often very calm unless you are faced with a windy day, sit back and relax. Kayaking in a sit-in boat is great for beginners and many outfits have these kind of small, user-friendly boats. Many enthusiasts prefer to travel the Kaw in a touring kayak. This rig is built with pedals and a fin on the back to help steer the boat for higher speeds of travel and longer trips. Most kayaks, because of their frame, have space for dry bags, water bottles and sometimes a soft cooler.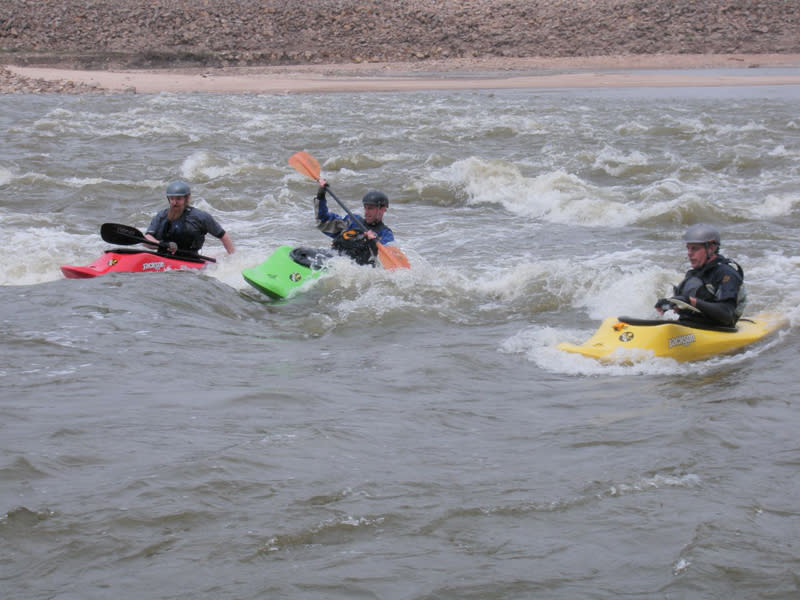 The surroundings of the Kansas River include bluffs, the edges of farmland meeting the river, cozy sandbars to stop and rest or enjoy a picnic, and a few treasures. Wildlife abounds on the river; I've seen various birds, including a bald eagle, small critters such as turtles and plenty of fish. And legend has it - though I cannot speak from personal experience - the Kansas River is ideal for morel mushroom that are largely unaffected by local wildlife. 
Whether you float for a few hours or a whole day, what is most surprising about kayaking the Kansas River is its relaxing nature. It can feel so far removed from nearby communities, but is actually just a short drive from our prized prairies. Needless to say, I was hooked. I spent most of the season getting my "sea legs" and it has opened up a whole new Kansas!
Sign me up
Various outfits across the state offer day trips for those wanting to try a kayak on the Kansas River. Here is just a sample.
FOK Float Trips - Friends of the Kaw offer family friendly and group float trips. Simply find the registration form on their website and submit your preferred start and end locations. Be sure to review their policies and sign any appropriate release forms. Suggested donation for canoe rental is $60-70, or you can become a member at $35 a year.
Up a Creek Canoe & Kayak Rental - Based out of Perry, UAC hosts large and small groups in various themed floats throughout the year (including a hidden treasure float for kids), and takes reservations.  Prices range from $30 to $50. 
Mudkat Kayaking - New to the rental scene, Mudkat Kayaking rents boats in the Manhattan area. Fees vary and discounts are given to students with a valid ID. (620) 430-6754
Checklist
The Weather - Before you even leave home, check the weather. Anything more than light rain can turn dangerous. All paddlers should refrain from getting on the river in risky weather.
The Water Level - It's important to float on the Kansas River at appropriate water levels. FOK suggests that beginning paddlers should not be on the river if the was flow is above 5000 cubic feet per second (cfs). This can be checked on their website. 
Your Gear - Wear appropriate clothing, which includes lightweight clothing, water shoes, hat, and plenty of sunscreen. Don't forget water to stay hydrated, it's not safe to drink from the river. You'll also want to invest in a dry bag to keep keys, phones, cameras and food dry.
Emergency Contact - Let someone know you're kayaking. While kayaking on the Kansas River is very safe, it's good to an emergency contact. 
Enjoy - What's the point of kayaking if you don't have fun. Let go, soak up the sun and enjoy the river's company.
Kansas River Trail Map
http://www.travelks.com/ksrivertrail/map/ 



Katy Ibsen is a writer and editor living in Lawrence. When she's not blogging, writing or serving her community, she's embarking on the outdoor life among Kansas' picturesque landscape.