Possibly Kansas' best beach is a bit unconventional, contains very little sand and is probably the easiest beach to access in America. But like the best sandy beaches I've seen from Florida to Hawaii, Cedar Bluff State Park's Tailgate Beach, in western Kansas, offers huge amounts of fun.
At least 30 kids splashed and laughed in the water when I arrived. Teen-aged males of a family tossed a football back and forth, some going overboard with diving catches that sent water flying. A Walmart's worth of inexpensive pool toys bobbed about. Clusters of lawn chairs sat in and out of the water, held down by family and friends. Others sat on lowered tailgates or raised hatchbacks at the water's edge.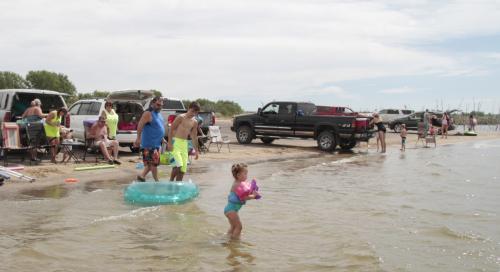 A regular said the place is called Tailgate Beach because park guests can back their vehicles to the water's edge or even into the shallows. The "beach" is covered in smooth pavement that gently slopes into a gorgeous oasis of water.
Tailgate Beach is actually an asphalt parking lot for a boat ramp that sits far out and under Cedar Bluff Reservoir. A half-hour west of Hays, and a few minutes south of I-70, Cedar Bluff can often be 20 to 30 vertical feet below "normal." The park has built launching facilities at a variety of depths to ensure boats can always access the lake with good to great fishing. Until the lake drops another ten feet, the parking lot serves as about 300 of prime beach front, accessible to the water's edge by about any vehicle.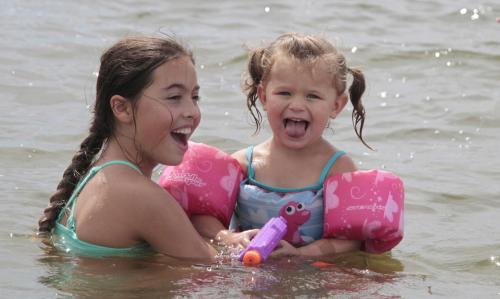 I found a nice cross-section of rigs from super-high, shiny four-wheel-drives to rusted economy cars. Most came with families with children playing about. One boy repeatedly raced a bike across the parking lot and as far as he could get into the lake before tipping. The number of kids 10 and under was impressive. One mother said she liked Tailgate Beach because it had a firm bottom with a long, smooth and gentle slope. A kid could be 60 feet from shore and still stand. Several dads sat on a lawn chairs in pick-up beds and resembled life guards, except for the farmer's tans.
Many camped at the state park. Some were day-trippers that used the beach as a central gathering point. I met people from Oklahoma, Nebraska, Colorado and across much of central and western Kansas.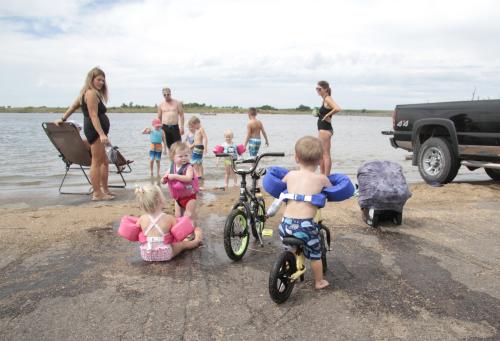 There was a family from central Missouri who'd made the long trip for a family reunion. A teen-ager of the group, new to the area, said he was impressed with the beauty of Cedar Bluff State Park. Sitting on a folding chair knee-deep in water as he tossed a football with cousins and uncles, he said Tailgate Beach was as enjoyable as any he'd been to in the Ozarks.
Nearby a mother added, "…and maybe the best part is we won't be cleaning sand out of our clothes and van for weeks to come."