Looking to find those on the go snacks, worthy of your Kansas road trip? Look not further, here are some Kansas food options near you that are ready for the trip. 
1. Cheese Favorites: 
The Jason Wiebe Dairy produces natural cheese made in Durham, Kansas. The goal – to make the best cheese you've ever eaten – right here in Kansas. They raise their dairy cows on the farm that was started two generations previous. Not only is the Wiebe Family making history with their Farmhouse cheese, they live with history; the farm is located on the Santa Fe Trail. 

The Alma Creamery in Alma, Kansas, is a specialty grocery store. They sell a variety of cheeses – cheddar, Colby, pepper jack, Monterey jack, co-jack, curds and Parmesan. They also produce their own milk and sell other Kansas specialty food products from Wyldewood Cellars Winery, Grandma Hoerner's, and jerky and sausage from Prairie Thunder Elk. 

Experience farm fresh at Providence Hill Farm. They believe in preserving the beauty and integrity found in the artistry of traditional craftsmanship. All products are handmade on the farm by family members using time-honored methods. Workshops are available to learn how to make your own artisan products. Visit the shop in Atchison, Kansas, to purchase goat milk soap, lotion and other bath and body products, breads and cheeses.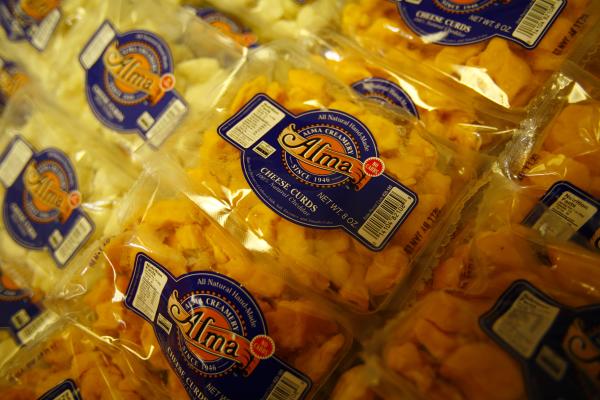 2. Meat Snacks
Yoder Meats specializes in the procurement, fabrication and production of local, all natural, high-quality products. They provide locally raised meat products and unique gift items. They have an assortment of gift baskets and boxes that include award winning smoked meats, cheeses and exotic meats. The retail stores offer unique and homemade products from homemade sausages, to Kansas and Amish goods. Yoder Meats is located in Yoder, Kansas, and three locations in Wichita, Kansas. 
Pat's Beef Jerky sells high quality beef jerky straight from the heartland! Western Kansas is home to Pat's Beef Jerky with locations in Liebenthal and Hays. Over 29 years of great beef jerky await you, plan a visit or order while on the road. Their storefronts have expanded to now include refrigerated/frozen items that are unable to ship, but make great gifts or on the road snacks. Items you can find in their stores and online are summer sausages, beef jerky, spices, duck salt, and more.
Luther's Smokehouse is known for it's old fashioned beef jerky and the largest rocking chair located in front of the factory. With flavors like pepperoni pizza, liver jerky, and midnight special, you are able to find something to rock everyone's taste buds. Even walk away with a treat for your canine pal; they sell morrow bones from their processed beef. Not sure what to grab, try a sample pack or order online in advance for your next journey. You can find them in Le Roy, KS.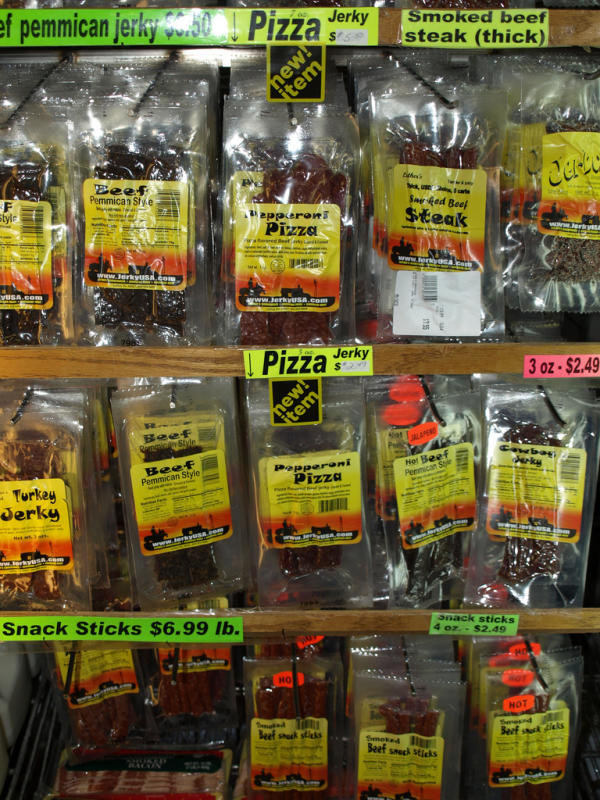 3. Sweet Treats
Hazel Hill, located in Topeka, serves up fine crafted chocolates and other sweet treats such as caramel apples in tons of flavors! Everything is made in-house and you can see it made right before your eyes. Kids (and adults) will get a kick out of watching chocolates being made behind the open glass panes. A free sample, is also awaiting you as if you weren't already drooling. 

Henry's Candies in Dexter, KS is famous for the O'Henry Bar! It was created right here in Kansas, and stands strong to this day as one of the favorites. Bring your sweet tooth and stop in at the original location in Dexter and try the Papa or Mama Henry Bar. You won't regret it!

The Sweet Granada loves to incorporate Kansas into their chocolates along with sweet touches. You can find sunflower chocolates as well as furry friend safe treats in Emporia, KS. The Granada makes handmade gourmet chocolates as well as other confections such as their famous Pop-Choc...stop in next time when you're in town and check it out!    
In the mood for something else? Kansas if full of flavorful treats and a great place to stop and grab a full array is The Kansas Originals Market! From peppernuts to chocolate covered sunflower seeds, you can find something to snack on at one of their locations.