It's the kind of place where you can travel many miles in near silence as your hiking boots or bike tires move over a surface velvety smooth.
For hours your only company may be soaring hawks, vibrant songbirds and deer that bound towards horizons of double-digit miles, where lush prairie grasses and colorful wild flowers sway in the Flint Hills breeze.
Yet elsewhere on the same trail you travel beneath long tunnels of hickories, oaks and elms that mesh well overhead. You'll cross bridges that span clear, pristine streams and travel lips of valleys steep and timbered enough to pass for the Ozarks.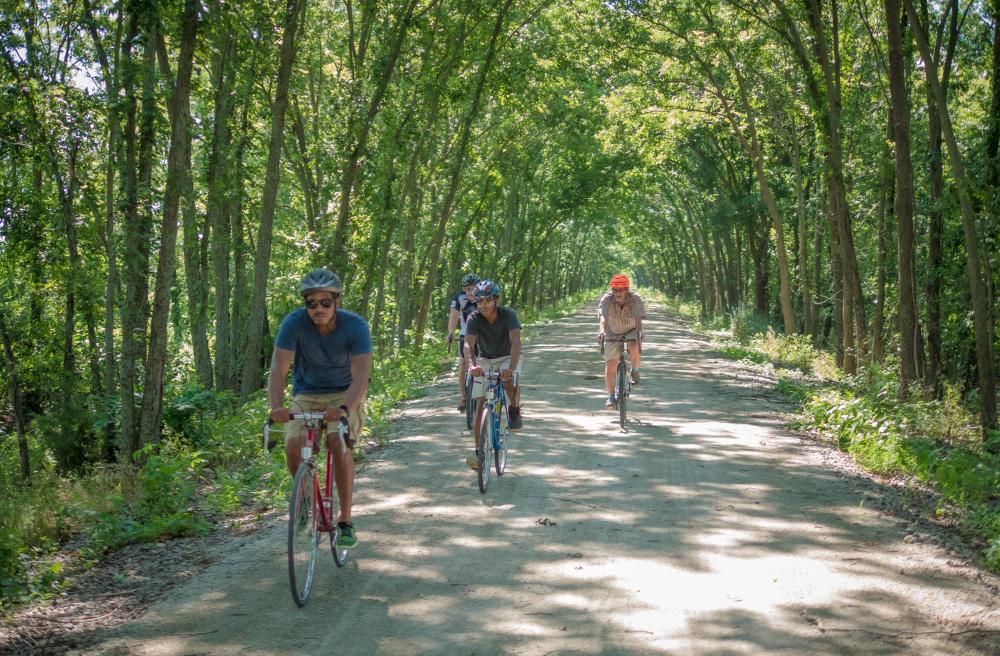 Most who experience the 90-plus mile Flint Hills Trail for the first time leave in awe. Scott Allen has been on the trail hundreds of times, and that feeling never ends.
"It's just such a special trail, every mile of it. But when you put it all together, going through the legendary Flint Hills and then through such gorgeous woodlands, it's nothing short of spectacular. So special," said Allen, of Council Grove.
The Flint Hills Trail is the longest of Kansas' 3,000-plus miles of public trails. Its history is equally impressive, and a testament to the dedication, generosity and ingenuity of a small handful of Kansans who saw the possibilities for a multi-use, destination trail.
Allen, an avid outdoorsman and member of Kanza Rail-Trails Conservancy, Inc., has seen it grow almost on a daily basis.
The Council Grove businessman said for over a century trains traveled what's now the Flint Hills Trail. The last train ran the line in the early 1990s. Rails and ties were soon removed. Trees and brush quickly reclaimed the pathway.
A Kansas-based horse association first acquired rights to the old line. When they struggled to build a trail Allen and others created the conservancy and took on a monumental project.
"So many said we were crazy, but we always thought the only idea crazier was to not build the trail," said Allen. "It's just too special of a thing to let it go to waste. It's so beautiful how do you not develop it to its potential, and not share it with as many people as possible."
Trail supporters have collectively spent tens of thousands of hours in labor working on the trail. Allen said some key volunteers furnished their own gear, and often paid for needed special equipment from their own pockets.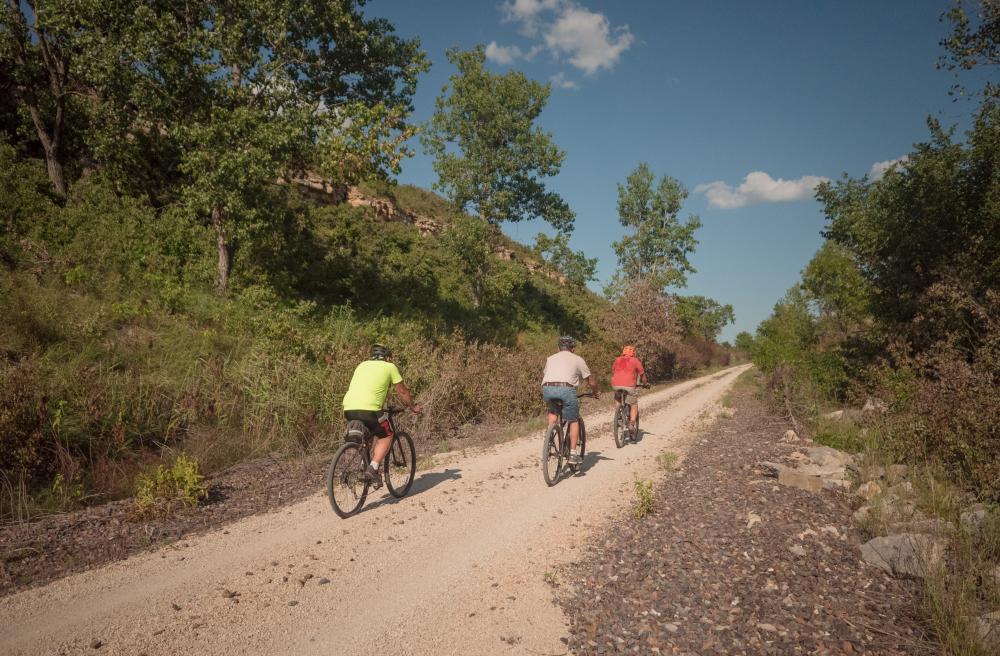 The trail got a huge boost when the Kansas Department of Wildlife, Parks and Tourism got heavily involved. Allen said the expertise offered by state officials, like Linda Craghead, head of the state's tourism and state parks, has been invaluable.
As well as experience on building their own trails, Allen said the agency's knowledge of obtaining grants and high-level donations has allowed the project to progress nicely.
Craghead said lately about 80 percent of funds used to work on the trail have come from federal transportation funding.
Countless tons of finely-crushed limestone have been added to the rock that was already part of the old rail line. When packed and rolled the result is a surface so smooth babies can nap away while their parents push a stroller for miles. Bridges built strong enough to support trains have been updated or replaced.
While the trail is open from Osawatomie to Council Grove, it has a few small detours and rough areas. Craghead and Allen think completion is only a few years away.
The trail's segment from Council Grove to Herington is still closed for construction. When completed, it will stretch the Flint Hills Trail to 117 miles.
The trail already has a number of trailheads and parking areas large enough for those with big rigs towing horse trailers. It's possible camping areas could be built at trailheads, as well as more restrooms, informative kiosks.
Small towns along or near the Flint Hills Trail are already making changes to accommodate users. Camping is available in some, and supplies and meals can be found at several. A few minutes off the trail, Pomona State Park sits with manicured campsites, shower houses, beach and playgrounds. State park management said plans are to make the state park even more attractive and beneficial to Flint Hills Trail users.
Some businesses have already been created to serve trail users. Salt Creek Ranch, between Osage City and Vassar, offers a "horse hotel" experience for those who want to bring their own horses to camp and ride the trail. They also offer trail rides with horses from the ranch's herd.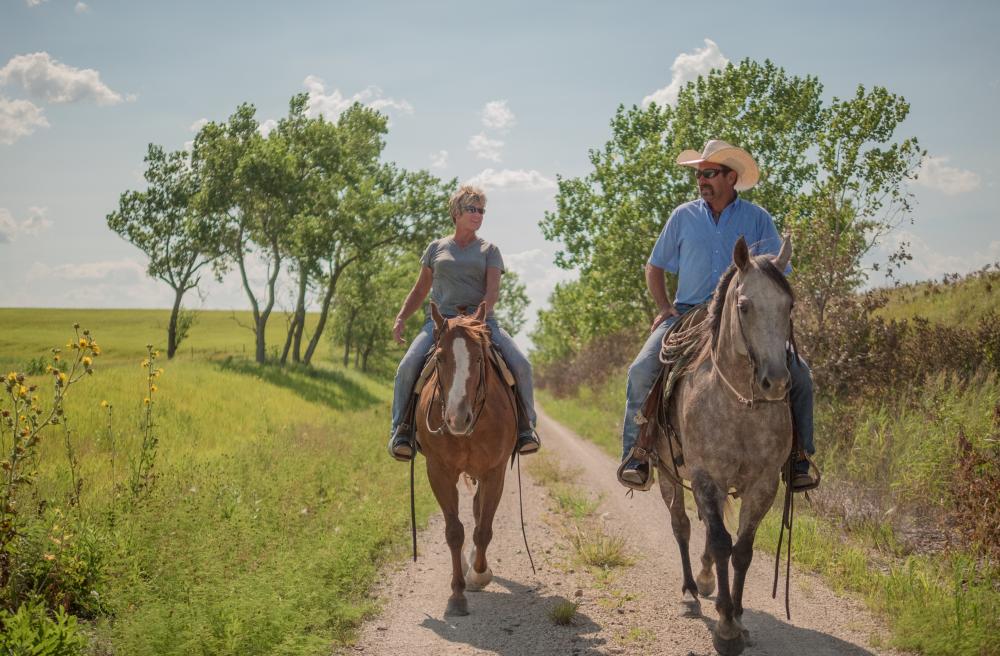 Despite being relatively new, and having had little advertising or promotion, the Flint Hills Trail is already drawing people to the area.
Allen said the trailhead in Council Grove often has cars from other parts of Kansas or even states from as far away as the east coast. He said it's not uncommon to see 10 horse trailers at a trailhead some weekends.
Its recent designation as one of Kansas' newest state parks will certainly increase the trail's exposure and reputation. Allen said those who want to find peace and quiet should always be able to succeed because of the trail's length and distant from civilization.
Craghead and Allen hope people will use the Flint Hills Trail as a catalyst to explore and enjoy at least two other rail trails. At Ottawa the trail joins the 53-mile Prairie Spirit Trail that heads south.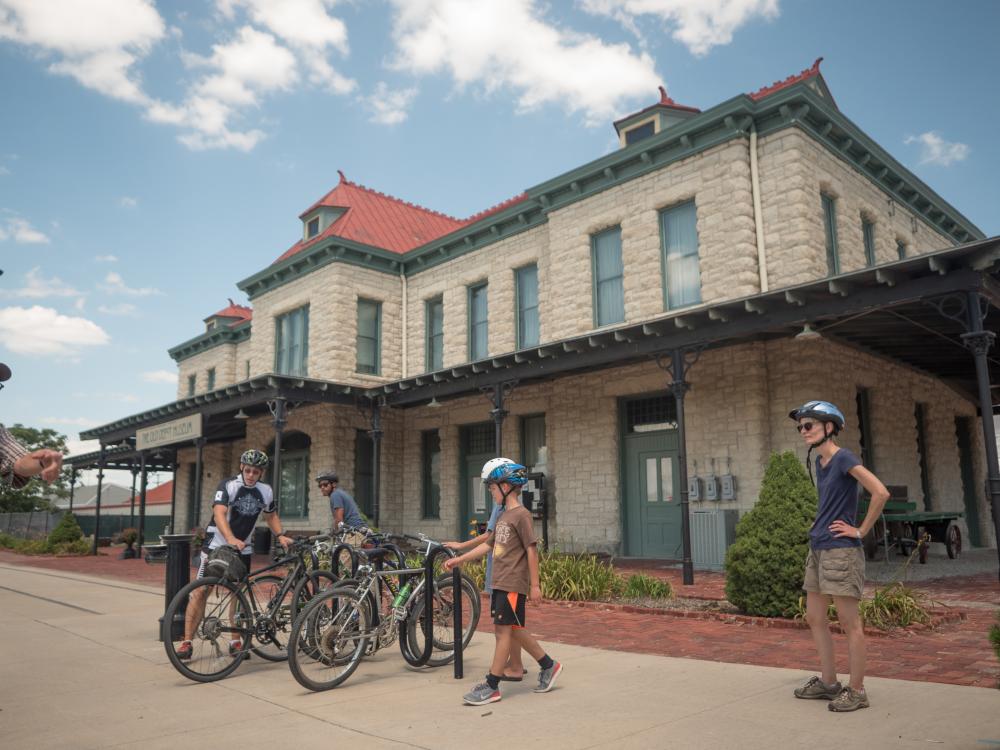 The 40-mile Landon Nature Trail connects Topeka to the Flint Hills Trail near Pomona State Park.
Craghead is hoping someday the Flint Hills Trail connects with the nationally-known Katy Trail, which runs 240-miles across the width of Missouri and has a thriving trail-based economy end to end.
That would create more than 400 miles of contiguous trails and probably one of the best multi-day hiking, biking horseback riding experiences in the nation. Allen is sure the Flint Hills Trail portion of such treks will leave any trail users impressed.
"It has the kind of beauty and diversity you honestly can't find on any other trail in our entire nation," he said. "It's special, so very, very special."