I've never been much of a specialist. My dedication to pastimes has always been seasonal. When I was a boy playing sports, I loved to play football -- until it was basketball season. Then I loved basketball. I'm the same way with hunting and fishing. I love to fish until hunting seasons start. And even then, I have trouble being faithful. I love to hunt ducks until the deer rut starts. Then I love to bowhunt deer until the pheasant and quail seasons open. Deciding what to hunt in Kansas can make you dizzy. [[endteaser]]
It's the variety of hunting opportunities that sets Kansas apart. It starts with doves September 1. I look forward to dove season because doves are challenging and abundant -- Kansas dove numbers can rank among the best in the nation when the season opens, and good hunting often continues as birds migrate through.
Deer seasons open in mid-September with a special season for youth and persons with disabilities. Between then and mid-January, there is a deer season open in Kansas. I enjoy bowhunting, but I usually don't get serious about going until the first of November when the breeding season, or rut, starts and the bucks are on the move. Besides, other seasons require my attention in October.
Kansas sits midway in the Central Flyway, and waterfowl migration is spectacular. Duck and goose seasons open in October or early-November, depending on what part of the state you're in. We have several nationally acclaimed marshes such as Cheyenne Bottoms in Barton County, Quivira National Wildlife Refuge in Stafford County, and Marais des Cygnes in Linn County. But the combination of reservoirs, marshes, national wildlife refuges and agricultural fields scattered across the state, makes Kansas a waterfowler's mecca.
Early November is the time for bowhunting deer. Kansas is recognized nationally for trophy-class white-tailed deer, and November is an exciting time to be in the woods. But my window for archery hunting is short because when the second Saturday in November rolls around, pheasants and quail are on my mind.
My first hunting experiences where pheasant hunting with my father and grandfather, and I need to keep that opening day tradition alive. I love to watch the dog work and feel the adrenalin surge when a rooster pheasant explodes at your feet. And I can always feel close to Granddad when I'm in the November fields.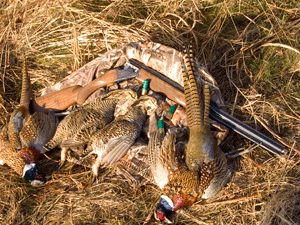 Kansas ranks among the top two or three states for pheasant and quail harvest - pheasants are more abundant in the west and quail in the east. And Kansas' abundant native prairie makes Kansas the last stronghold for both lesser and greater prairie chickens. These unique native prairie grasses provide rare hunting opportunities. There are areas of central and northwestern Kansas where a hunter could take three species of upland birds in a single day: greater prairie chicken, pheasant and bobwhite quail. And in the southwestern corner of the state, a hunter could take the Kansas Grand Slam - bobwhite quail, scaled quail, ring-necked pheasant and lesser prairie chicken.

And if that's not enough to make your head spin, Kansas has fantastic fall turkey hunting, as well as under-utilized small game hunting for squirrels and rabbits.

I admire those who specialize in a certain activity and get very skilled. However, I enjoy too many types of hunting to narrow my interest. My biggest problem is that November is only 30 days long.

Mike Miller grew up in Greensburg, hunting and fishing in the fields, grasslands and farm ponds of Kiowa County. He's worked for the Kansas Department of Wildlife and Parks in Pratt for 28 years, and currently heads the Information Production Section, editing and producing Kansas Wildlife & Parks magazine, as well as a variety of other publications. He spends his spare time hunting birds and fishing for whatever is biting.