When you think of the State of Kansas, what picture comes to mind? Flat plains? Fields of agriculture and livestock? Yes, and no. In fact, the guys over at Cameron Mountain Bike Racing, as part of their 28,000 miles across the U.S. this past season, spent a little bit of time mountain biking in Kansas and Michael Smart shared a bit of his driving adventure.
THIS IS KANSAS
Have you ever made the drive through Kansas? Or do you have some future road trip plans? Make sure to stop by this IMBA EPIC trail for a true singletrack surprise. Many of us have driven across the country in search of some of the best trails in the United States. We've gone to Colorado, Utah, California, North Carolina and more, but, did you know there are 25 miles of beautiful mountain biking in Kansas? Even better, it's located less than 7 miles from Interstate 70, about an hour west of Salina. Named Wilson State Park, you'll want to stop. It's definitely worth a detour.
Last May, when I mentioned my upcoming trip, a friend urged me to stop for some trail riding during my drive. Of course, I found myself quite skeptical. It was Kansas after all. But, WOW! Was I wrong. Located in central Kansas, Wilson State Park offers camping and cabin accommodations and includes extensive hiking, boating, swimming, fishing and of course, mountain biking. Pull the car over. Get the family or friends out and go have some fun. Break the driving doldrums while you're making that long journey.  And one of the best parts? All the activities in Wilson State Park are centrally located which makes it easy for everyone to enjoy something simultaneously. Whether you're traveling alone, with friends, or with the family, there is something for everyone.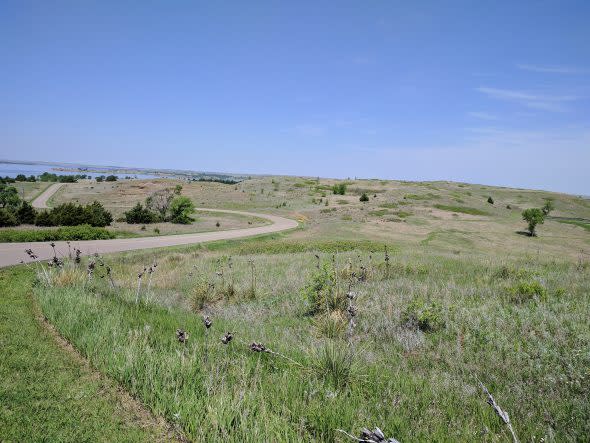 RIDING THE WILSON STATE PARK TRAILS
Within a few minutes of riding this trail system, I was sold. The International Mountain Bicycle Association (IMBA) gave this trail system its EPIC designation in 2012. According to IMBA, to establish a location as an EPIC ride system, the trail must be demanding, be comprised of mostly singletrack in a natural setting, denote a true backcountry experience and be at least 20 miles in length. (Fun fact – this is the only IMBA EPIC trail in Kansas.)
At Wilson State Park, riders take advantage of approximately 25 miles of continuous singletrack that varies in skill level from beginner to expert. Beginners find their confidence and smiles on the 5-mile novice loop while experts choose from several loop options for up to 5 hours of continuous riding and a serious workout.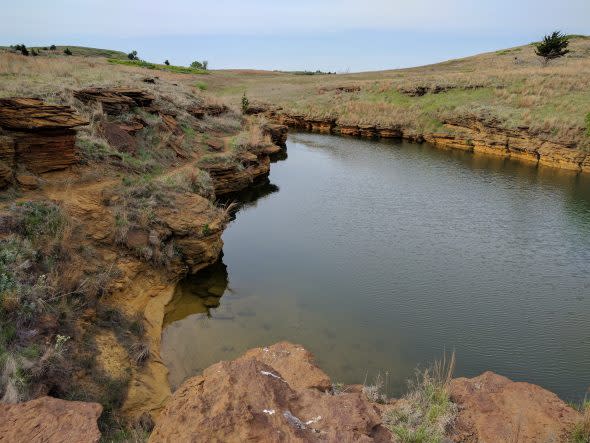 I could not stop taking pictures during my ride. The scenery kept me impressed and each trail painted a different, lasting image in my mind. What stands out the most, however, was the countryside. Rolling green hills and endless views created brain candy-like memories. And another cool thing? Even though I felt like I was out in the middle of nowhere, due to the design of the trail system, I wasn't. Trail users are never far from a vehicle so, in case of a mechanical or a serious bonk, you can get back relatively easily. MTB Project couldn't have said it any better, "Although the trail has a wild and remote feel, you're never far from a bailout back to the trailhead."
WORTH THE TRIP
Wilson State Park and the Switchgrass trail network are well worth the trip. I found myself camping for one night and ended up spending an entire day there as I realized how much there was to explore. I enjoyed the peaceful drive through Kansas. And now that I know I have this designation available for a stop over next time, it makes the idea of that drive that much more exciting.
Oh, and next time through, I'll be stopping for at least two days.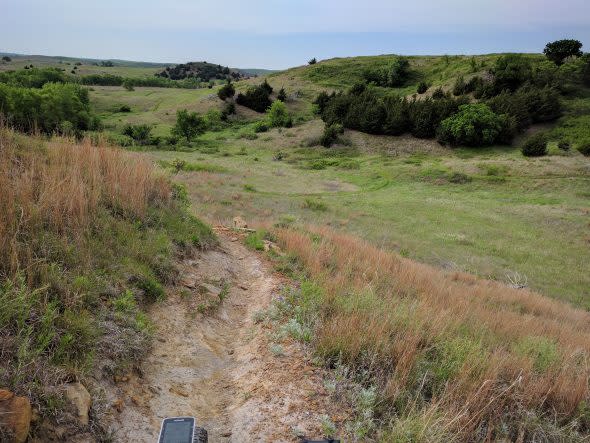 Thank you Niner for letting us re-post this blog.