Everyone wants that picture-perfect photo op, whether it is for your Instagram feed or your family photo album. We're going to let you in on a little secret.... Kansas is actually a photogenic place! And there's more than meets the eye... Follow along with the Hambrick Family as they travel through Eastern Kansas. 
Did you know that Tow Mater lives in Kansas? Or that the iconic Route 66 has 11 miles pure, Kansas excitement? This small, but mighty, portion of the Mother Road has had a major impact on pop culture... When Pixar animators were gathering ideas for Cars, they had a Route 66 road trip. That road trip brought them to Galena where a beat-up old truck caught their eye... The rest is history! You can find iconic Cars characters scattered throughout Galena, but the main hub is "Cars on the Route" where you can take pictures with Tow Mater and these iconic gas pumps. 
There's plenty more to discover on the Route 66 Historic Byway, so make sure to save some time to explore on your getaway. 
Brown v. Board of Education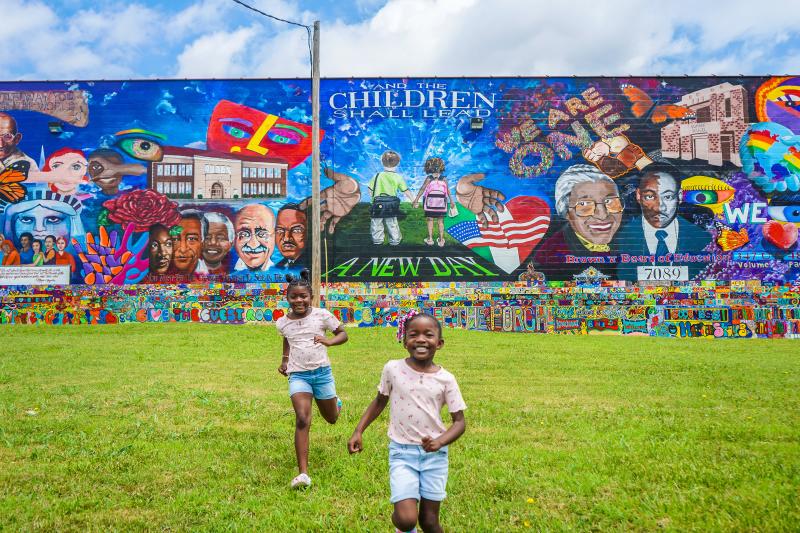 Walking through the halls of the Brown v. Board of Education National Historic Site is a humbling experience, but it's one that all should have. The historic site includes a simulation of what it would be like to be one of the Black children who were at the front lines of school desegregation, so be ready to have a conversation with your kiddos about what you see and experience. The museum collection also includes an innocent-looking 'Clark Doll', but don't be fooled by its baby-doll appearance. This was one of the four dolls used in the Clark Doll Experiments which studied the perception of race in children. The results of the Clark Study revealed that segregation had a toxic toll on the self-perception of POC children and was used in the ruling of the Brown v. Board of Education landmark case. Don't forget to take some photos of the mural around the corner.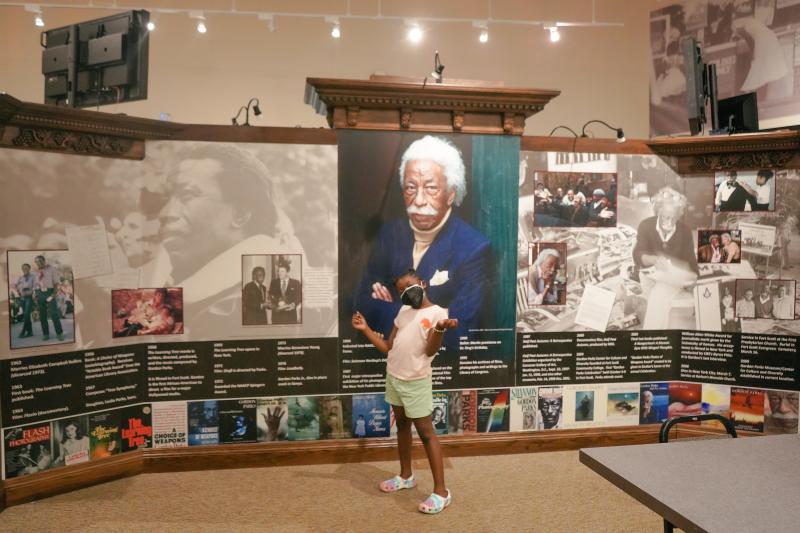 Fort Scott is home to both the Gordon Parks Museum and the Lowell Milken Center for Unsung Heroes. Don't know what to expect? No problem!
Gordon Parks was a photographer, filmmaker, musician, writer who was born in Fort Scott. His photography primarily focused on the issues of civil rights, poverty and the African-American experience. His best-known work includes a series of photographs taken for the Farm Security Administration focusing on American workers and his decades of work with Life magazine. In addition, Parks was also the first Black filmmaker in Hollywood to produce a major motion picture, The Learning Tree, an adaptation of his semi-autobiographical novel of the same name. His later work includes directing Shaft and Shaft's Big Score. He was also a talented musical composer, which includes the musical composition (and direction) behind Martin, a bullet dedicated to legendary civil-rights leader Martin Luther King Jr. Parks' prolific work spans decades and creative industries, but he undoubtedly left a mark on the civil rights movement and in Black culture, itself. The collection at the museum includes several of his camera, countless photos, paintings and drawings of Gordon, clothing, a record player and so much more. 
The Lowell Milken Center for Unsung Heroes works with K-12 students and educators to discover ordinary people (just like them) who have had a profound, positive impact on our world. Many of these individuals aren't found in history books but have instead been discovered by students around the world in collaboration with Center staff. One of the many heroes covered in the Hall of Unsung Heroes is Irena Sendler, a Polish humanitarian who served in the Polish Underground Resistance in World War II and smuggled more than 2,500 Jewish children out of the Warsaw ghetto during the Holocaust. Using her position as a social worker, Sendler gained permission to enter the ghetto and was able to hide Jewish children in orphanages, convents, schools, private homes, and hospitals, all while providing them a new identity. She also had the foresight to keep careful records, including code names, original names, and placements, so surviving relatives could find their loved ones after the war. Sendler was arrested and tortured mercilessly by the Gestapo in 1943, but managed to hide the list of names and locations (and to not divulge any additional information during torture) preventing the Nazis from finding the rescued children. She was sentenced to death for her work but narrowly escaped on her day of execution, and then continued to serve her community as a nurse after her release. The Milken Center seeks to honor heroes like Irena and inspire children to find greatness in themselves.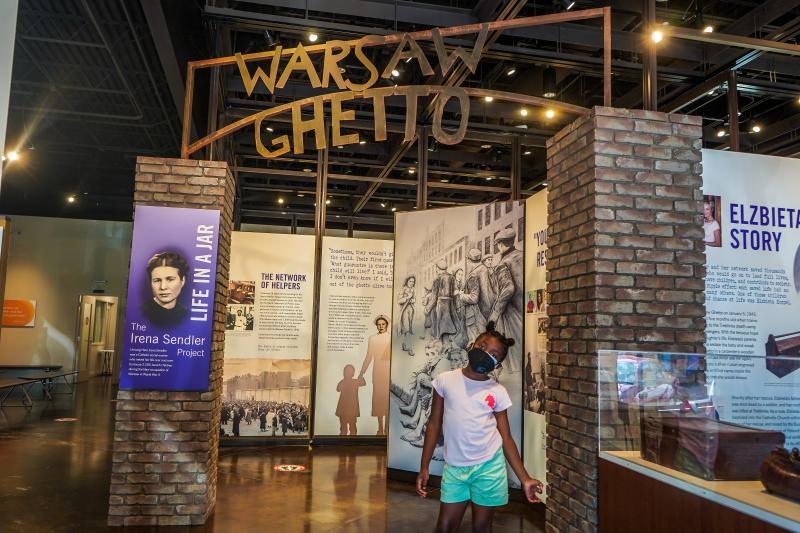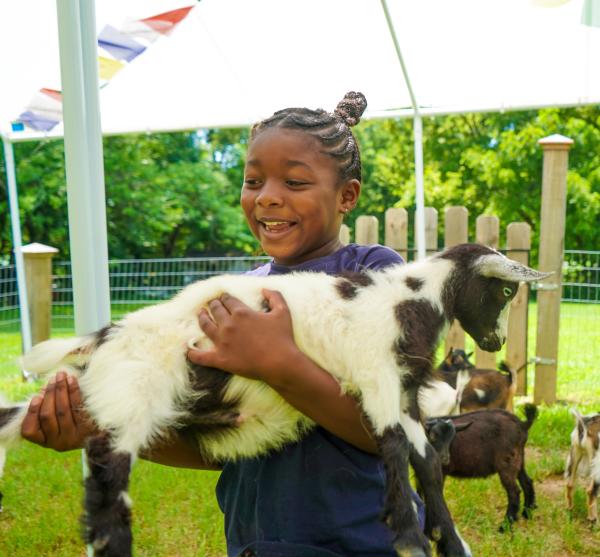 This Registered Agritourism Business is so much more than just snuggling with baby goats.... But that is a pretty nice perk in and of itself! You can find classes and workshops at Providence Hill Farm, including artisan soap making, artisan cheese making, candle making, yoga, and microgreens. You can book the farm for special events, or you can just head to the farm to shop for your new favorite soaps, lotions, candles, incense, and teas.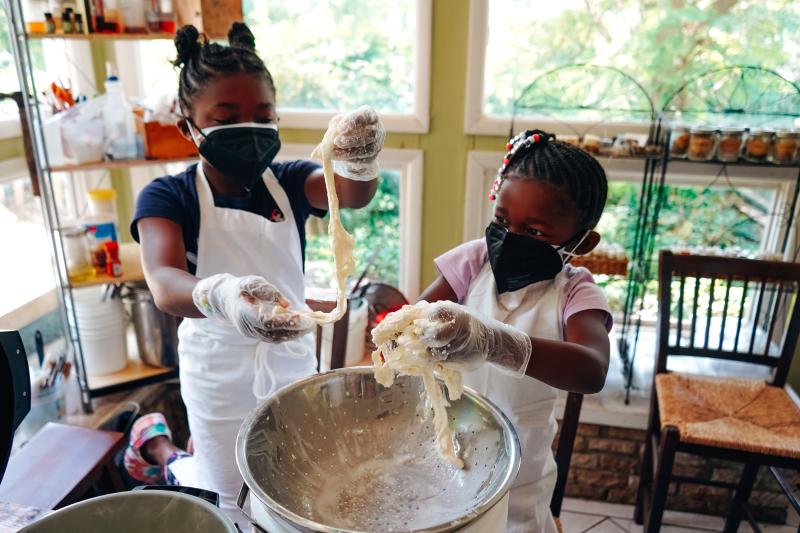 Plan Your Getaway
Click on the heart in the upper right-hand corner of the photos below if you're ready to put the location on your own customizable itinerary. If you're looking for other Western Kansas adventures, make sure to see what Northeast and Southeast Kansas have to offer.