Is your family ready for a getaway? We get it, we've been there! Central Kansas is an affordable destination filled with family-friendly attractions that not only look great on Insta... They are a ton of fun in the moment, too! But don't just take our word for it... Meet Alli and Bobby, aka The Traveling Newlyweds. They explored Central Kansas with their handsome boss-baby, Jude, and scouted some of the most Christmas card-worthy destinations just for you!
The Keeper of the Plains is a Kansas icon.... And even a Jeopardy clue! This 44-fot tall steel sculpture was designed by Wichitan and Native Artist Blackbear Bosin and has been a Wichita staple ever since. Trust us, you'll want to view the Keeper both in the daylight (to really explore all of the surrounding details) and in the evening for the 'Ring of Fire' presentation. (Schedule for the Ring of Fire can be found here.) The flames in the firepots erupt in an almost deafening roar that will definitely take you by surprise if you aren't expecting it (I can confirm from experience), but the way the fire reflects on the river and lights up the Keeper is a sight to behold. 
Wilson State Park is another Kansas must-do! This park is home to amazing watersports, great mountain biking trails and is a perfect place to make a wish. The rugged, rocky shoreline meeting the Smoky Hills Prairie will take your breath away... In fact, it's been ranked in the top one percent of American parks for beauty!
Are you ready to explore a small town that's bursting to the brim with charm? Well buckle up and head to Cottonwood Falls, home to the iconic Chase County courthouse. This community is full of great antiquing, wonderful art galleries and beautiful music. You'll definitely want to check out the Emma Chase Friday Night Music jam sessions. These jam sessions will highlight a genre or two of music per event, so you'll want to make sure to check out their Facebook page for the latest updates and schedules. 
Geographic Center of the Contiguous 48 States
The Little White Chapel featured in a viral Super Bowl commercial is another great photo op! When you stand by that marker, you truly feel in the middle of it all. 
Lindsborg is another small town that is just FULL of charm! Affectionately known as Little Sweden, USA, this town's connection to its Swedish ancestors is strong! You'll find a herd of 'wild' dala horses around town (can you find them all?!), a cute little phone booth just waiting for your photo op, fantastic food and friendly faces that are excited to see you. We recommend visiting during one of their cultural festivals (Saint Lucia Festival annually in December, Midsummer's Festival annually in June and Svensk Hyllningsfest a biennial event in October) to experiences their traditional folk dancing and so much more.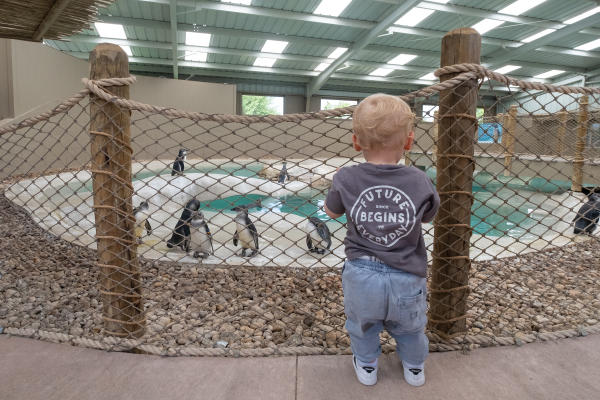 Up-close animal encounters.... What more do we need to say?! Tanganyika is the only park in the U.S. with 10 interactive encounters where you can touch, feed, and even ride unique species. This park was built from the ground up by the Fouts Family to be a world-class breeding facility for rare and endangered species, and now they've opened up the gates for your family to enjoy!
Plan Your Getaway
If you're looking for other Central Kansas adventures, make sure to see what North Central and South Central Kansas have to offer. Be sure to check out Alli and Bobby's highlights from their trip on Instagram! 
If you're up for a little more adventure, there are a variety of day trips to be had in and around central Kansas. Here are our favorite day…
That changed this summer, when we spent a week exploring Wichita and its surrounding areas. We were thrilled to find stunning scenery…