The Dirty Kanza 200 is a mighty event in the heart of the Flint Hills. Dubbed North America's Premier Annual Ultra Distance Gravel Race the cycling event may seem like an anomaly to many, but to the good people of Emporia and those in the racing community, the DK200 is a powerhouse that tests the endurance of racers from all over the world.[[endteaser]]
In addition to a group of dedicated purists, organizers Jim Cummins, Kristi Henrikson-Mohn and Tim Mohn have seen the 200-mile race boom in the last six years. In its inaugural year, 2006, 38 riders entered the race, only 18 finished; in 2010 the field was capped at 200, it sold out in two weeks and only 19 riders crossed the finish line. This year the field was capped at 450 and entries sold out in two and a half hours; and a whopping 267 riders finished in a year where all kinds of records were broken. Simply put, the DK200 isn't messing around—nor would it try to. Instead this rugged race of single track traversing the varied landscapes of Kansas' Flint Hills continues to emerge on race calendars competing with events like the Leadville 100 in Colorado.
What truly makes this event an attraction though, is its location and Midwest hospitality. Downtown Emporia is considered ground zero from the pre-race Pasta Palooza, hosted by the Emporia Farmer's Market and St. Andrews Episcopal Church, to group rides through out the weekend and the finish line in front of the Granada Theatre, 807 Commercial St. Downtown merchants extend their hours for riders and spectators. It's obvious local sponsors are as celebrated—and appreciated—as are those racing.
Pre-Race
As I make my way through the sea of riders and their support crews inside the historic Granada Theater, I instantly get the buzz. Riders are reconnecting and meeting new comrades, race directors are floating the room and the army of volunteers is in no short supply.The Rider's meeting welcomes participants to the event, sharing some history and giving away some prizes as they amp up the energy. But the direction quickly shifts from "what you need to know" to "what is great about DK200."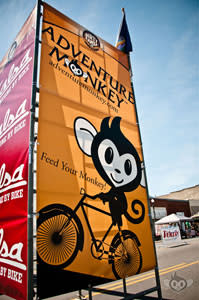 The DK200 has made philanthropic endeavors an essential part of the event. One such cause is the man behind Adventure Monkey, Eric Benjamin; a veteran of DK200, local sponsor and a recent open-heart surgery patient. He's first introduced for his photography; one of his prints is the trophy for the David Pals Award, given to the 2011 rider who displayed good sportsmanship. However it is Benjamin's personal journey (which keeps him from this year's race) that inspires every rider in the room. And to honor his absence, temporary tattoos of the Adventure Monkey logo were made to represent his presence on the course.
Jim Cummins, one of the race directors, continues the rider's meeting with details on the race. In short, riders will line up for a 6 a.m. start in front of the Granada Theater. Skaters from the Veteran City Rollers, Emporia's roller derby team, will have signs designating the various waves. In the racer's packet is a map to checkpoint 1, where they will get a map for the next leg; additional checkpoints are located in Cassoday, Florence and Council Grove and roughly 50 to 60 miles apart.As the sun rises, riders make last minute adjustments to their bikes and calm their nerves with their Support Crews (a team of friends or family who will set up at each checkpoint to help them re-fuel, get water or replace a tire among many issues a rider may encounter). I run into one rider, Bob Jenkins from Missouri, No. 271, who notes this is his third attempt at the race and this may be his year with temperatures hovering at around 50 for the start of the race and peaking that day at about 80. After checking race results, Jenkins did finish and his time was 20:12:01.
As patrons, neighbors and merchants line Commercial Street, racers get into place, and as the start is called, a roar among the crowd is heard as racers soar by. Spectators clapping and cheering them on, air horns sound and "Good Lucks" are shouted out loud. The energy is so strong, anyone would believe they could complete 200 miles on a bike.
At that point, racers look forward to weaning out the pack and getting a groove on the single and double track. The course loops through small towns and pastures, dirt roads and country terrain only known by farmer's and ranchers—and now DK riders.
Checkpoint 1
The Cassoday gas station and country store on Highway 177 is filled with trucks, trailers and support crews. Spectators line the highway in lawn chairs and under the tent word is coming in that the first riders will be arriving shortly.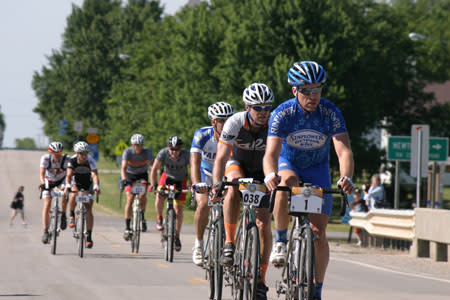 Roughly three hours after racers began they start to pop up and onlookers begin to cheer. Riding into the checkpoint is No. 314, Brian Rogers (who ultimately finished 16th in 13:08:00). Race directors and volunteers shout his number and they hand him a map, meanwhile his support crew is rushing up and getting him water and some encouraging pats on the back. Some riders linger, taking a much-needed break, others re-fuel and get back on the course.
Many of the riders, from all over the United States, a couple from Canada and Great Britain, have trained and mentally prepared for this endurance-testing race … in the middle of Kansas. That's what truly makes this race an enjoyable event, whether you're racing or spectating, you can feel the appreciation for what these athletes are attempting. Farmer's step out in their field, cars pull over, children wave flags and cameras snap away.
Back in downtown Emporia, the finish line is more of a festival than an endpoint. Crowds begin to settle in and activities abound for children. Music is playing and the energy is still buzzing. Dan Hughes, of Sunflower Outdoor and Bike in Lawrence, won the race, beating the course record at 11:56:10—and the party starts.Racers trickle in over the next nine hours and cheers roar. As the post race party continues well into the night, it's safe to say, 2012 saw the most successful DK200.
200 too much?
If you're not into riding 200 miles of gravel terrain, try the DKLite, a 20 or 50-mile ride that begins shortly after the DK200 riders start. This year saw an increase in Lite riders, many just cutting their teeth in this kind of competition. The out-and-back, or loop course is a great experience for a variety of riders and an exhilarating opportunity to get a taste of the Dirty Kanza event from beyond the sideline.Likewise, Free State Brewery out of Lawrence, brewed a special Dirty Kanza beer for the event. Therefore, this adventure blogger recommends the 20-mile course followed by a frosty brew at the finish line. As the tagline suggests, "Fewer miles, less stress, mega fun."
Katy Ibsen is a writer and editor living in Lawrence. When she's not blogging, writing or serving her community, she's embarking on the outdoor life among Kansas' picturesque landscape.