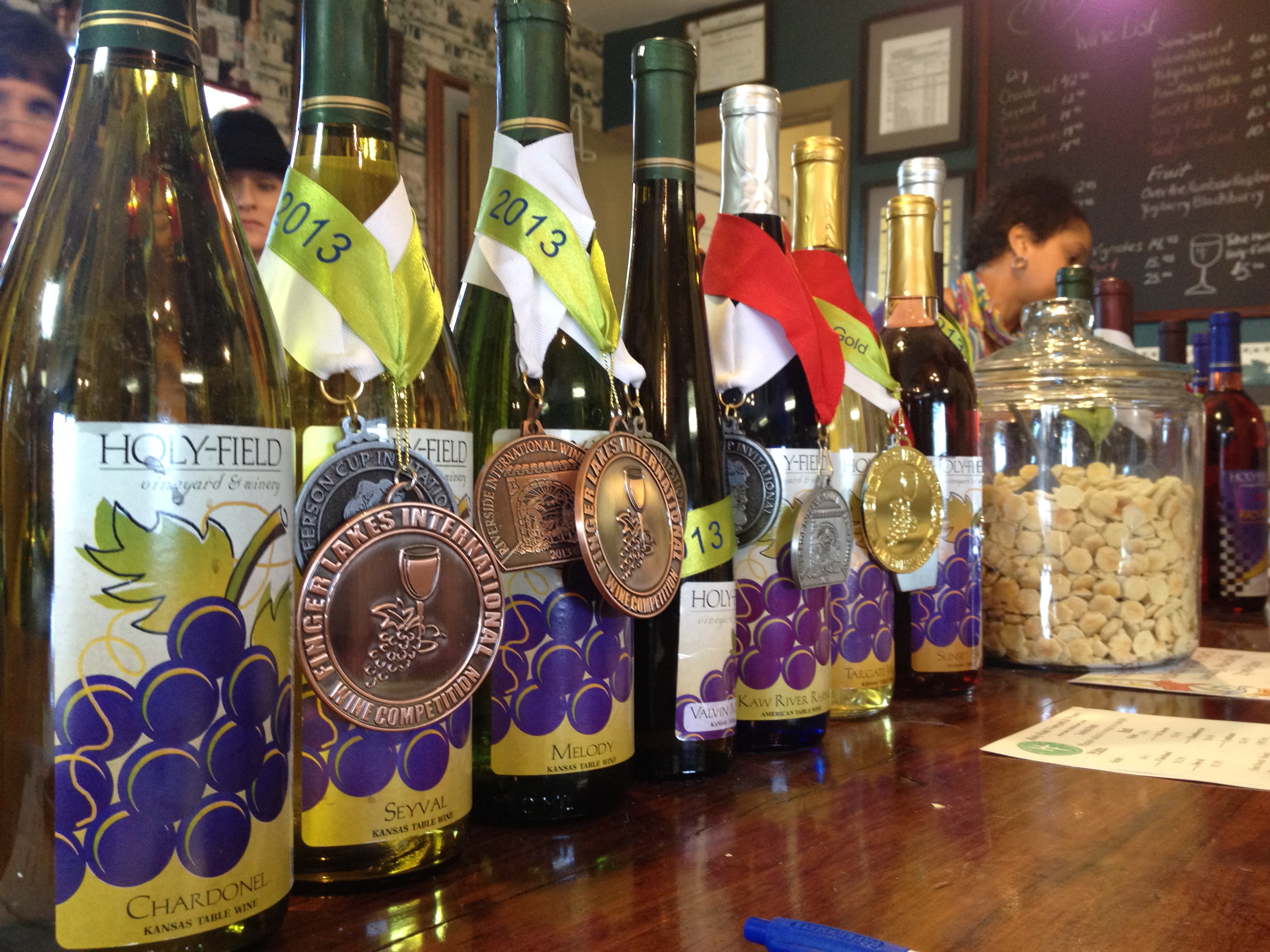 Before Prohibition, Kansas combined with Missouri to form one of the largest grape growing and winemaking regions in the United States. Although the winemaking industry is now dominated by California, the fertile soils of eastern Kansas are the perfect home for certain varieties of grapes. A number of local vineyards and wineries are winning national and international awards with Kansas-grown grapes. [[endteaser]]

One of those vineyards is nestled just outside of Kansas City in Basehor. Holy-Field Vineyard and Winery grows 10 different varieties of native American and French hybrid grapevines to produce its award-winning wines.

Owner Les Meyer and his daughter Michelle first planted vines on the property in 1986. Eight years later, they began producing Holy-Field wines on-site and have been extending their warm, family atmosphere to visitors ever since.
You'll find a friendly face greeting you as soon as you walk in the door of the tasting room, where you can taste a sampling of their 18 wines. I enjoyed learning about each of the wines from the knowledgeable staff as I sampled a collection of whites and reds. After tasting the wines, you can buy a bottle to enjoy on the porch as you take in the view across Holy-Field's 14-acre vineyard, or take a few home with you.
Holy-Field also hosts a number of entertaining throughout the year, including Mardi Gras and Oktoberfest parties, and the popular Summertime Music Series. The music series, held on Friday nights throughout the summer, offers excellent sunsets, wine and music. A food truck is parked on site and the tasting room is open for samples or to purchase a bottle. I recommend bringing lawn chairs, blankets and your dancing shoes, just in case you get the urge to move with the music. If the weather isn't cooperating, the party heads indoors to Holy-Field's banquet hall, where visitors keep the good times going.
  
Each time I've visited Holy-Field, I've left feeling like a member of a big, friendly family that loves to have fun and enjoy great local wine. I'm looking forward to making my reservations to join the family again for Picking Sundays this August, to help pick grapes and see the wine making process first-hand.
No matter when you visit, you'll experience a warm family atmosphere, taste award-winning Kansas wines and have a great time.

Jimmy Sevcik is a writer living in Kansas City. A resident of the Sunflower State for most of his life, he's a big fan of Kansas City's professional sports teams and may never forgive his parents for leaving him with a babysitter while they attended the 1985 World Series. ("So what if I was only a year old, Mom?") In his free time, Jimmy enjoys camping, fishing and adventuring throughout the Midwest.