As we wrap up Foodie February, an adorably alliterative occasion to highlight food and culture unique to Kansas, let's take a tour of some of the state's best options sure to whet your appetite. Kansas knows how to cook! With so many options, it can be hard to confine them all to a single month. Take a look at some of our favorites below and plan a trip to try something new this year.
Must-Try Kansas Steakhouses and BBQ
Well-prepared, but please, not well done
Kansas is both historically and presently a prime location for ranching and beef processing. The state ranked third in the nation in cattle population by 1890; in 2017, Kansas produced nearly 5.69 billion pounds of red meat or nearly 11 percent of the nation's total. Meat is as much a part of our culture as saying "ope, just gonna sneak right past ya," and these eateries know how to prepare it just right to keep you coming back for more.
North Star Steakhouse was founded by bootlegger William E. "Jug" Robinson and has been a Topeka staple since the 1940s, surviving a flood in 1951 to remain a local favorite to this day. Their menu features several choice cuts of steak, including a 32oz Porterhouse that was rumored to be a favorite of Tip O'Neill, former speaker of the House of Representatives. Reserve a table on your birthday to receive a free steak!
Big Ed's Steakhouse in Bird City, offers "the ultimate USDA Choice hand-cut, fire-grilled steaks" and serves portions to sustain a cowboy after a day on the range. Open Monday through Saturday for dinner only, Big Ed's has a unique atmosphere featuring original mural artwork and real wildlife mounts on the walls. Every steak is freshly cut from the loin when you order it, and they use a proprietary seasoning that has been passed down from the original owners.
Another local Kansas gem is Crazy R's Bar and Grill in Goodland. Situated just east of the Colorado border, their menu specialties include the Rajin' Cajun Burger and Papa's Chicken Fried Bacon (hand-battered bacon that is deep-fat-fried and served with white gravy). A finalist in the 8 Wonders of Kansas Cuisine by the Kansas Sampler Foundation, Crazy R's is also a point of interest for any antique buffs, who will enjoy the plethora of Goodland and Sherman County memorabilia that adorn the dining room.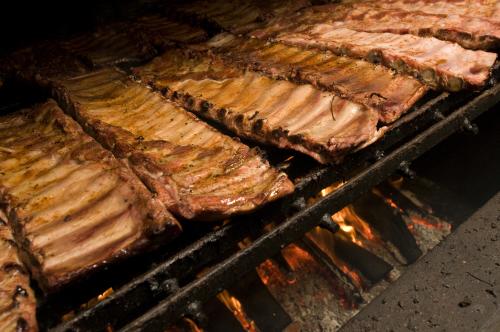 Kansas also excels in pork production, and has just the right smoke and sauces to transform it into a truly transcendent treat. Guy & Mae's Tavern in Williamsburg was founded by its namesakes in 1973 and has remained a family-owned and operated legacy, spanning over 3 generations. Their barbecued ribs have no pretense of pretension, served wrapped in newspaper and aluminum foil for a comfy casual dining experience. Named one of the 8 Wonders of Kansas Cuisine by the Kansas Sampler Foundation, Guy & Mae's proudly serves their original sauce and their "Hookie Poo" (dry rub) - two secret recipes which have never been altered.
Joe's Kansas City BBQ has been serving up mystically smoky meat treats since 1996 when the owner of a little neighborhood gas station and convenience store closed the fried chicken counter he had been operating inside the store. "It seemed like a pretty good place for a barbecue joint," says co-founder Jeff Stehney, "inside a gas station." and Joe's Kansas City BBQ was born. Their success has kept the original location at the corner of 47th & Mission in Kansas City, Kansas in operation, as well as allowing them to expand to four locations, including a private dining and event space called The 180 Room.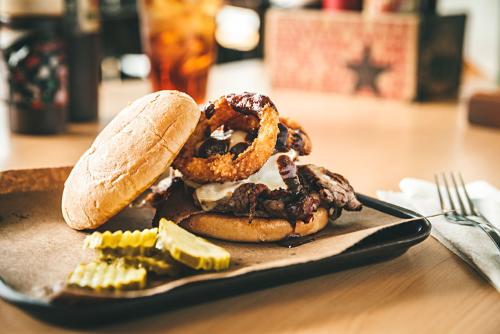 Kansas Fried Chicken
We don't have a Colonel, just a great history of great chicken
I know we're all still riding that New Year's Resolution wave of good intention, but everyone deserves to treat themselves now and again, right? And there's no treat quite like that breaded, deep-fried, skin-slides-into-your-mouth perfect poultry. The South may have a reputation for frying a mean chicken, but Kansas features a surprising array of establishments to satisfy those clucking cravings.
According to their origin story, Stroud's was started as a barbecue restaurant by Guy and Helen Stroud on the county line at 85th and Troost in 1933, just as Prohibition was repealed. During World War II, due to beef rationing, Helen Stroud started serving pan-fried chicken, and a legend was born. They've come a long way since that first $0.35 chicken dinner, having received many national awards including the James Beard Award for Excellence and the Zagat Award for Best Restaurant, and enjoying appearances on the Travel Channel and Food Network.
Head to Pittsburg to discover why Crawford County is the chicken capital of Kansas. Chicken Annie's began in 1934, when Ann Pichler began preparing dinners to feed coal miners out of her kitchen after a mine accident disabled her husband, Charlie. On Saturdays she and the family would move furniture out of the living room to accommodate the diners! Their tradition continues today with third-generation ownership.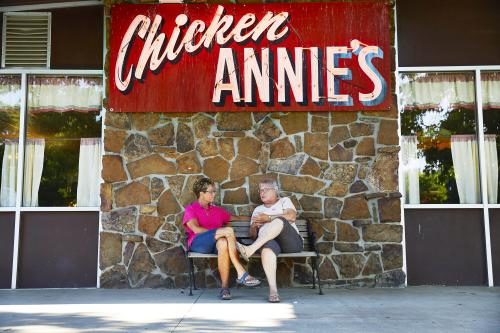 A mere two-minute walk down the street, known to some as "chicken dinner road," brings you to Chicken Mary's, another third-generation home business started by a miner's wife, Mary Zerngast, this one in the early 1940s. Their first official location opened in the former Foxtown Mining Camp Pool Hall in 1945, a location originally named "Joe's Place" which boasted ten tables, a potbellied stove, and an outdoor toilet. The friendly rivals were featured on a 2010 episode of Travel Channel's Food Wars which aimed to settle the issue once and for all with a blind taste test. Which chicken reigns supreme? You'll have to go decide for yourself!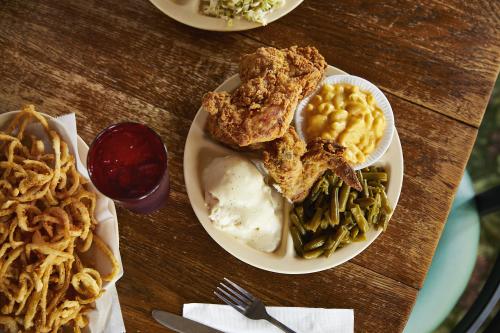 The Best Mexican Food In the US
Family dining, served by the original families
You might expect Kansas to be a bit too far north for authentic Mexican food, but you would be gravely mistaken. Hispanic culture has been in Kansas since before it was a state, passing through in the mid-19th century as cowboys on cattle drives from Texas or as wagoners on the Santa Fe Trail. Permanent communities of Mexican immigrants began to form in Kansas at the beginning of the 20th century, and the culinary and cultural influences of our neighbor to the south are abundant in the Sunflower State.
Ulysses is rich with Mexican heritage, and perhaps none quite so moving as the history of El Ranchito Café, which began in 1968 with two parents, nine kids, and a dream. David and Gloria Romero, both born in Mexico, together fulfilled their dream of owning a successful family restaurant, until David's untimely death in an automobile accident.
To keep the restaurant open and its plethora of regulars happy, Gloria called on her children for help. The children began rotating the management of the cafe, which continues today. Every two years, a sibling and their family once again return to the reins to carry on Gloria's tradition of simple, authentic, and quality Mexican food.
For something a little more modern, Ruben's Mexican Grill in the Delano neighborhood boasts "the freshest, lightest Mexican food in Wichita" from a menu featuring vegetarian and gluten-free options and using fresh ingredients that have never been frozen.
Whatever your tastes, the great state of Kansas has something to offer everyone among its collection of hidden culinary gems. Get out and start exploring local and historic flavors today!