It's easy to turn a trek along Interstate 70 into a getaway packed with roadside adventure. Plan ahead for strategic stops at dozens of family-friendly attractions. Here are five favorites in the state's northwest corner.
Exit 19
Giant Outdoor Art, Goodland
Go big or go home, right? Goodland's got you covered. Marvel at a 24x32-foot replica of Vincent van Gogh's painting Three Sunflowers in a Vase (displayed on an 80-foot steel easel), or gaze at a 9-foot-long green grasshopper sculpted from old tractor parts by farmer-artist Lloyd Harden.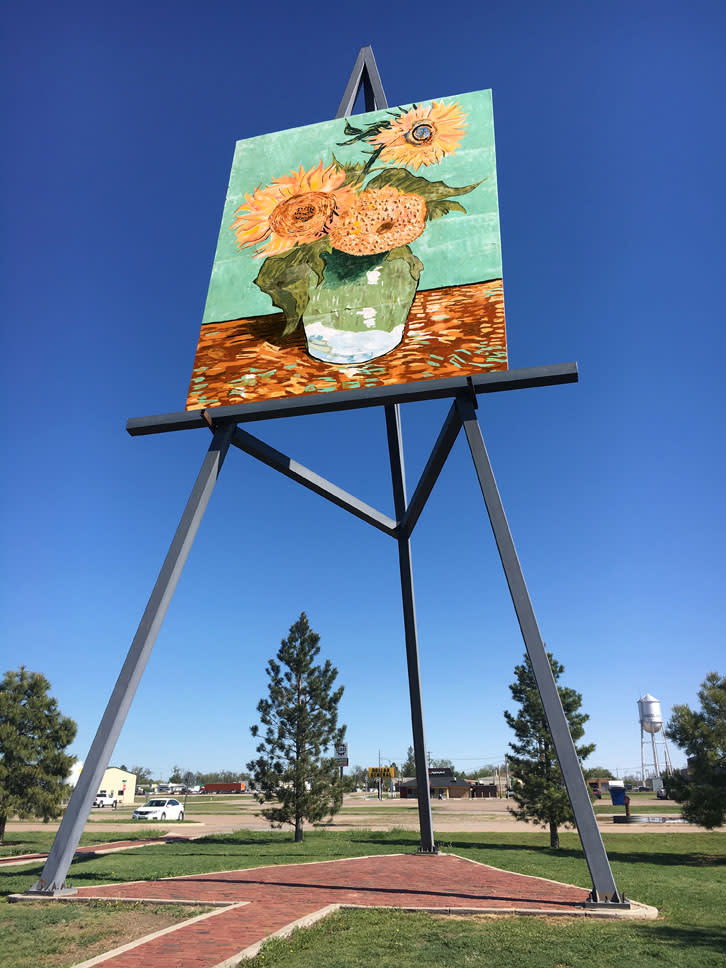 Credit: Jess Hoffert
Exit 53
Colby Aquatic Park, Colby
Zip down three water slides, lounge on a lazy river or frolic in the fountains at this H2O haven. Little ones have places to get their feet wet, too.
Exit 76
Fick Fossil and History Museum, Oakley
Few sharks swim in Kansas today, but they loved it here 80 million years ago, when a vast sea covered the region. Want proof? Check out the museum's 11,000 shark teeth found on the prairie. See other plant and animal fossils, too, including the skull of a Mosasaurus (a 30-foot marine monster).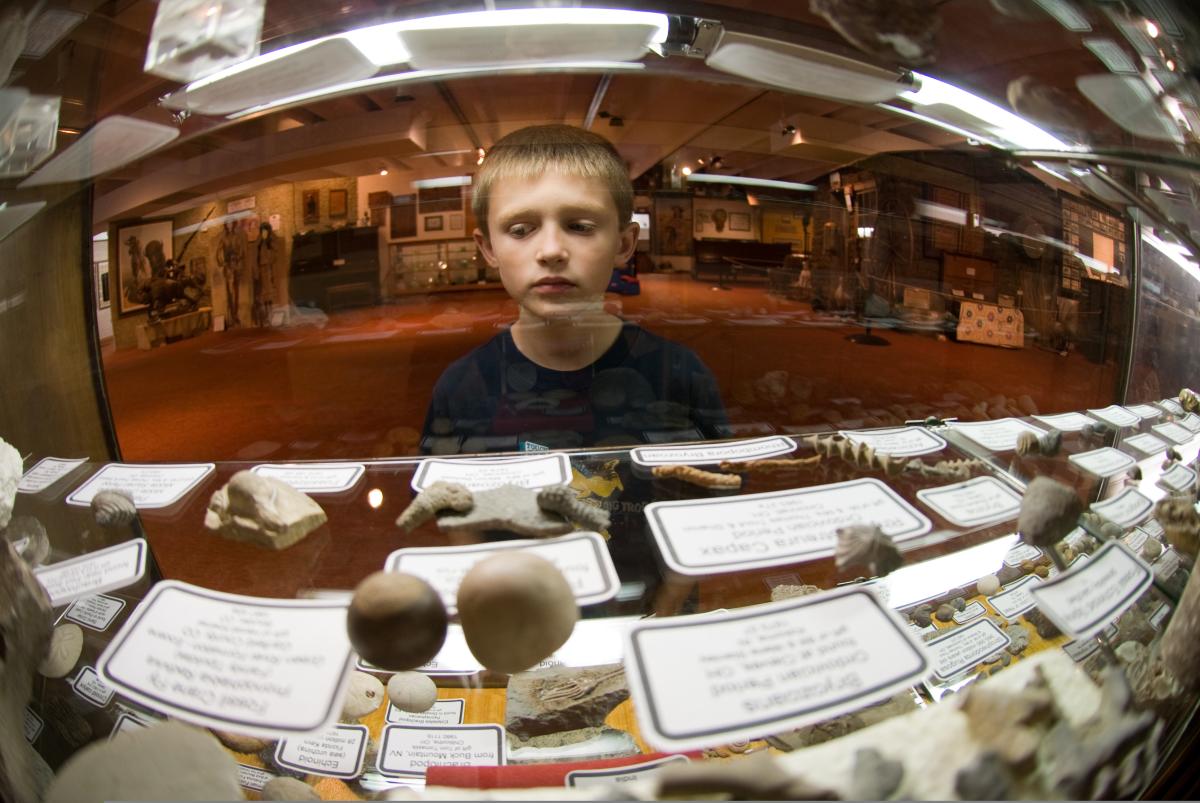 Credit: Michael Snell
Exit 127
Shiloh Vineyard and Winery, WaKeeney
Sample Brianna, a dry white made from grapes grown in Shiloh's vineyards, or try a sweet apple wine made from several varieties grown in its orchard. Call ahead for a tasting and take a tour of the grounds, which include a barn for special events and a tasting room in a classed-up chicken coop, where owners Kirk and Treva Johnston serve 14 varietals of wine.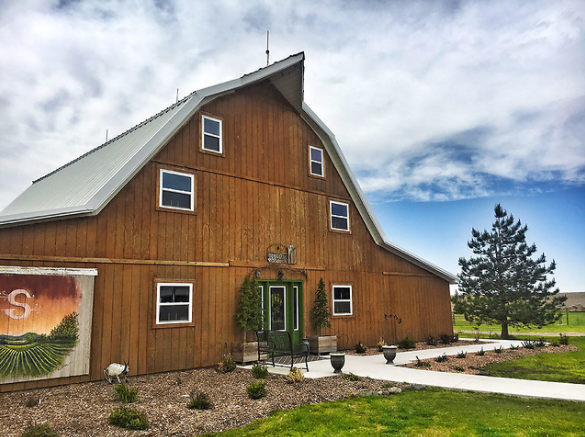 Credit: Jess Hoffert
Exit 161
Sternberg Museum of Natural History, Hays
See the unusual fossil of a 14-foot-long Xiphactinus fish that ate a 6-foot-long Gillicus fish before dying (a 1952 find from Gove County). Other displays re-create the ancient Kansas seas and present life-size replicas of massive creatures that once roamed the region. Be prepared: Some of the beasts move and make noise.
Credit: KDWPT
Country Drives
While you're exploring the region, take time to cruise along three of the state's scenic byways.
Land and Sky Scenic Byway
This 88-mile route from Sharon Springs to the Nebraska line crosses the Great Western Cattle Trail and Arikaree Breaks.
Smoky Valley Scenic Byway
Catch hills wearing hazy veils on this 60-mile drive through croplands and wildflowers of the Smoky Hill River Valley.
Western Vistas Historic Byway
The 102-mile route between Scott City and Sharon Springs on the state's western edge takes you through Historic Lake Scott State Park. Built in the 1930s by the Civilian Conservation Corps, Scott State Fishing Lake's 100 acres nestle in a canyon.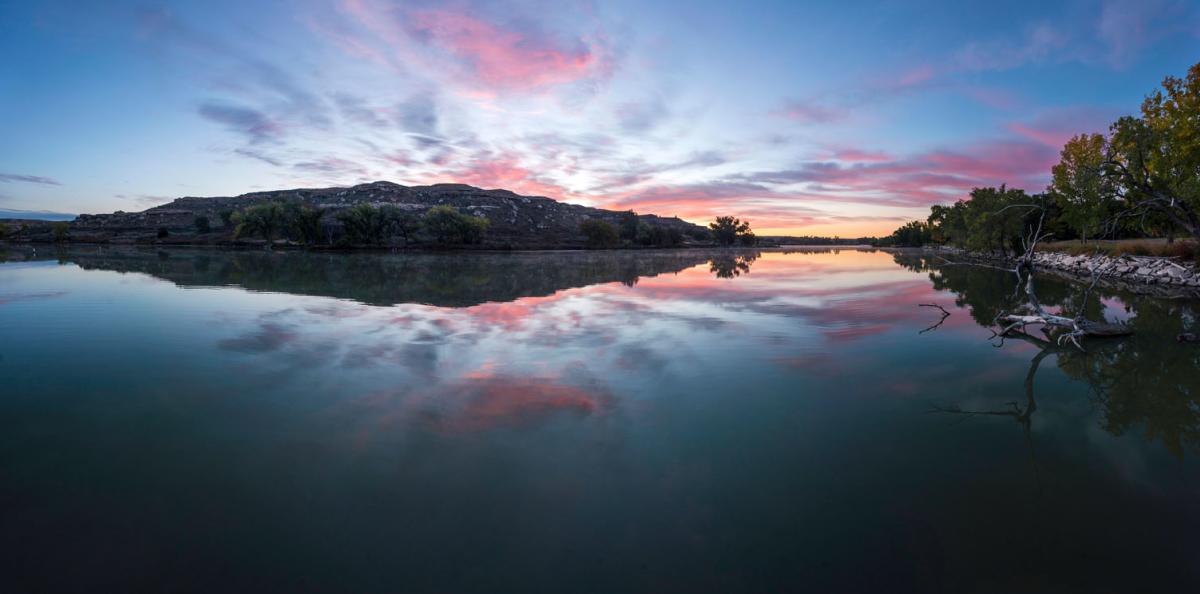 Credit: KDWPT
For a list of 70 just-off-the-highway favorites across the state, visit KansasI70.com, and check out the 2018 Kansas Official Travel Guide for more road trip inspiration.