Post rock fences were utilized to protect crops and livestock over 40,000 miles of open country in Kansas in the mid- to late-1800s into the 1920s where trees and lumber were scarce. The widespread prevalence of post rock fencing and stone post houses created a landscape and culture permeated with the spirit of ingenious pioneers. Each post or block is unique — no two fence posts are the same size, shape, or color, and many have fossils. Even today, many of the buildings and fences quarried by hand and hauled by horses are still standing proud.
Architecture and history buffs, rock hounds, fossil finders, educators, limestone enthusiasts, tourists, and travelers are encouraged to explore the region's numerous history museums, historic downtowns, rural art galleries, stately places of worship, and beautiful scenic views. The natural Greenhorn Fence Post limestone rock layer is evident across 18 counties in Kansas, including Barton, Cloud, Edwards, Ellis, Ellsworth, Ford, Hodgeman, Jewell, Lincoln, Mitchell, Ness, Osborne, Ottawa, Pawnee, Republic, Rush, Russell, and Washington Counties.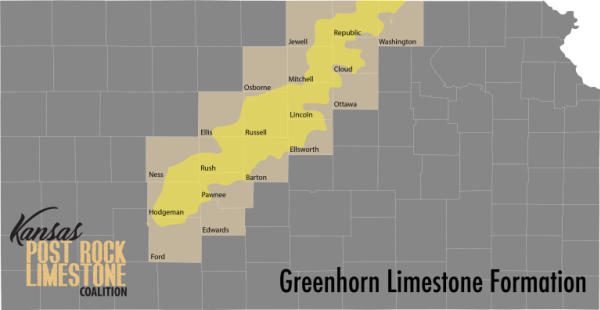 Start your post rock adventure in the Post Rock Capital of Kansas in Lincoln, with historic downtown architecture and fence posts for miles, or on the Post Rock Scenic Byway winding past Wilson Lake. Visit the Post Rock Museum in La Crosse to learn about all the types of barbed wire and limestone posts.
Wonder at the beautiful churches and sculptures in Ellis County, or the grassroots art and carved limestone posts in Lucas and Russell County. Tour the stately courthouses, libraries, churches, and even grandstands across the region. Dig into history and visit historic limestone jails, hotels, and homes of famous characters from the wild west.
Memorials and monuments, museums and theatres, arched bridges and barns — open your eyes to the myriad of ways post rock limestone is incorporated into the landscape of Kansas. The Skyscraper of the Plains in Ness City will wow even those that think they've seen it all.
You can find limestone structures in other parts of the state of Kansas, but in Post Rock Country, you can make a day trip of it! Take a little time to explore the rural communities towering with native limestone architecture and back roads with historic bridges and fence posts standing watch over the roads, fields and pastures. Whether you are making your own path, or you are reaching out to the tourism directors, visitor centers, economic development directors, or chamber of commerce, there is much to see. The evidence of the hardy spirit of the homesteaders and pioneers who came before us is present today in Post Rock Country!
Quarrying the Post Rock Limestone
Early limestone quarrying was done at the edges of ravines or outcroppings where the limestone layer was exposed by erosion of the surrounding soil. At first, pioneers sledged out building rocks and dressed (formed and sized) each block with stone hammers. Sledging describes the use of hand drills and hammers to make a straight line of holes along the exposed layer. Once the holes were drilled, pinch bars were used to pry the block loose. Smaller drills and hammers were then used to size and shape each block for building.
Pioneer innovation quickly updated the method of quarrying with the invention of specialized tools. Blocks and posts were quarried using hand-operated drills to place holes into the limestone strata eight inches apart. Then, feathers and wedges were placed in each hole and pounded evenly in a methodical way until the rock split into desired lengths. Some historical sources report that stone blocks could be quarried in the winter by filling the drill holes with water, and as the water froze it would expand and split the rock. Tests conducted with this method have been inconclusive.
Another problem the homesteader on the treeless prairie faced by the early 1860s was a need to protect crops from cattle and wildlife. During this time, the booming cattle industry and existing range laws protected the cattle owner, requiring farmers to protect their own crops. Early farmers found that the Osage Orange tree grew quickly in the dry Kansas soil and would form a thick hedge impeding cattle and other wildlife that liked to feed on growing crops. Osage Orange, while not as expensive as wooden fence posts, was a costly fence to maintain. So, the ever-ingenious pioneer found yet another use for the local limestone layer: fence posts.
Limestone Fence Post
A limestone corner post with barbed wire illustrates the typical method of reinforcing corner posts, as well as how barbed wire was attached to the posts.
Initially, farmers used limestone fence posts, now called post rocks, to support smooth wire. Smooth wire was not effective in controlling livestock or wildlife. However, with the development of barbed wire (a low-cost, highly effective wire), the need for sturdy, low-cost, accessible fence posts made the post rocks valuable assets to the regions' farmers.
Typically, stone posts were quarried where the limestone layer was close to eight inches thick, and each post would be split six feet long and eight inches wide. Each post weighed between 250 and 450 pounds, and a team of horses could only haul, at most, eight posts at a time. Most farmers chose to quarry and haul their own posts; however, many could afford the 25 cents charged per post (delivery included).
Post rocks were quarried the same as building blocks, but the increased size and weight made moving them more difficult. The typical method for hauling the posts was to quarry and dress the posts, drive a wagon directly over each post, and attach the post in a sling on the underside of the wagon. The farmer would then drive along the fence line and drop posts down at each post hole. An average of 25 posts could be completed each day, and typically only the number that were going to be placed were drilled each day in order to preserve the softness of the posts for dressing. Most post rocks were dressed with three or four shallow troughs (nicks) to hold wire strands in place, but a few farmers drilled holes to thread wire all the way through the post.
Learn more by visiting kansaspostrocklimestone.org or pick up a Field Guide & Map and get started exploring Post Rock Country!