I have a question for you. If you had any superpower what would it be? Something practical like super strength or never running out of energy? Or maybe something more controversial like reading minds or invisibility? Whatever your first answer may be, I think we can all agree somewhere in your mind the power of flight seems pretty exhilarating. Skipping rush hour traffic to feel the wind in your face, being just a little closer to the sun. A desirable idea, right? While growing feathery wings may never be in your future, just a few miles from Kansas Speedway is a magical place that will give you the next best thing. Zip KC is a zip line park tucked away in Bonner Springs, KS and is a guaranteed good time for anyone seeking that wind in your face experience!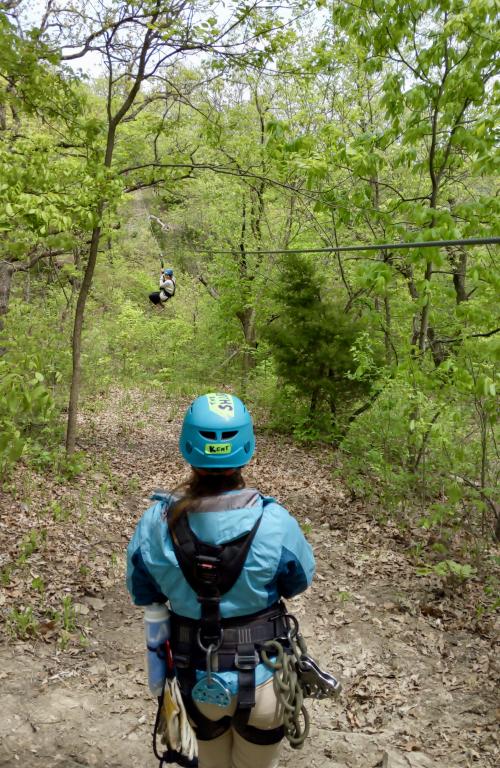 The winter in the Midwest was a long and miserable, so the second everything turned green again I knew I needed a good reason to get out and celebrate. That's when an adrenaline junkie friend who recently moved to the area suggested we go zip lining. I pride myself on being pretty high on the thrill seeker scale too, so an afternoon climbing a 65 foot tower and zooming over treetops isn't something  you have to twist my arm too tight to get me to agree to. That's right - SIXTY-FIVE FEET TALL. 
We decided on Zip KC because it's the perfect distance from all the commotion of Kansas City while still not being too far of a drive. As we made our way out I couldn't help but notice how despite being a bit cloudy, the crisp air was perfect for ziplining. I'd never booked my own zip  lining trip  before, so I should first and foremost point out you should arrive about 45 minutes before the time your tour is booked for. It is clearly stated when you make your reservation, but the anticipation of the day must have made me forget how to read. :) The staff graciously accepted my apology when they called to make sure we were still on our way.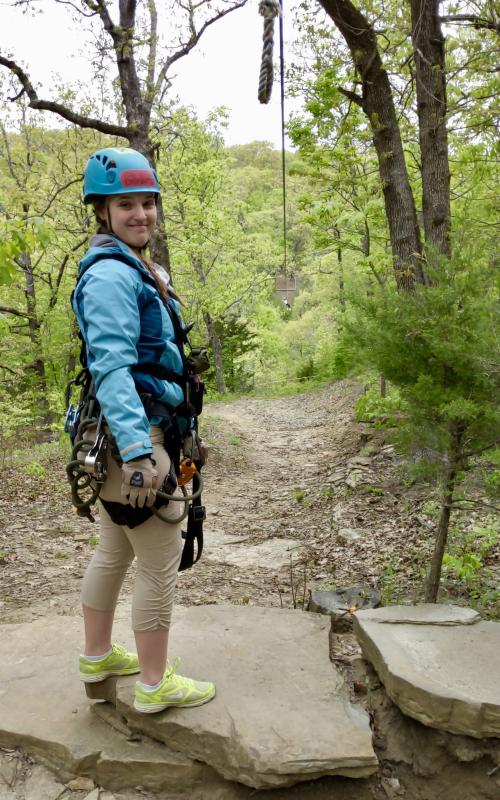 We pulled up to the luscious, forest that houses Zip KC, and were greeted by Luke and Abby, our super cool and personable guides for the day. I can't talk about my trip to Zip KC without raving about the staff. Besides being very forgiving about our tardiness, they were helpful, upbeat and hilarious throughout the entire zip tour. Tips are most definitely welcomed for guides on the trip, and they work very hard ensuring everyone is following the safety procedures while still having a fun time. My friend and I laughed later on about how while the guides were a lot younger than us they had much better conversational skills.
There are multiple tours you can choose from at Zip KC, each catering to the kind of experience you're looking to have. I already am planning to go back for the Sunset Date Night Tour, or the Night Flight Tour that includes complimentary glow sticks that give your zipping a very trippy feel. However, on this day we wanted all that  Zip KC has to offer so went for the Ultimate Adventure Tour, which is somewhat of a mix between their Hike & Zip Tour and Tower Tour.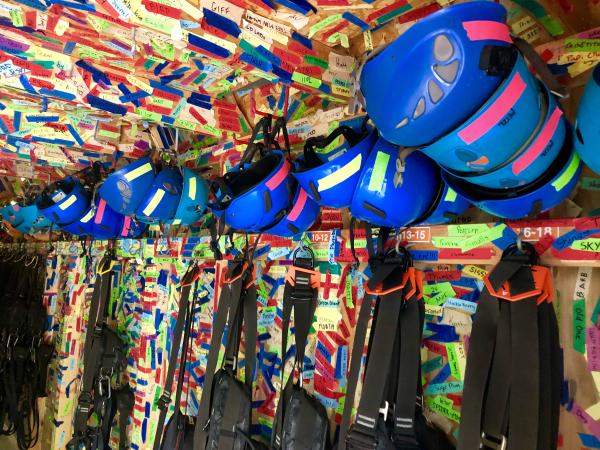 The Ultimate Adventure Tour, in my opinion, is the perfect choice for anyone looking for the full zip experience. The tour requires some walking, lasts about two hours and takes you through all nine lines of the park. From hiking (walking upward for those who cringe at the word hike) to soaring from tower to tower it all leads up to the final Zero Gravity Drop. Zero. Gravity. Drop. More on that later. 
One of my favorite parts about Zip KC doesn't have to do with the zipping necessarily. Each pair is encouraged to think of a funny nickname for their partner, write it down and stick it on their helmet. The nicknames are then revealed as you take your first zip and used each time you go for the remainder of the tour.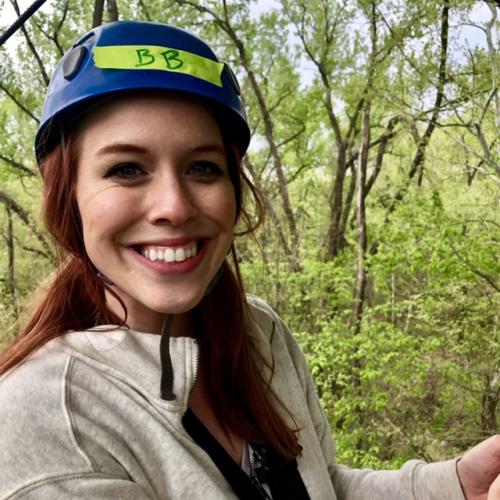 We took our tour with four other people - two teenage girls, one celebrating her birthday, and a couple (we'll call them Jack and Diane to make things easier, I am sad to say their names have slipped my mind) who was celebrating a birthday as well. Diane explained they were doing the Hike & Zip for Jack's birthday, no towers for them as heights were not her thing. As we did our first low-to-the-ground zip, Abby explained to me the Hike & Zip was great for people who fear heights and even older people who want to take a tour but can't walk up the tower. My heart fluttered at the thought of a little ol' granny experiencing the rush of zipping for the first time in her life. 
We took a few more low from the ground zips, which still picked up a good amount of speed. Then it was time to bid Jack and Diane adieu and climb the 650 foot tower. We climbed the 77 steps to the top, all a little breathy and with a glisten of sweat on our foreheads. WOW. The view that high is nothing short of breathtaking (or perhaps it was all the stairs). Again, it was spring, so there was vibrant green as far as the eye could see. I can only imagine the beauty of the orange and red hues that pop during the fall. Luke explained that we were about a marathon run away from downtown KCMO, and on a clear day you can faintly see the iconic skyline in the distance. 
The first leap you take on the tower tour is probably the scariest - and as I have stated I am kind of a sucker for scary. The group you take your tour with really adds to the day, but perhaps what struck me most was that 20 second spurts from tower to tower that just included me, the wind and the trees. That is where you get that feeling of flying you've only experienced in your dreams. The combination of the solitude, the beauty of the scenery and the speed of the zipline is something that can only be understood through personal experience.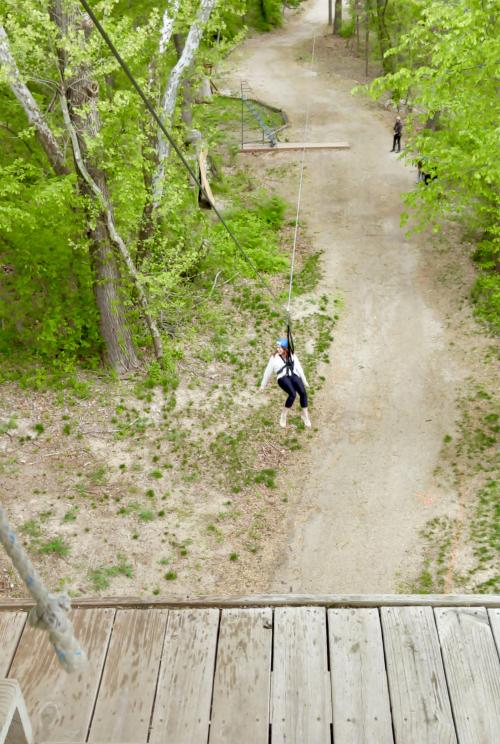 Each zip line gets its own name, and Fern Gully was perhaps the line I enjoyed the most. It's the fastest, and you feel like you need to duck or you'll hit a tree branch. Luke and Abby confidently explained while this is a common fear, it's never happened and is near impossible unless you've got tree branches for limbs yourself. 
After we flew our way downhill it was time for the grand finale.The Zero Gravity Drop. This line allows you to experience the feeling of, sing it with me, "♪ Free….free fallin' ♪." You can either fall completely backwards like a trust fall of jump out with your arms spread wide and ready to take flight. I had grandiose plans, but went with the shut my eyes tight, hop off the platform. let out a little squeal and hang on tight move. Maybe next time. :) 
With summer approaching I can't recommend a trip to Zip KC enough. If you're into anything nature, thrills, outdoor adventure, group activities or new experiences, which pretty much emcompasses 85% of humanity, put zip lining at the top of your to-do list - and go hang out with the cool guides and find out how it feels to fly at Zip KC.