A family farm dating back to 1879 has an orchard of native pecan trees grafted to improve varieties. Cracked pecans, halves, black walnut meats, and container-grown pecan trees sold at the farm. Custom cracking of pecans…
I was born and raised in Kansas and have spent the majority of my adult life in this wonderful state. One thing I love about living in Kansas and being the Agritourism Manage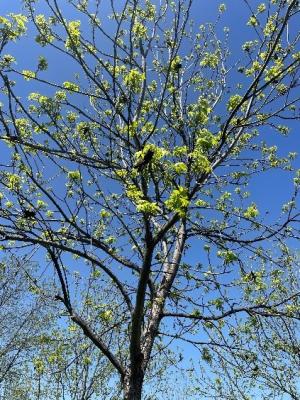 r, almost weekly, I learn something new and interesting about agriculture in our state. Last year I traveled nearly 1,000 miles to Atlanta, GA to see my first pecan grove and while it was a wonderful experience, it was nothing compared to the experience I had this weekend while attending the Miami County Farm Tour, right here in Kansas! Prothe's Pecans in Paola, KS, was one of the participating farms on the Miami County Spring Farm Tour. It was such a unique and fascinating spin on Kansas agriculture that I had never experienced before. 
The family farm started out as an 80 – acre traditional farm in 1879, with native pecan trees already growing on the property. Leland & Selina Prothe purchased the family farm from relatives in 1960, but not until 1987 did the pecan paradise start to emerge. With a vision in mind the couple began grafting trees to improve tree varieties and today they farm around 60 acres that include 2,200 pecan trees. 
Leland & Selina fully run the operation themselves, from the grafting and planting of the trees all the way to selling the delectable farm-fresh pecans at various farmers' markets and through their online store.
The harvesting process is uniquely different from the traditional Kansas crop harvests that I have experienced. When the pecans are ready to harvest, mid-November through December, Leland uses a shaker implement that attaches to the tractor. The implement clamps around the trunk of the tree and shakes the tree in bursts to release the pecans. The jolt of the implement is strong enough to shake a house. A special metal canopy was added to the tractor to protect Leland from the falling pecans and branches that come down during the process. After the pecans have fallen to the ground, a Harvester is pulled behind the tractor to sweep up the pecans from the ground.
The pecans and any debris that were swept up are then run through a cleaner that uses air to discard any unwanted matter. They are then bagged, froze, and stored until purchased.
Consumers can purchase pecans in a variety of forms. Whole, cracked, halved, or candied! When an order comes in that requires cracking, the whole pecans are run through a ma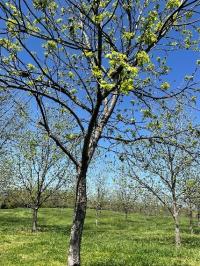 chine called the cracker. Each pecan must be cracked individually and at the ends. The air-operated cracker can crack as many as 400 lbs. of pecans per hour. Last year this wonderful agritourism location harvested 25,000 lbs. of Kansas pecans!
After learning all about Kansas pecans I had to try them out, I have to say I might now be a pecan snob, once you have had something that fresh and delectable you don't simply just go back to store-bought pecans. Don't just take my word for it, check them out in person or have them delivered right to your doorstep by visiting Prothe's Pecans - Store (prothespecans.com).