As I've gotten older I have seen first hand how history tends to repeat itself. In day-to-day life we mostly see it through recycled fashion trends (looking at you choker necklaces, color tinted sunglasses, fringe and ultra high-waisted pants) but now 2020 has brought us the revival of drive-in movie theaters in Kansas. The necessity of drive-in theaters has been driven by a global pandemic, but the nostalgia, privacy and limited face-to-face interactions are all things this introvert can get behind!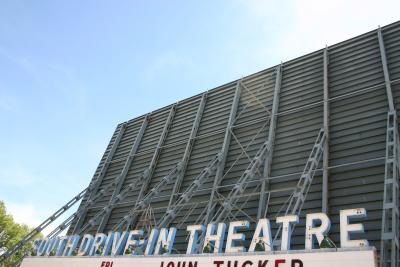 Where to Find Drive-In Theaters in Kansas
The good news for us is that there are several drive-in theaters in Kansas that you can catch a movie at! And remember, while it may be tempting to sneak in a snack or two, these small Kansas businesses could use your dollars at the concession stands (when available) in order to stay open during this turbulent time, so be sure and support them where you can!
Kanopolis Drive-In Theater  – Kanopolis
The Kanopolis Drive-In Theater runs from the first weekend of April through mid-September, depending on attendance and availability of films. They feature a 60-foot-wide screen and sound from 65-year-old pole speakers. But, don't worry if you're concerned about sound quality from these antiques, you can always tune into 101.1 FM for a richer sound quality. While they don't prohibit outside food, they do offer a concession stand with hot dogs, hamburgers, nachos, popcorn, fountain drinks and more!
Starlite Drive-In - Wichita
The Starlite Drive-In had one of the catchiest radio jingles of my youth and is happily serving customers still today! They have also added an option to purchase a season pass for the theater, with additional discounts, special events and more for their pass holders. This is actually the state's last remaining twin screen drive-in and has a 1,300 car capacity. The theater is currently open seven days a week. While their location isn't currently offering speakers due to COVID-19, all sound will be available via FM, so be prepared to use a car stereo or bring in an FM capable radio. Starlite also features a concession stand with hamburgers, hot dogs, fries, popcorn, cotton candy, funnel cakes and more!
South Drive-In – Dodge City
The South Drive-In Theater is a Dodge City staple! Located on the south side of Dodge City, South Drive-In has offered a varied selection of retro and modern movies as well as recorded concert events over the last few weeks. This location no longer has speakers, but audio will be broadcast via 88.1 FM. Their concession stand offers movie time staples like popcorn and pretzels, but you'll also find pizza, hamburgers, hot dogs, ice cream and pickles… Both regular and frozen!
Boulevard Drive-In and Swap N' Shop – Kansas City, Kansas
Watch your favorite movies. Shop for cool stuff. This is THE spot to be. The Boulevard Drive-In hosts Swap'n Shop Flea Markets every Saturday and Sunday year round, weather permitting. They have limited capacity in the theater to 50% to ensure physical distancing, so be sure and get your ticket early! The Boulevard leads the way in digital technology and was the first drive in theater in the world to install digital sound. Now, the DTS (digital) processor makes the field speakers sound fantastic with no distortion, no rattles nor mushiness. The concession stand is currently closed at the Boulevard, so be sure to plan ahead!
The Drive-In at Midway - Paola/Osawatomie
This is another great stop for movies and shopping! The Midway typically shows movies on weekends from April through November, weather permitting, of course! Many of the features at The Drive-In at Midway have been renovated after a local couple bought the property in 2020, so now is a great time to show them support! Among the first items on the to-do list for the new owners was making sure the Midway could be used for things like swap meets, weddings, car shows and more, so they and their community successfully lobbied to have the zoning changed so the business can grow. Swap meets also run from spring until late fall, weather permitting. This location is cash only at the ticket booth for swap meets and movies, however, the concession stand does accept credit cards.