So you say you enjoy walking/hiking in the great outdoors? Perhaps you enjoy doing some things by yourself and unwinding or sometimes you like socializing with friends, both new and old. It sounds like you're a great candidate to enjoy the sport of Disc Golf (Frisbee Golf). Go ahead, combine your love for the outdoors with an inexpensive and 'challenging as much as you want it to be' sport. It's booming in Kansas with a 50% growth in the last 2 years (230+ courses)
For me, it's been a great excuse to see Kansas. Wandering the back roads of this wonderful state has been so enjoyable. Meeting people (on/off the course), eating in local restaurants, staying in local lodging, and driving the back roads. What a beautiful state! So many of the smaller towns have central parks they use for community involvement and activities. These often host disc golf courses. A number of state parks have courses embedded, so camping/fishing trips can include some disc golf activity also. It's time for you to check out the sport and check out the state! You can find courses in Kansas by going to www.PlayKansasDGC.com and looking at the database or the map. Check it out…you may be surprised!
While I've played a little over half of the courses in the state, here are a few that I've enjoyed!
Jackson Park 18 – Atchison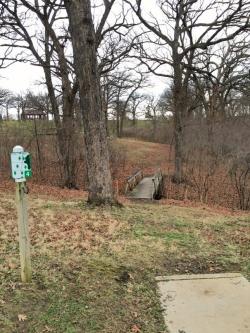 Atchison is located in a pretty part of the state. I remember playing the 9 hole course and standing on the high piece of ground looking north over the town and the Missouri River. Beautiful. Jackson Park covers more than 100 acres and offers walking trails, picnic spots, playgrounds, and more. The park includes open green space and natural, wooded areas for bird-watchers and natural enthusiasts. You might also check out Molly's Hollow in the park which is said to be haunted.
There are actually two courses in Jackson Park on the south part of town. The smaller 9 hole course is located in the SE part of the park while the larger 18 hole course is located in the main park.
While both courses are fun to play and offer a variety of holes, I enjoyed the larger course a bit more. The first few holes play down and across a sloped and treed area with some interesting throws. Hole 8 sticks out as it throws down between two hills and along a road. There is good elevation changes and while not being excessively thick with trees, it has plenty to keep things interesting.
While I am trying to get all the courses in the state played, I want to get back and play here again sooner rather than later.
Heritage Park DGC – Olathe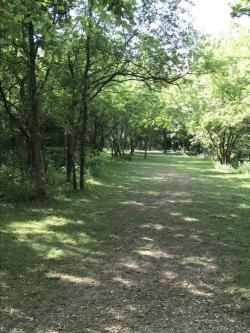 This is relatively new play on my list and is one of my favorites. The park itself is very large and includes quite a number of opportunities. The disc golf course is near the ball golf course and is dedicated to disc golf.
The course is well maintained and there are trash cans around the course to help keep it that way. There are also benches on numerous holes. The tee pads and signage are very good. The design is quite good with a variety of holes that make it challenging. Hole 1 starts by the parking lot and you throw though a window 'into the course'. I really like that affect. Hole 12 is a signature hole back in the trees with an elevated basket planted in a tree trunk protected by trees! Overall you need to think about your shots and do it in a very pleasant surrounding. It's a beautiful walk in the park and even better when you're chasing discs!
Peter Pan Park – Emporia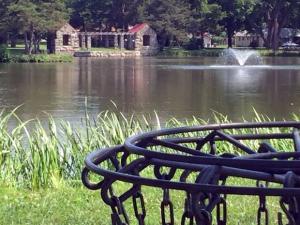 I believe this is one park that is almost universally a hit among disc golfers. It is set in a city park with multiple uses including baseball, tennis, picnicking, playgrounds, lake, etc. Its name comes from some interesting history. I won't spoil it, go do the research for yourself.
Even so, it has been designed well and the maturity of the park makes it challenging. While there isn't a lot of elevation change, the use of trees and obstacles is good. A signature hole has been added back in: Monkey Island. Yes, you'll need to look that up too! No wonder so many people like to play this course as it is fun and challenging at the same time!
Clover Cliff Ranch – Elmdale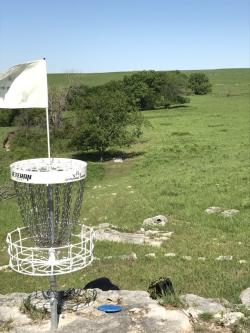 This course is built behind the Clover Cliff Ranch B&B. Anyone staying at the B&B has full access to it. It will be available for others to play during special events or special arrangements. You cannot just walk up and play the course. While this course is not quite complete yet, it is playable.
Having said that, I will find ways to go back and play this gorgeous course in the Flint Hills. There were times when I was playing with my group that we just stopped and looked around…the views are beautiful. As you walk up to Tee 1 you realize it is high throwing down. You can see the course area with most of the holes tucked into the trees and along the creek that flows through the land. In fact, after completing the round, we walked back to Tee 1 just to take in the view!
We walked along the creek, through the pasture, up the limestone ridges, over the plateau and down through the trees. The elevation changes are significant at times. Most of the water hazards are pretty shallow and spotting discs in them isn't hard. We did lose a disc in the creek on hole 9.
Lots of beautiful holes including #1 where you tee off high over towering cottonwood trees down by the creek. You have to throw up to Hole 4 basket which is on top of a limestone ridge. Hole #9 basket is placed on the side of a ridge in trees with 7-8 limestone block steps leading up to it. Hole #10 has a basket tucked next to a limestone fence with a large section of tree fallen behind it breaking down part of the wall to form a corner. And I could go on.
Some suggestions when playing: bring water, good shoes, play with someone to help spot discs and don't be in a hurry!
Airport Park – Concordia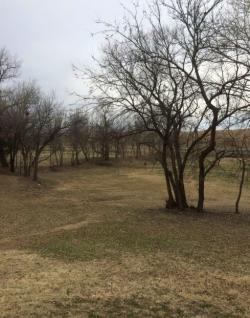 This was one park I was really looking forward to on my North Central KS trip. It was new and I had heard good things! As you can guess, it's next to the airport. It also has a dog park and camping pads. Across the highway is a Wal-Mart and Cloud County Community College with a course as well.
It's easy to find along Highway 81. This course has a decent mix of open and treed holes, short and long holes along with elevation changes.
Holes 3 and 4 pretty technical as they are embedded in some pretty dense trees. Hole 7 is pretty cool! It's an elevated tee with an elevated basket (not as high) The basket is basically sitting on an island with trees almost surrounding it. Hole 10 is a pretty neat hole. It's short, narrow, straight and tempting. It looks like you should be able to park your drive, but the trees will have something to say about that! Enjoyed this hole! Hole 13 is a bit of walk from 12 basket and is a bomber. It's about 400' and wide open. Let 'er rip! Hole 17 basket is on a peninsula with roads doing a 'Y' right in front of and then along it. The ground slopes down and left towards the roads which makes it very challenging.
Quivira – Marquette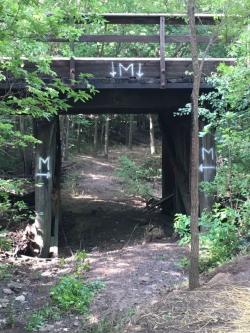 I'd never been to Marquette before so I wasn't sure what to expect. Like a lot of my travels, I always wonder about small town disc courses, but have stopped judging before I see them. I was able to see pics of the tee signs before I got there and wondered about all the trees. It was easy to assume that if there were ball fields and ball diamonds in the immediate area, it would be a fairly open course. Boy, did I set myself up!
The first three holes are open fairways and are the only holes with marked OB. The rest of the holes are in the trees and I do mean trees. Every fairway was somewhat congested. I remember thinking on 3 holes there was no way to get to the basket on my drive. After two times around that was proven wrong.
A couple of unique holes on this course: Hole 6 (107') is 'short' and it goes from high to high with a deep drop-off to a creek in between and of course some trees poking their fingers into the fairway. There is also a deep drop-off to the right of the basket. Hole 7 (176') is fun to look at from the tee. You're staring through an old railroad bridge that has a triple mando (must throw below the bridge and between the supporting legs) looking at a fairway with trees and a dry creek on the right.
I really enjoyed playing Quivira DGC. If you're in the area, you definitely want to stop and give this course a play, but leave the big guns in the bag and bring your finesse game.
Notes:
You do need to be aware of poison ivy and deer ticks. I did not have either of those problems, but I am glad I brought some good bug spray!
If you like motorcycles, stop in at the museum in town!
If you're coming up from the south on I-35, look for full size billboard on the east side of the road.
Oak Park – Wichita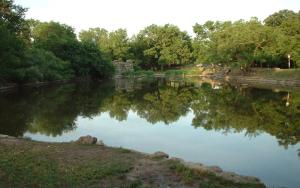 This is a very pretty park in the north part of the city. Among other things, you'll find people taking special occasion pictures here because of some great stone structures and the fact a river runs along it.
While there are 8 courses attributed to the city, one of them is on the Air Force base, this park contains the signature course in Wichita. The first 5 holes play in their own little park and then expand out into the bigger area. If you only want to play 9 holes you can do that by playing 1-6 and 16-18. With two tees for each hole and 2-3 basket placements for each hole this course plays a lot of different ways.
It has a classic finishing hole over an elongated pond which makes up the fairway. There are thick trees on the left followed by a large rock 'cliff' to the end of the pond. The right side has fewer trees, but they hang over the pond and the street is very close. The basket is usually placed about 15 feet past the water.
Carey Park – Hutchinson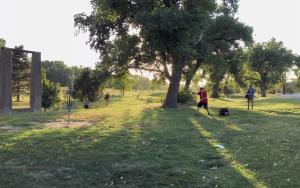 The disc golf course here is located next to the ball golf course in the southern most part of the park. It has a nice mix of open, semi-open and tight fairways. They have planted a lot of new trees in the last year which will continue to make the course harder. There are some benches and the tee pads are cement. A pond comes in to play on Hole 4…and maybe Hole 3 if you throw a real bad shot! A great addition has been an elevated basket on Hole 2. Using large stone as the border, it sits on top of the second level.
Being in the Sand Hills, it adds added dimension: sand traps. This is something most golfers are used to, but you don't find them on disc courses too often. The penalty for landing in such a trap is throwing your disc out upside-down.
The local club has done a great job working with the city to make improvements and to continue developing the course. It is definitely worth a stop.
Elmwood Park - Norton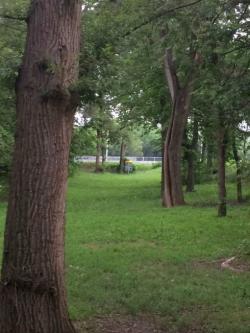 In my travels, I'm finding a lot of smaller towns really value and use their parks. Elmwood Park is a large and loaded with activities for the Norton and the surrounding areas: football field, baseball diamonds, Equine facilities, dirt track racing, skateboard park, playground, camping, picnicking and of course disc golf. It appears to be well maintained.
It all starts with Tee 1 in the north central part of the park where Park St and Wabash Ave meet. There is a bench, tee pad and plaque commemorating the course. This course was the favorite of my NW Kansas trip. There was a bit of everything: elevation changes, tunnel shots, trees, risky shots, and more. If I was anywhere close, I'd play this course anytime I could.
Looking for more disc golf fun? Be sure and check out everywhere you can play! Kansas is also home to many disc golf tournaments, including the Glass Blown Open. The event was founded in 2003 by Emporians Eric McCabe and Gabe Werly and hosted 88 competitors. Why is it called Glass Blown Open you ask? The trophies are made from blown glass. In the early years, the trophies were crafted by world-renowned Emporia artist, Hal Berger.