There's a good reason why Kansas celebrates Home on the Range as its official song. Discover Old West adventure at guest ranches, living-history museums and dusty rodeo arenas.
Living the Ranch Life
A squeaky-clean version of cowboy life lives on at Prairie Rose Chuckwagon Supper on the outskirts of Wichita in Benton. Visitors file into a dining hall at 6:30 p.m. for the Pledge of Allegiance, a prayer and a chuck wagon supper that includes Western staples of barbecue brisket, beans, biscuits and apple cobbler. After dinner, the Prairie Rose Rangers fire up classics like Tumblin' Tumbleweed and Ghost Riders in the Sky.
Mary Cronemeyer's Circle S Ranch and Country Inn satisfies those seeking a more serene escape. North of Lawrence, the plush inn—built to resemble a barn—features gourmet meals and an attached silo with a hot tub to soothe away modern-day stresses. Activities include horse and buggy rides and evening s'mores around a fire pit.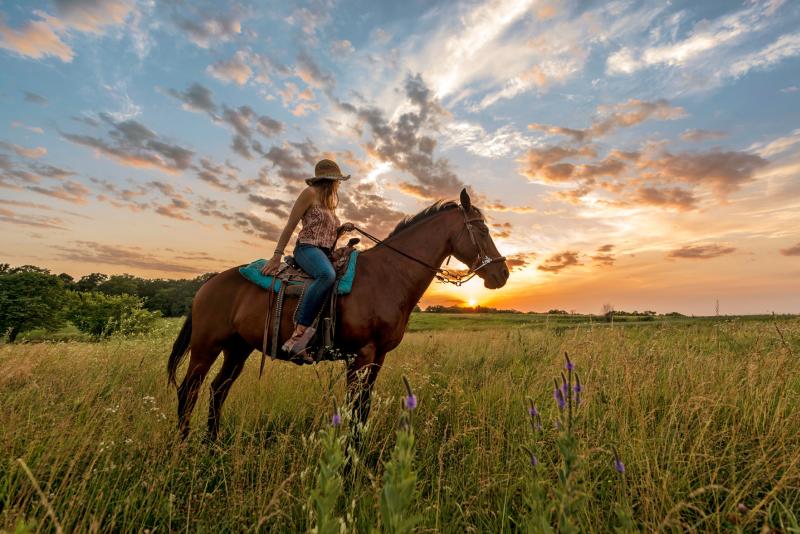 Credit: Doug Stremel
Gun Smoke and History
Concealed in an acrid cloud of gun smoke, desperadoes and lawmen with bucking revolvers crouch along the weathered, creaking boardwalk at the Boot Hill Museum in Dodge City. Are the gunfighters supposed to be Wyatt Earp and Doc Holliday or Matt Dillon and his stiff-legged sidekick, Chester? It doesn't matter to the throng along re-created 1870s Front Street. They're simply enamored with the Old West spectacle.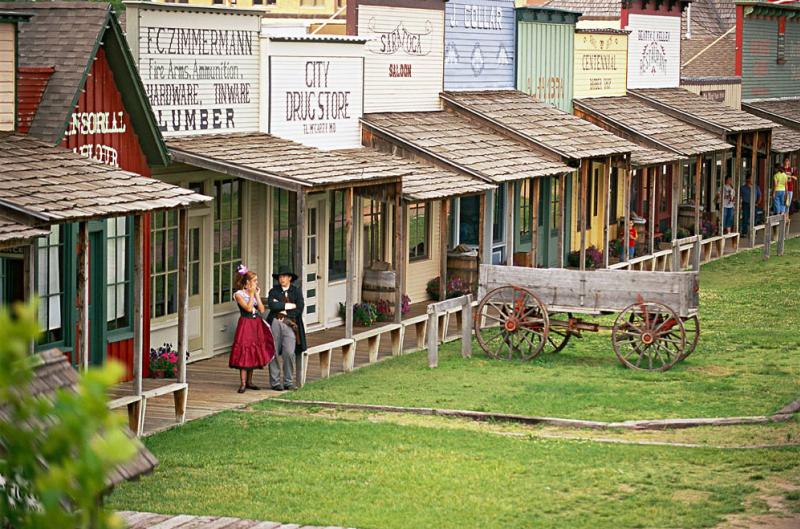 Credit: Jason Lindsey
Mingling historical accuracy and Hollywood flair, the museum celebrates Dodge City, the 1870s Queen of the Cow Towns (a nickname bestowed upon the town for its impressive roster of cattle and gunfighters). A rifle among the museum's expansive gun collection contributed to the population of the museum's Boot Hill Cemetery. On the more glitzy side of the museum's spectrum, The Longbranch Saloon show features a performer dressed as Miss Kitty from Gunsmoke.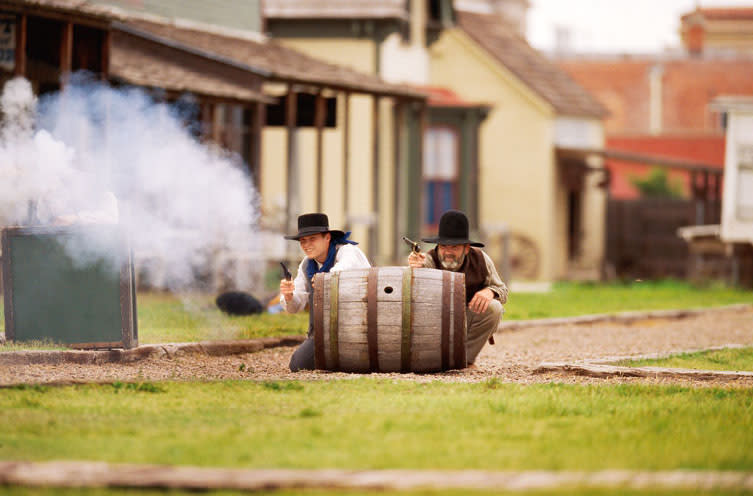 Credit: John Noltner
In the cow town-turned-metropolis Wichita, visitors pop into some of the 39 buildings (27 are 19th-century structures) on the re-created frontier streets of the Old Cowtown Museum. Along with daily shootouts, Old Cowtown features covered wagon rides, blacksmith demonstrations, and a saloon serving brats and sarsaparilla.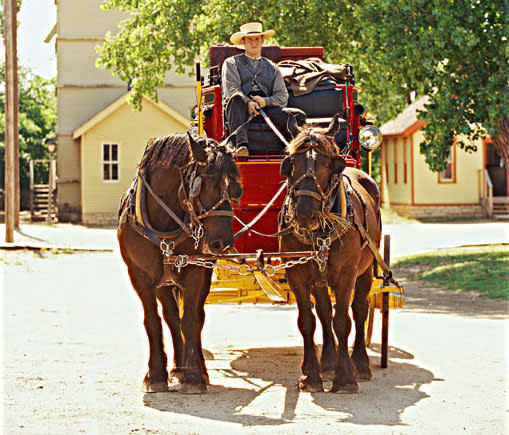 Credit: John Noltner
Rodeo Roundup
As ropers, barrel racers, bronc riders and steer wrestlers gallop and careen around the Finney County Fairground arena, the scene takes on a sepia glow from rising dust illuminated by a slanting sun.
If that golden hue lends the Garden City rodeo a timeless air, it's only fitting. With an adrenaline-fueled harmony of skill and mettle, this rodeo celebrates the ongoing tradition of ranch life.
In summer, you're never far from a rodeo. Garden City's Beef Empire Days PRCA Rodeo charges into town in May 25-27, 2017.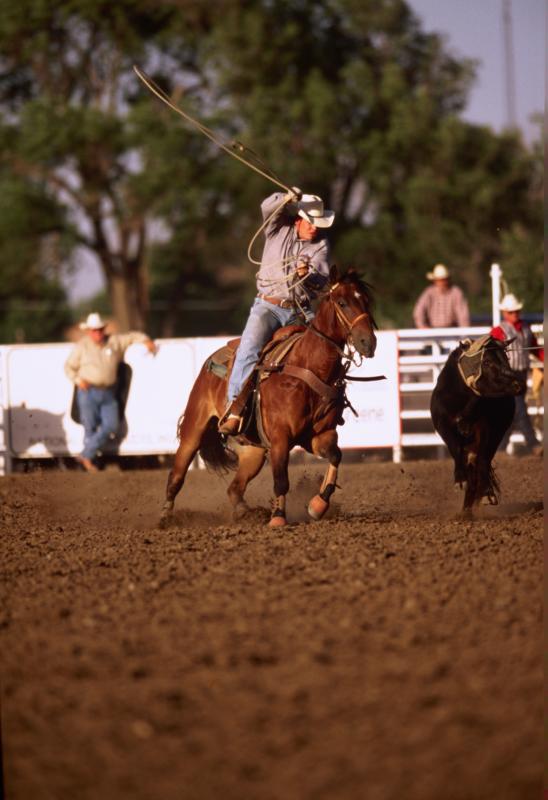 Credit: John Noltner
The following weekend, Strong City's 80th Flint Hills Rodeo opens in the heart of cattle country. Dodge City welcomes visitors to the Roundup Rodeo, with 800 contestants competing for cash prizes July 28–August 5, 2017. Abilene hosts its Wild Bill Hickok Rodeo August 2–5, 2017.
150 Candles for the Chisholm Trail
Near Dodge City's historical Front Street, the inscription below a cowboy statue reads, "On the ashes of my campground, this city is built." The same could be said of Wichita, Abilene,
Ellsworth, Waterville, Newton and Caldwell—all raucous Kansas cow towns that took their turn as the final stop of the legendary Chisholm Trail.
In 2017, those communities and others celebrate the 150th anniversary of the route along which 5 million longhorns lumbered from Texas to Kansas between 1867 and 1885. The Chisholm Trail: Driving the American West exhibition launches its statewide journey January 12–March 7, 2017 at the Symphony in the Flint Hills Gallery in Cottonwood Falls and makes stops in Wichita, Abilene, Caldwell, North Newton and other communities. Abilene also celebrates during its Trails, Rails and Tales event with parades, dances and concerts (September 1–3, 2017). While there, check out the pistol Wild Bill Hickok carried when he was marshal on a display at Dickinson County Heritage Center.
See more of Kansas' cowboy experiences at TravelKS.com/things-to-do and check out the 2017 Kansas Official Travel Guide for more wild adventures.