During a recent trip to Colby, I stopped off at the Prairie Museum of Art and History. The museum alone is a great place to visit and out in the field, sitting amongst the little one room school house, church and 1930's home is the massive Cooper Barn. This beautiful white barn stands out in it's newest home at an impressive 48 feet tall, 66 feet wide and 114 feet long! [[endteaser]]
Did I say newest home? Yes, this barn, built in 1936 in Breton was extraordinarily moved 16 miles to Colby in one piece! Beginning it's life in Breton, it was constructed for Foster Farms by northwest Kansas men from lumber that had actually been purchased and stored from the 1920's. Once complete, it housed as many as 75 prize winning registered Hereford cattle and the farm itself was nationally recognized as a top breeder.
Another interesting historical point that I read about the Foster Farm is that they bred Clydesdale horses. Besides the Clydesdales, there were other horses and mules, averaging 350-400 head per year! At the 1938 American Royal showing in Kansas City, Missouri, the Budweiser Company bought six horses to use in their stables.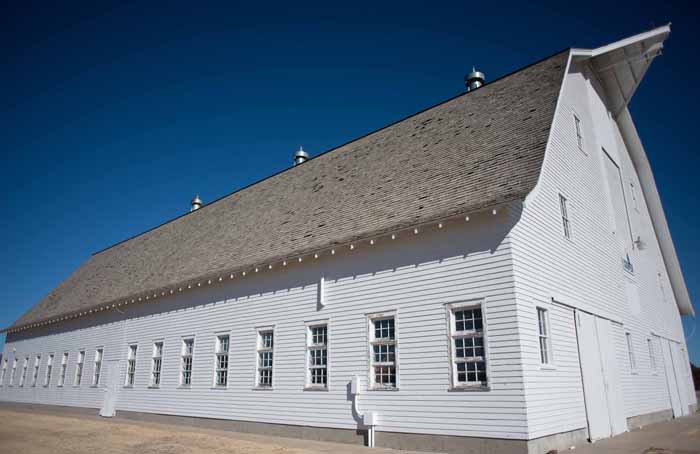 The farm was eventually dissolved and later sold to a group in 1991. The barn was then generously donated by the Cooper family to the museum where it now houses Thomas County agricultural history including artifacts and photos from the last 100 years.
The largest barn in Kansas, it was recognized as a Top 8 Wonders of Kansas Architecture in 2008. Strolling along the once-occupied livestock stalls, one now tours a museum within a museum. There are many cars, wagons and machinery to view along with old photos and complete descriptions of the farm's operations. What once held hay in the loft now serves as an open space for community events, dancing and wedding celebrations.
The next time you are in Colby, stop by the museum and take a closer look at the Cooper Barn. What is most impressive to me is its size and the fact that the barn was built so well that it sustained not only years of Kansas weather, but a journey to its new home. Admission and information on the barn and the rest of the museum can be found at http://www.prairiemuseum.org. 

Jenni Harrison is a Topeka native and graduate of Washburn University who owns her own business. She stays busy as a leader for a Girl Scout Troop, Cub Scout Den and the never ending duties of being a mom. Besides her high school sweetheart whom she married many years ago and their three children, her other loves include two parrots and the three dogs who surround her at all times while she is working from home.