Kansas intriguingly calls out to the curious, to the wide-eyed wanderers, to the dreamers, to the storytellers, and we are among them. Are you?
Beckoned south, as if tapped on the shoulder by a wistful child, we packed our bags and set off for a Kansas road trip via the I-70. Of course, we had no intention of actually staying on the interstate. Our trip from Iowa to Kansas was all about exiting the interstate feverishly in search of America's last  "best-kept secret."
That's exactly what one Kansas local called Northwest Kansas. America's Last Best Kept Secret. Her words floated through the air and stuck to me like the flitting pieces of a blown dandelion clinging to the edges of my clothing. I could only hope the landscapes would live up to her whimsical words riddled with pretentious proclamations.
Awe-struck at Monument Rocks
We trucked our way west and then south from the northeast corner of the state, first rolling through acre upon acre of pristine pastures, followed by the endless golden waves of grain we so proudly belt about each fourth of July.
And then, we met the incomprehensible dramatic deserts, a kind of scenery never attributed to the Midwest. Yet before the awe could escape our lips, Northwest Kansas blessed us with a rare and indicative early-summer rainfall. 
The raindrops swathed the landscapes in vibrant pigments as if it had been gently stroked by an artist's paintbrush just moments before our arrival.
The experience was nothing less than monumental as we rolled up to Monument Rocks, a staggering, chalky monolith outstretched between ranchlands dotted with cows.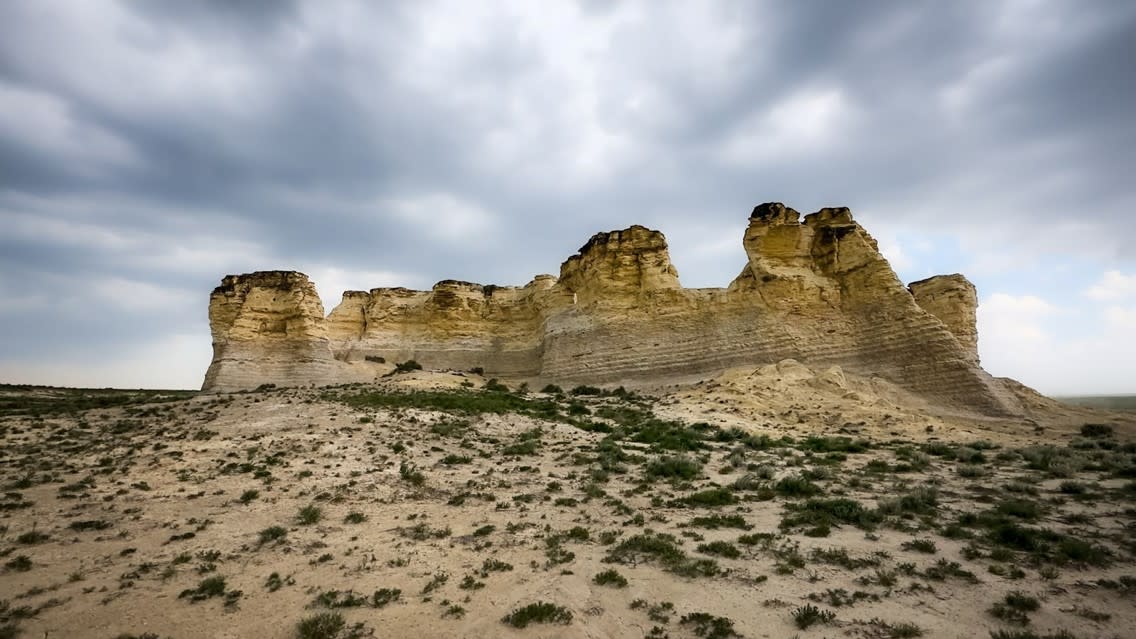 How to get to Monument Rocks, Kansas
Monument Rocks, also known as the Chalk Pyramids, are listed as a National Natural Landmark in Kansas. They are located on private land with free, public access during daylight hours. Their location in Gove County is clearly marked on Google Maps, as well as with signs off the Highway 83 exit that guides travelers through about 6 miles of gravel roads.
What are the Monument Rocks in Kansas?
Included in the 8 Wonders of Kansas, Monument Rocks is a cluster of prehistoric Niobrara chalk formations located in Northwest Kansas. Estimated at over 80 million years old, the 70-foot tall buttes and arches are remnants of a former seabed that was part of the Kansas landscapes during the Cretaceous Period.
Going the Extra Mile for Little Jerusalem, Kansas
As if going back 80 million years wasn't epic enough, the next stop on our quest for the "last best-kept secrets" in Kansas sounded like it'd take us 7,000 miles to the other side of the globe. 
In reality, we only had to head about 10 miles west as the crow flies or 15 miles on gravel and pavement to the other side of Highway 83. The destination? Jerusalem. Little Jerusalem Badlands State Park. 
From the moment our feet hit the dusty ground I searched for words to compare the scenery with other places. Since we've never been to Jerusalem, I couldn't mirror that observation, but it didn't feel like the Midwest either. After several moments of pondering, my spirit settled on the concept of the Grand Canyon of Kansas.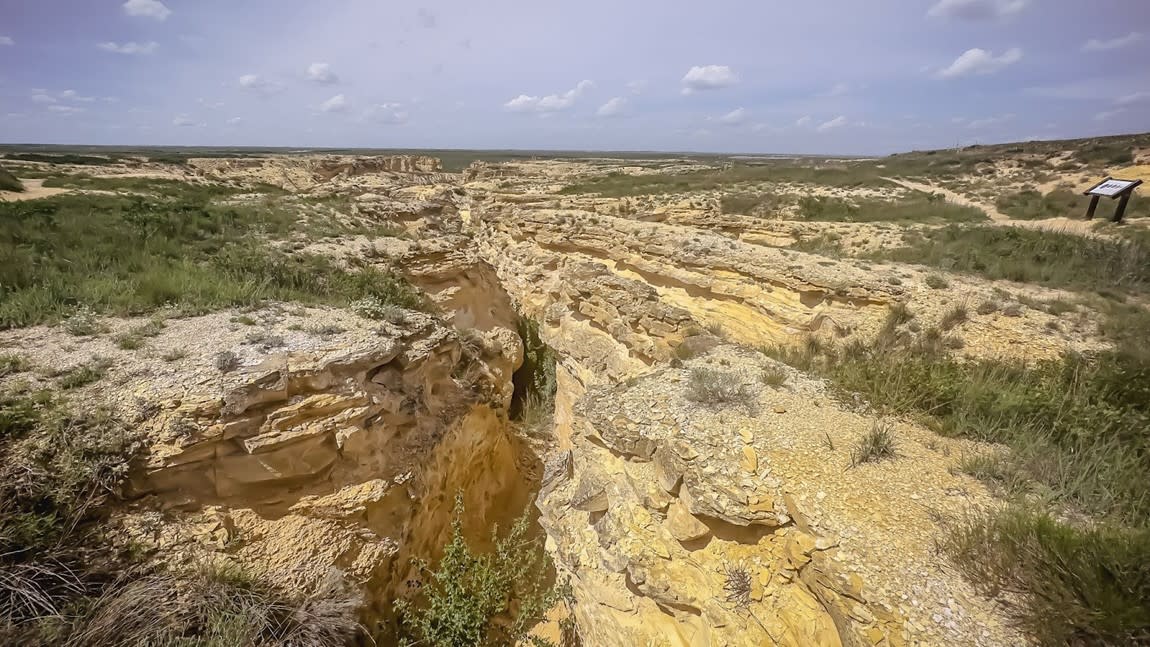 Like a pocket full of buttes and spires, the mile-long canyons of Little Jerusalem are impenetrable badlands only appreciated from high above on the crest lines. The crestlines follow flat, rocky trails snaking in and out of the desert and back towards the bowl of the park. 
What initially appears barren and forgotten is at a closer look, a vibrant and thriving ecosystem home to numerous endemic species and plants including reptiles, amphibians, and birds of prey.
Why is it called Little Jerusalem State Park?
Little Jersulem had many names before it became a state park in 2018. Some locals called it Castle City because from a distance it looks like the ruins of many castles. Over the years, as geologists visited the property, the badlands were often compared to the ancient walled city of Jerusalem. When it came time to name the park, most locals and geologists knew the area as Little Jerusalem so it became Little Jerusalem Badlands State Park.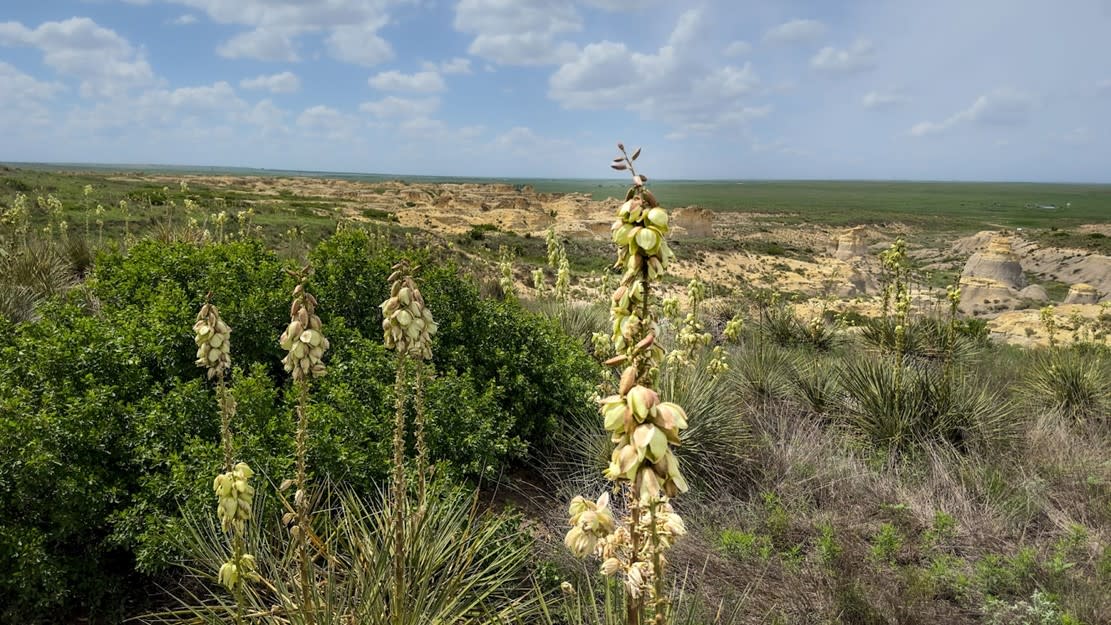 What does it cost to go to Little Jerusalem Badlands in Kansas?
All Kansas state parks require a $5 permit per car, as does Little Jerusalem. You can buy the permit in the parking lot. Little Jerusalem State Park is open from sunrise to sunset and no camping is allowed here. The park does have marked trails and public restrooms but there are no other services within the park.
A Historical hike in Battle Canyon at Punished Woman's Fork
Northwest Kansas is rich in both natural history and civil history with ample opportunities to step back in time and imagine Kansas as it was in eras past.
We wandered farther south in search of an impactful site that signaled the end of the wars between Kansas cavalry and Native Americans. If it hadn't been declared a National Historic Site, it would be very easy to miss both the fascinating landscape and the pivotal, human experience that took place here.
The winding trails dip into a small canyon capped at one end by a cave that harbored the last remaining Cheyenne tribe members who survived their forced relocation to Oklahoma in the late 1870s.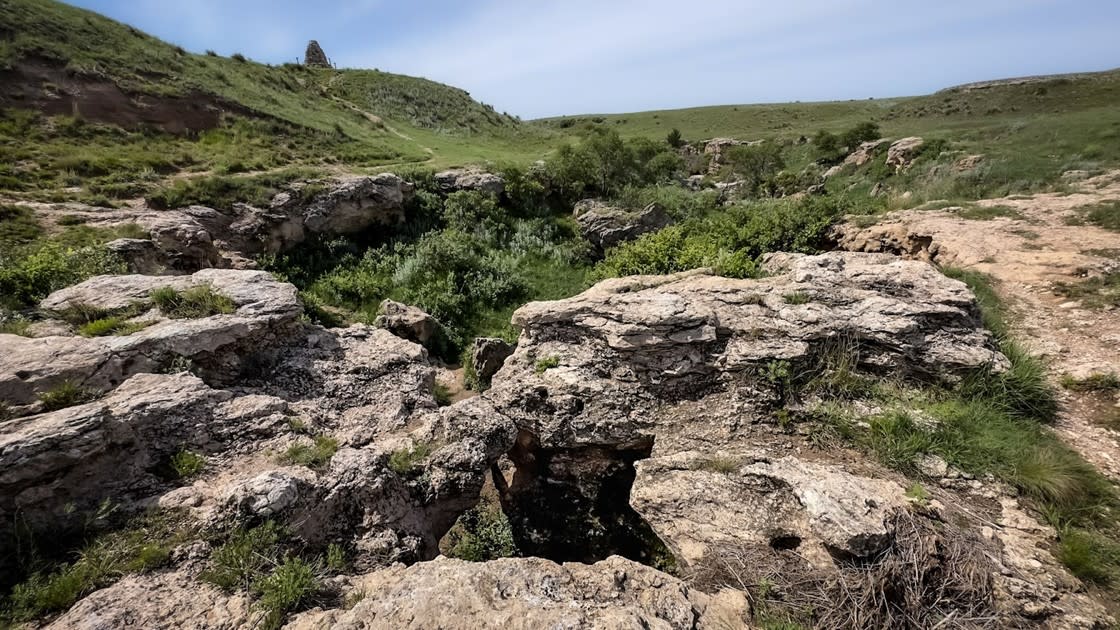 The incredible tale reveals a tribe of mostly women who defeated the Kansas Cavalry, successfully ending the then-called Indian Wars. They were fleeing their assigned post in Oklahoma and successfully returned to Montana following the battle.
Walking in their footsteps, imagining the unfolding tragedies of inequality, relocation, suffering, death, and victory in the unforgiving landscapes proves incredibly impactful.
Where is Battle Canyon, Kansas?
Alternatively called Battle Canyon and the Battle of Punished Woman's Fork, the monument and trails are found about 1 mile south of Lake Scott State Park. 
Why is it called Punished Woman's Fork?
Officially, the historical site is named the Battle of Punished Woman's Fork. The canyon is rumored to have been named by the tribes' people prior to the battle. Their legend tells the story of a woman who committed adultery and was pushed into the canyon as her punishment.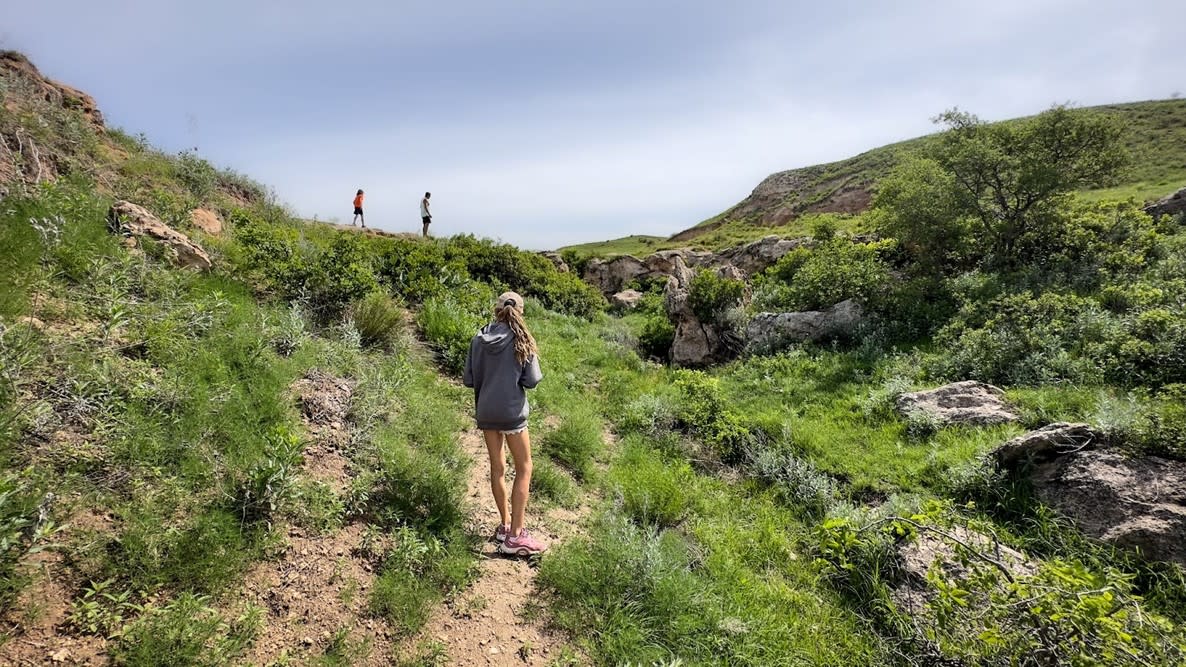 And so it seems, after a week meandering through Kansas, I found myself frequently muttering my own pretentious proclamations. Things like, "How could I NOT know Kansas looked like this?!" And "Shouldn't we all know about these places by now?" Even, "How have they managed to keep these places a secret for so long?"
To say they are secret probably isn't accurate anymore. Many know these beautiful lands very well. Locals have cherished these places in a way the rest of us will never understand. But we can show our respect and appreciation with awe and wonder, and as advocates to leave these sites just as we found them.
Check out this guide for the best things to do, places to stay, and eat in Northwest Kansas:
Let your journey guide you here, the place that's perfect For The Curious.