Spanning grassroots galleries and presidential history, North Central Kansas delights and surprises with its blend of approachable art and hometown legacies.
Finer in Salina
A grand revitalization has amped up Salina's already vibrant historic downtown district, where Friday Night Live brings music, theater, poetry readings and other live entertainment every week, year-round. Redesigned streetscapes with wider sidewalks and plazas for dining, strolling and gathering encourage summer lingering. The city's SculptureTour Salina provides a backdrop of colorful creations.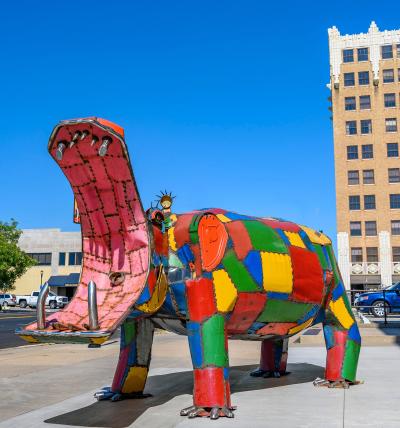 What's planned: New dining options include the upscale Barolo Grille and the more casual Old Chicago, as well as Starbucks and Mediterranean-theme YaYa's Euro Bistro. The restaurant, featuring two patios, is part of the new five-story Homewood Suites by Hilton hotel. Another newcomer is The Alley, home of bowling lanes, billiard tables and an arcade. The new Salina Fieldhouse indoor sports facility provides practice-and-playing surfaces for local teams. It even offers times for drop-ins to shoot hoops or take some swings in the batting cages.
See the latest exhibits on the region's history at Smoky Hill Museum, and watch for a classic car museum due to open in 2020. Undergoing a face-lift is the 1931 Stiefel Theatre, a venue for comedians and live music of many genres. The Salina Community Theatre's live productions win rave reviews. Ad Astra Books and Coffee House adds live music, poetry readings and author talks to its mix of books and delicious pastries. And there's more to come: The Smoky Hill River Renewal project will improve the river's flow and add a riverside plaza, canoe and kayak launches, plus a trail.
While you're checking out everything new, don't overlook longtime favorites such as Hickory Hut BBQ, known for hearty fare like brisket sandwiches.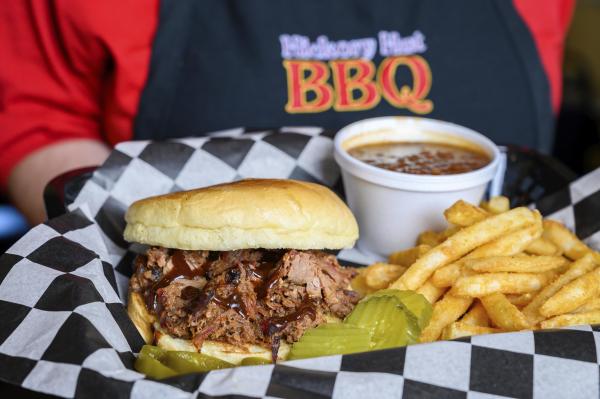 Artistic Vision
Talk about a double feature: The center exhibits contemporary works by international, national and regional artists; the cinema offers first-run indie, documentary and international films.
This dynamic, richly colored wall mural, the backdrop for the Campbell Plaza stage downtown, is one of 20 in Kansas (and more around the world) designed by Lawrence artist Dave Loewenstein.
Into Orbit—Eyes Turned Skyward
A heroic spaceman explores distant planets in this mural by Steve Britt. See it on the Oakdale Park handball court.
Colorful creations as well as realistic bronze figures are among the many pieces of public art that adorn downtown sidewalks for one year. A new crop of works is unveiled each spring.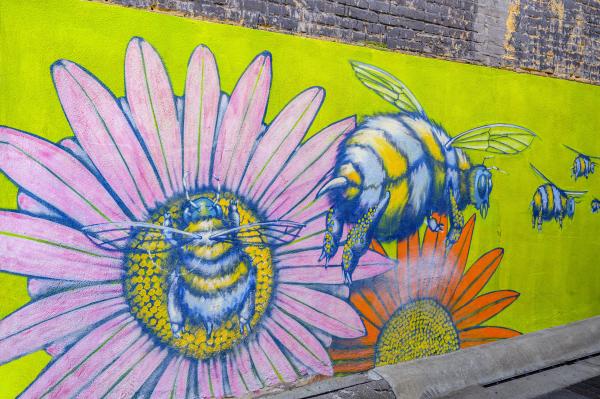 More North Central Towns Worth a Stop
The North Central region's smaller towns hold their own when it comes to must-see attractions. Get your fill of folksy art, famous lives and intriguing chapters in history.
Lucas
In the Grassroots Art Capital of Kansas, see a motorcycle made from 149,000 pull tabs (at the Grassroots Art Center); colored-concrete "postcards" of U.S. landmarks (in the Florence Deeble Rock Garden); quirky biblical- and political-inspired sculptures in S.P. Dinsmoor's Garden of Eden; a toilet-shaped public restroom (lots of mosaic tile); and the World's Largest Collection of the World's Smallest Versions of the World's Largest Things.
Abilene
Gain fresh perspectives on the lives of Dwight D. "Ike" Eisenhower and his wife, Mamie, through new exhibit galleries at the renovated Eisenhower Presidential Library, Museum and Boyhood Home. The military leader and statesman spent his youth in Abilene. Nearby, Old Abilene Town offers authentic Wild West gunfights while Abilene & Smoky Valley Railroad gives steam engine-pulled train rides. Pet the canine greeters at the Greyhound Hall of Fame.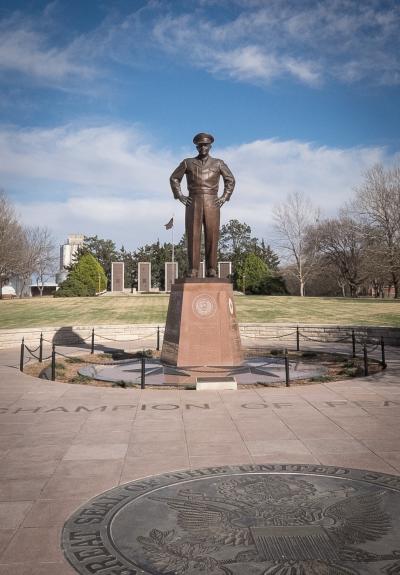 Concordia
Go on a visual scavenger hunt by looking for an iron truss bridge, sunflowers, a biplane and more on the 3-D Whole Wall Mural, the country's longest such artwork of sculpted brick. Historic photographs in the National Orphan Train Complex chronicle the 75-year-long movement that transported 250,000 homeless children via train from eastern U.S. cities
to towns in the Midwest and elsewhere in the country.
Marysville
You may spot some relatively rare black squirrels in the local trees and lawns. If not, you can always enjoy Black Squirrels on Parade, a collection of 30-plus painted fiberglass critters that decorate the town. Also, see the still-standing original stone barn used as Home Station No. 1 on the legendary Pony Express route through Marysville. A museum is attached. Images on three tile murals change as you walk through Pony Express Plaza.
Find more inspiration for places to visit, eat and stay in the North Central region at https://www.travelks.com/northcentral, then explore the rest of the Sunflower State with the 2020 Official Kansas Travel Guide.