It has been such a SWEET start to 2019 so far - especially since an adorable candy shop opened up in Humboldt, Kansas! Located on Humboldt's historic town square, Bijou Confectionary is a popular, pink-accented sweet shop new to Southeast Kansas, frequented by many of my friends from the area. I started seeing a lot of candy-related posts and photos this past fall, shortly after Bijou opened up for business, and I knew I needed to stop by and shoot some blog content amongst all the sweets (while munching on macarons)!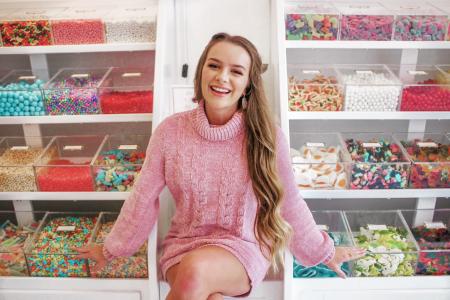 I originally hail from Chanute, KS, about ten-minute drive from Humboldt, but now live in Manhattan, KS, where I attend K-State – EMAW! I lived the small-town Kansas life in Chanute from kindergarten up until moving away to college. When I'm not overwhelmed with collegiate duties, I enjoy making the drive home to Chanute to visit home and stay in touch with my family, so I made it a goal of mine to make time to stop by Humboldt and check out their newest sweet shop on my next visit home.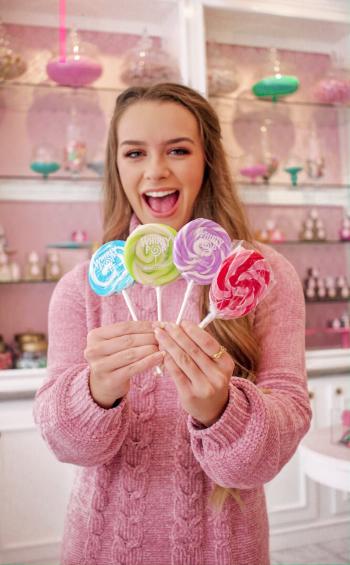 It was late October when I made my first of many visits to Bijou. I threw on a new pink sweater dress to match the aesthetic of the shop and loaded my mom and sister into the car, equipped with an appetite for sugary snacks and fun photo ops. As we walked in, we were greeted by an Eiffel Tower and pops of colorful candies contrasted against white walls and white marble floors. To my right, assortments of every kind of candy I could dream of; to my left, pink and gold shelves stuffed full of treats and goodies perfect for gifting. I was in heaven - I even commented to my mom that I would be decorating my future home to look like Bijou after admiring their aesthetic!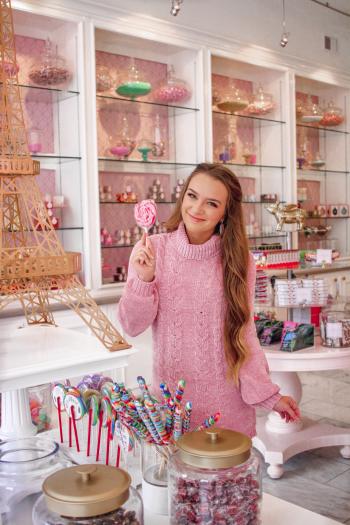 After posing for some artsy photos near the colorful candy assortments (and scooping up some candy Legos to take home to my boyfriend), I made a beeline for the macarons, a personal favorite dessert of mine. Bijou carries multiple flavors of macaron, but I highly recommend the "Cookies & Cream" flavor to treat your taste buds. Of course, I could recommend nearly every other confection in the store, whether for your own personal consumption, or for gifting to the sweet tooth in your life.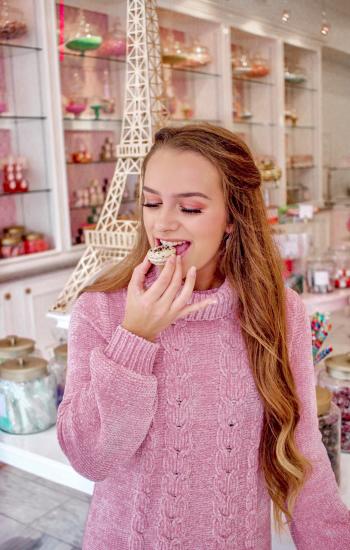 The sweet shop very obviously did not disappoint; mounds of colorful candies, macarons, and fudge everywhere the eye could see! Bijou made for the perfect photo op stop and a tasty trip for my mom, sister, and I. I remember being so impressed with the space after walking through the doors for the first time, and thinking it was the cutest candy shop I've ever stepped foot in – inside Kansas and out! I've made a few trips since my first visit, and I know I'll be stopping by again soon to get my macaron fix!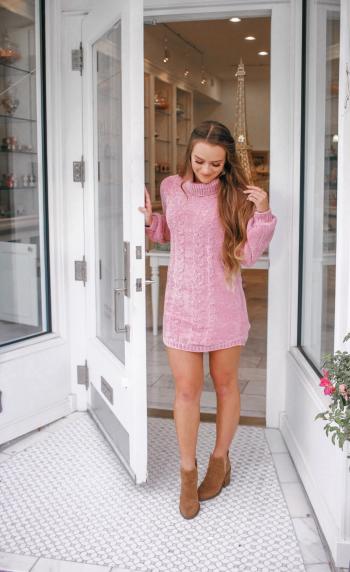 Read more of Talia's blogs on Roses & Ruffles!