One of the first fish I ever caught was a small channel cat out of a creek not far from our farmhouse. I remember reeling it up over the edge of the bridge with my pink princess fishing pole, the smile on my face almost as big as the one plastered on my Dad's face. To this day I still think catfish are some of the ugliest and creepiest creatures out there, but the opportunities and taste of a Kansas catfish can rarely be exceeded.[[endteaser]]
Kansas offers some extremely fine opportunities for catfishing for everyone from serious cat fanatics to the recreational summer fisherman. The best part is that catfish can be found all across the state, literally everywhere – ponds, streams, rivers, lakes and almost any place that can hold water. There are several species of catfish and even more ways to catch them. Even better news, is that they can also be caught almost year-round in Kansas, although they do dislike extremely cold water conditions.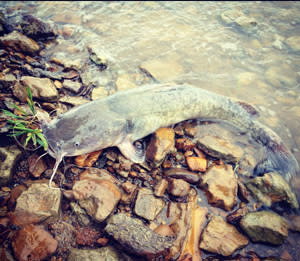 Catfish are known as bottom feeders, fish scavengers, with a keen sense of smell used to find their potential food sources. Because of this, conventional wisdom is that catfish are best caught on rancid, prepared bait. However, many catfish fanatics would argue that the bigger and more prized catfish prefer fresh, live bait. Being an aggressive, predatory fish, this is often the best and most consistent way to get them hooked.
Often one of the most overlooked recreational fishing opportunities in the state, Kansas has gone to great lengths to inspire and maintain catfishing opportunities and programs. State fish hatcheries keep the lakes and reservoirs well-stocked and the Urban Fishing Program (which provides fishing opportunities in urban areas) helps stock 77 different lakes with catfish, sunfish and wipers. Kansas also has a handfishing season for flatheads, that runs June 15 – Aug 31 of this year. Definitely not for the meek, this season restricts any hooks or man-made devices and instead promotes noodling. This fishing technique requires the courage to stick your hand under logs or outcroppings in murky water searching for some of Kansas' biggest flatheads.
Because the catfish are so plentiful around the state it offers opportunities for entire families and kids to enjoy a few hours at the nearest pond or river, but it also leaves the door wide open for catfish fanatics looking to break the next state record. They're also known to be some of the tastiest fish around… Definitely worth the fun it takes to hook them and reel them in!
Photos courtesy of Jim Burnes, Brody Miller and Elizabeth Peterson 

Elizabeth Peterson is a lifetime resident of Kansas, an avid outdoorswoman, and a new mom. She spends her free time in the great outdoors, hunting and fishing, and writing about her life and passions on her personal blog DeerPassion. You can also find her on Twitter, @DeerPassion.