As the thermometer begins its brutal yearly nosedive, one thought starts to sound more and more appealing: Let's all batten down the hatches and hibernate in our homes until spring comes to rescue us.
Anyone with kids under their roof knows this is wishful thinking. Even when winter gets too cold for prolonged time outdoors those little bodies still need to move, their brains still need to engage, and their curiosity still needs to be sparked. Kansas has plenty of opportunities for family exploration when you need to beat the cabin fever… but still stay indoors.
Splash
The best way to subvert the winter blues is to slip (or slide) in a splash of a kid's favorite summer pastime. Garden City's Parrot Cove is a delightful indoor water destination for the colder months. While all the H2O outside is standing still in its solid form, you can be lazily lounging your way down the Key Lime Creek. Listen to the hollers coming from your kid's four story descent down the Screamin' Tsunami or the delighted cries coming in between splashes from Castaway Cay.
When their hands get too pruny, check out the arcade or grab a bite at the Snack Shack. Take a jaunt back to your connected hotel room and you've got a perfect weekend beach getaway over a thousand miles from the nearest ocean. All without setting a foot outside in the snow.
If your travels take you in a more easterly direction, dive into the Great Wolf Lodge in Kansas City. Their indoor water park is supplemented with character visits, scavenger hunts, and a variety of kids programming throughout the day.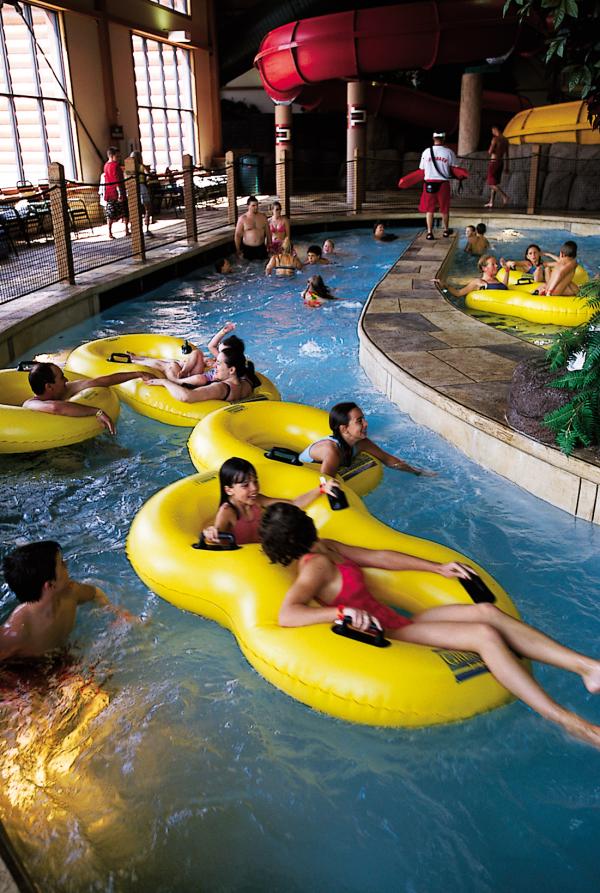 Discover
Winter = boredom doesn't have to be a foregone conclusion. A trip to the Exploration Place in Wichita proves that equation false in a hurry. Kids craving a unique opportunity will be greeted with a day full of them at Exploration Place. Whether it's creating a tornado in the weather exhibit or exploring oral health in a mouth large enough to swallow them whole, this place has mastered the fine balance of science, learning, and fun. New exhibits are rotated in so it's never the same experience twice. This winter's new addition is the Imaginate area where kids can control light with their heartbeat and orchestrate noise into music. Winter = awesome.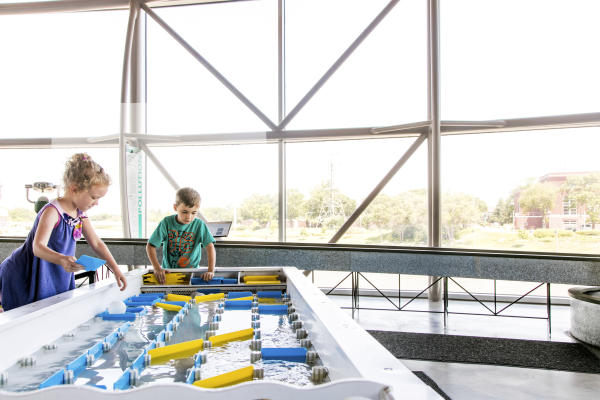 Centers for discovery are a fantastic winter addition to a parent's boredom-busting-arsenal and Kansas has many to explore. Each offers a unique array of activities focused on science, the arts, creative play, and hands-on learning. Check out the Kansas Children's Discovery Center in capital city Topeka or the Flint Hills Discovery Center down I-70 in Manhattan.
Time-Travel
One sure-fire way to escape the present and it's frigid temps is to take a trip back to the past. That's the perfect way to frame a visit to a museum: "We're not just looking at old stuff, our snow boots are journeying into a time that no longer exists!" The Sternberg Museum of Natural History at Fort Hays State University offers visitors a glimpse of a Kansas so far back in time that it was under the sea! Nothing captures the hearts and minds of kids and adults alike quite like fossils and dinosaurs. Their extensive collection of fossils from our area feature prehistoric large fish, reptiles, sharks and other unusual characters. Kids will also gravitate to their Fossil Dig Pit and their hands-on Discovery Room.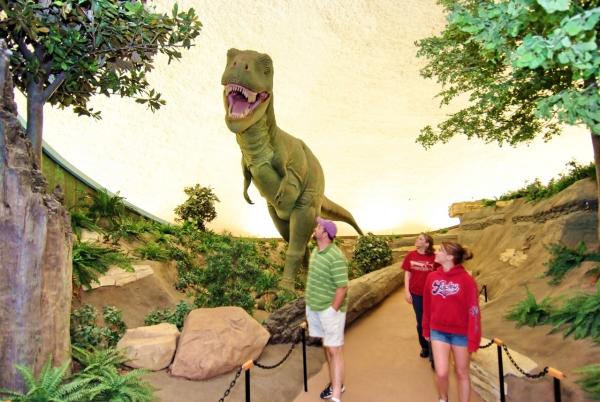 The Kansas museum roster is full of gems to tailor your time travel experience to your little one's interests. Try an artistic bent at the Spencer Museum of Art in Lawrence or walk through the lives of all the generations that have called Kansas home at the Kansas Museum of History in Topeka. Seriously, they somehow got a real-life 1880's Atchison, Topeka, and Santa Fe locomotive INSIDE that you can walk through!
Create
Speaking of art, why not put that pent-up kinetic energy to good use through creative expression? Stop by Washburn University's Mulvane Art Museum in the heart of Topeka and pay a visit to their Judith Lennox Sabatini Artlab. This space is open to all regardless of age or artistic ability. The only requirement is some curiosity and a desire to look, learn and create. Their interactive programs feature everything from your basic paints and markers to more in-depth printmaking, construction and design. Oh, and of course they have that ultimate element of the kiddo art world: the almighty Lego.
This one also comes with that glorious bonus word that all parents love: it's free! Since Topeka is home to a couple of the other previously mentioned activities, you'll have more than enough to make a day (or a weekend) of it.
Explore
If all else fails, make like the prairie dogs along KS-61 and go to ground. Hutchinson is home to Strataca: the Kansas Underground Salt Museum. Travel 650 feet below the frozen ground and explore a nearly 100-year-old (and still operational) salt mine. Guided train tours will season some history and geology into your subterranean sabbatical and the fact that hardhats are a requirement will turn the quest for pepper's tablemate into a bona fide adventure. While this one technically may not be "indoors" it does have this going for it: The temperature down there is a balmy 68 degrees year-round. That's light jacket weather!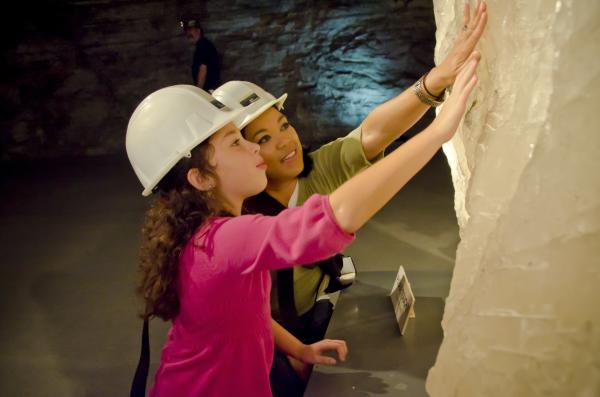 While you're visiting the Salt City, be sure to check out the Kansas Cosmosphere and Space Museum for a completely different indoor adventure. You'll even get a discount for doing both within 10 days. Bring your Salt Blast Pass or your Mission Pass to the other location and receive $5 off. That's out of this world and *chef's kiss* tasty.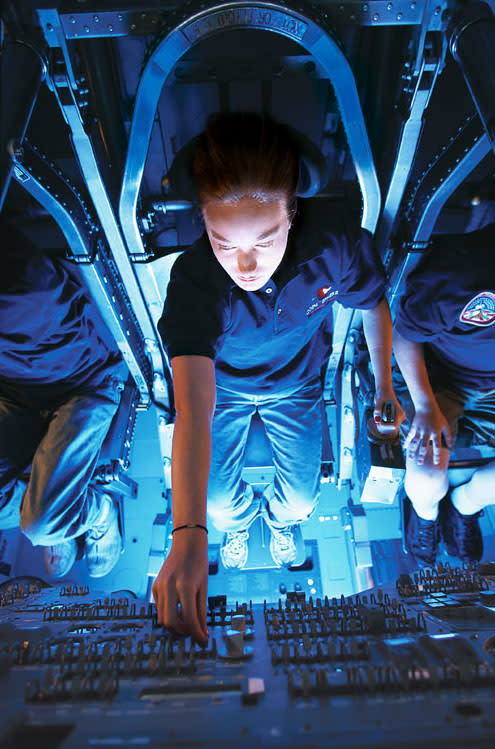 So break up the monotony this winter by getting out (and staying indoors). Be sure to follow us on Instagram @kansastourism for more great Kansas adventure ideas. These are just the tip of the iceberg!