I knew little about my state's capital city, Topeka, KS, until recently. Growing up, the one-hour bus trips to see the capitol building were always some of my favorite when it came to school field trip days. But over the last few years it's been made clear that Topeka has even more to offer. It's a mid-sized Midwest town, and like mid-sized Midwest town it has something to prove. With an array of colorful street art, eclectic shopping and budding beer scene, Topeka has positioned its as mecca for urban exploration, and it's time for more people to see this. When a friend invited me down for a beer fest I knew this was finally my chance to see  that "Top City" had to show me.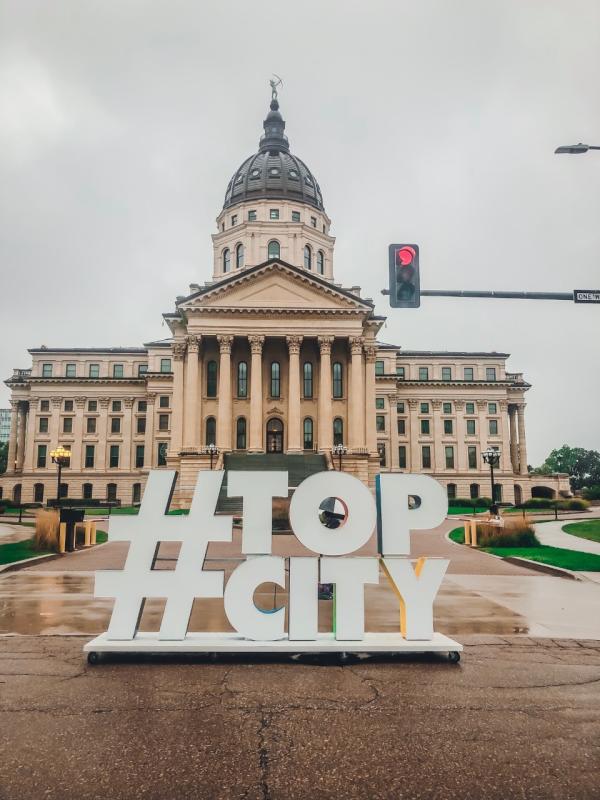 If there is one thing I know about Midwest cities, it's that we have an  affinity for our local craft brews. I'd scoped out Omaha's beer scene recently and I've got to say there is a reason we pride ourselves on our microbreweries popping up left and right. We do good beer in the Midwest, and Tap That Topeka knows how to show that off.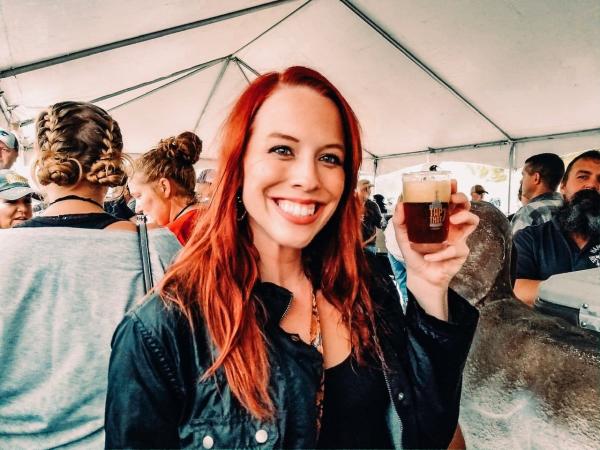 Less than 10 years old, Tap That Topeka grew to three blocks within 5 years, and more than 80 breweries and 300 beers from all over the country are represented, many being regional - making it the Midwest's largest beer festival. Standouts from the event actually included Topeka local breweries like the "Engine Forty Nine" Saison from Iron Rail Brewing.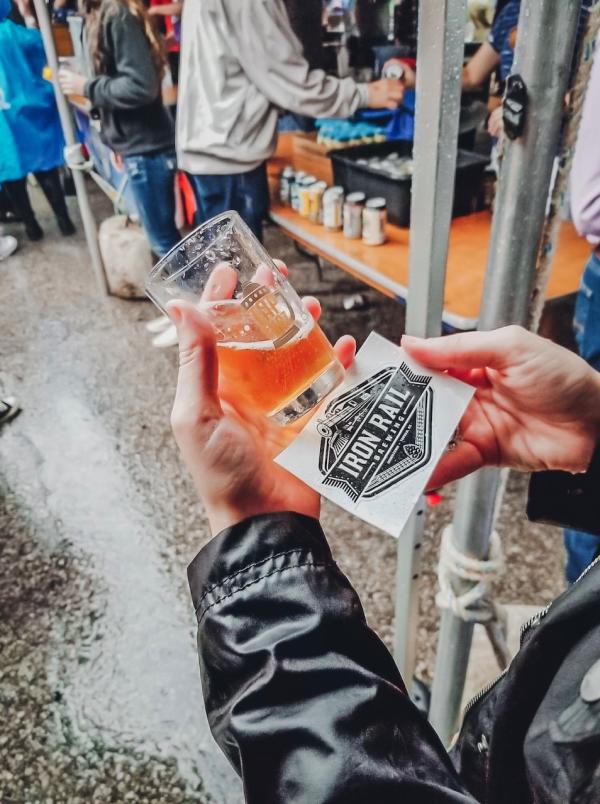 Crowned the 2019 Best New Business by the Topeka Capital Journal, Iron Rail is a hip new spot downtown. Other than it's main draw (beer pun), it's known bbq offerings and apps with a twist, like their hand-made jalapeno cheddar hush puppies. But what makes Iron Rail particularly unique is it's nod to Topeka history through beautiful murals throughout the establishment, all created by local artists. 
After plenty of Tap That tastings of beers, ciders, and of course some food truck fare from The Mad Greek, it was time to venture off downtown so my friend could unveil to me rest of the Topeka experience.
Brew Bank offered one of my favorite concepts brought to the craft brew loving Midwest, a wall of beer (and wine!) taps so you could sample all your "hoppy" heart desired before deciding which beverage had the honors of filling your cup. Also on the menu was another one of my favorite millennial trends - charcuterie, and plenty of combinations of it to choose from.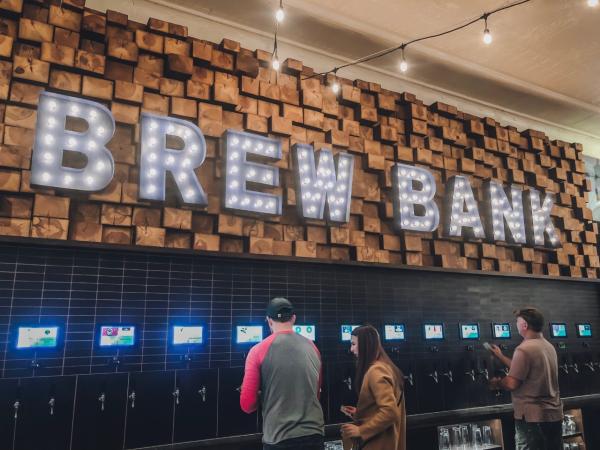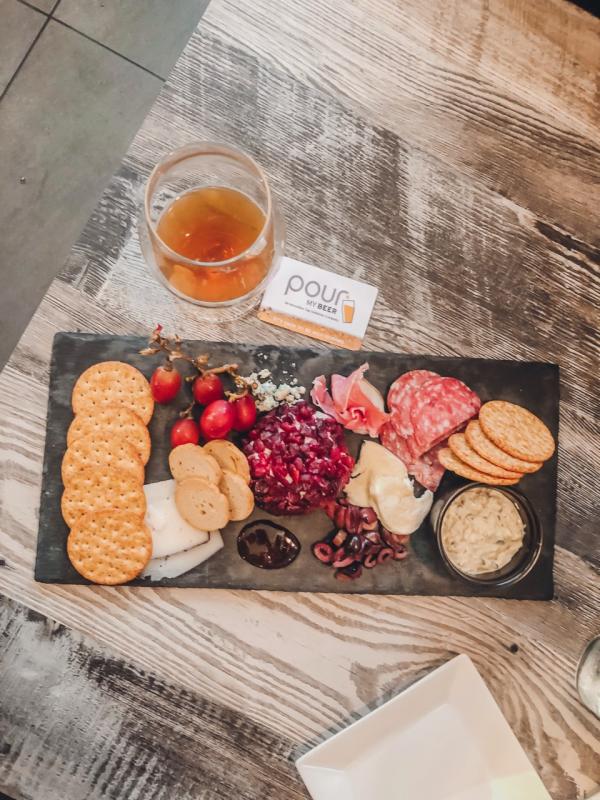 Downtown dwellers will also want to check out The Pennant. Vintage arcade games, Skee-Ball and bowling rank among the activities one can partake in, beer in hand. If that's not enough to catapult you back down memory lane to the days of when you had to borrow a phone to call your mom and ask her to please extend your curfew on a Friday - there's more! Even nearing thirty it's impossible to resist a hand dipped, overflowing milkshake - the kind Instagram lovers flock to. Order "The Dude" if you like Khalua and have great taste in movies, man. Or order the "Over the Rainbow" to pay homage to a classic Kansas tale, and if you're looking for something especially sweet and colorful to sip.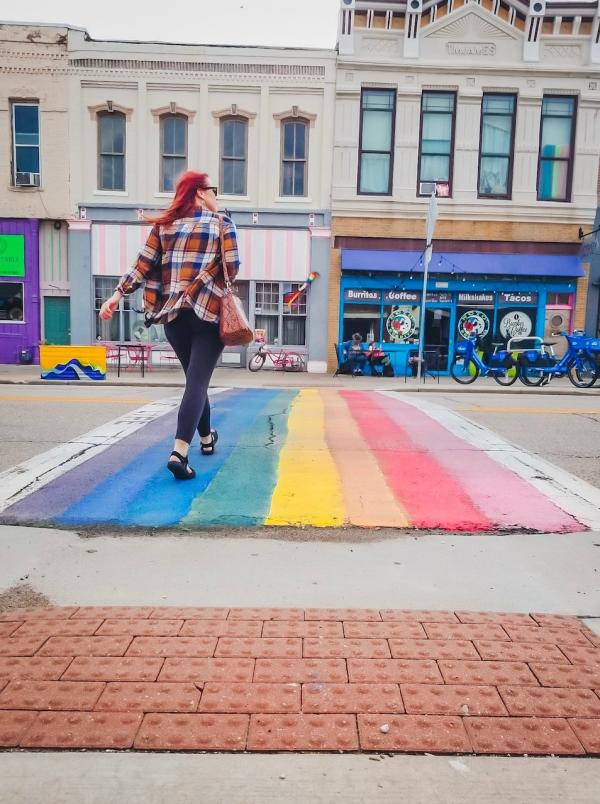 After an evening of play-grounding around downtown, the next morning called for two things - coffee and comfort food. PT's Coffee, was an obvious choice to jolt us back to life. This Topeka native roasting company has now expanded to several locations in the regional area since it's humble beginnings in 1994. They roast single-origin coffees and signature blends, and today people all over the world will order a bag online for a piping cup from PT's.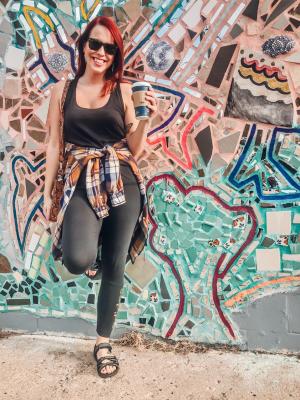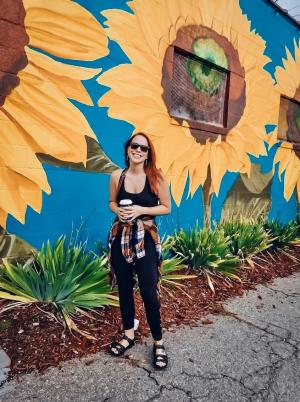 To me and to a lot of people, from what I've gathered from Instagram, is that what really makes a city worthy of an extended visit is a solid street art scene. Topeka doesn't skip out on the arts. The NoTo Arts District was established from a highly supported community request for an arts district in 2010. Since then, this area has become a vibrant scene of can't-miss murals, art galleries and boutiques that draws well over 3,000 visitors a year. The area hosts art festivals, shows, classes, and all kinds of events to bring out your creative side. As tired as I was, I couldn't help but perk up at the sight of a wall adorned with rainbow colors, a giant elephant and Topeka cityscape.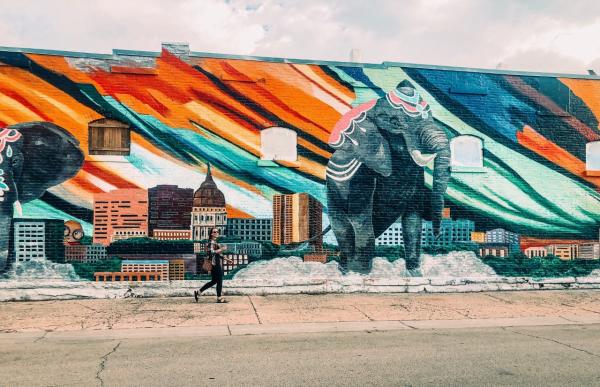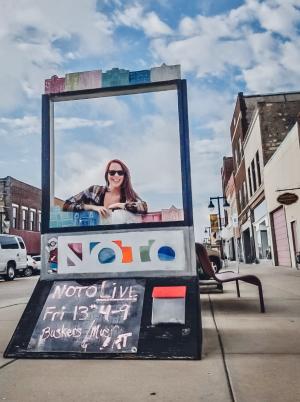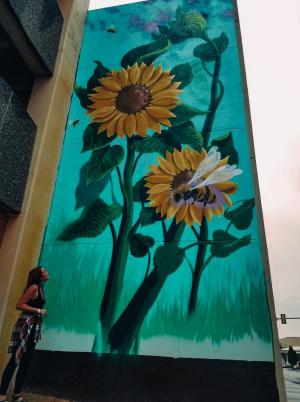 After some strolling it was time to refuel for my trip home. Mmmm...refuel we did. What pairs with a city that prides itself on a craft beer scene? Wheel Barrel, a restaurant serving up that, along with craft grilled cheese. This is not to be confused with a single slice "Kraft" grilled cheese. I'm talking creamy brie, sharp cheddar, smoked gouda, hunks of fresh mozz and ahh..need I go on? A menu of adult grilled cheeses I still salivate at the thought of sinking my teeth into. I appropriately chose The Hangover: smoked gouda, sharp cheddar, bacon and fried egg with a sriracha aioli, atop of a new kind of "wonder bread," sweet brioche. As if Wheel Barrel wasn't already the ultimate brunch spot, there's also the option of Bloody Mary bar. I took advantage of this and basically piled on another meal of garnishes galore. After oohing and ahhing over cheese pulls, and a bit more coffee, it was time to head back.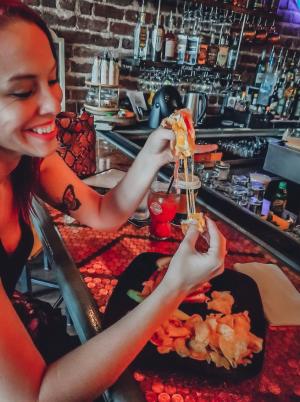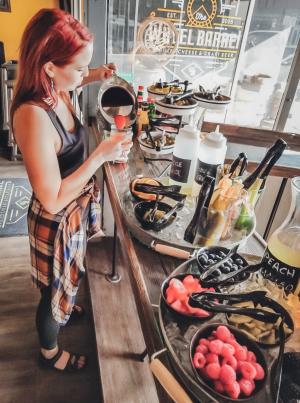 Before I headed out of town, I took one more stop for a quick look at the capitol building. The early fall weather was just mildly crisp (like the brioche on that grilled cheese) and the sun high in the sky. I looked at the historic dome I'd seen so many times before, only this time a little differently. To me in that moment, not only did it represent Kansas history, but the ever changing diverse atmosphere perpetuated throughout the state by mid-sized Midwest towns like Topeka. I took one more deep breath and headed on my way. With a 24 hours like that I can't help but go back.