Feature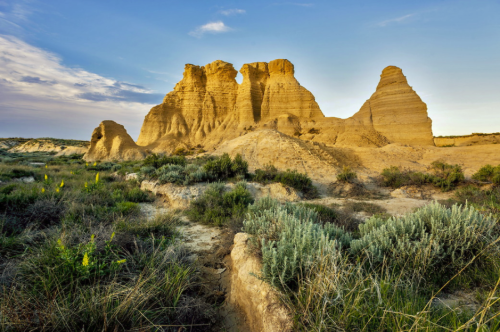 Most Americans experience the Sunflower State by driving across on I-70. But head a few minutes off the interstate and you'll see what the state really has to offer—iconic prairies, adventure-filled state parks, historic sites, and chalky badlands. The next time you're driving through, check out these detour-worthy highlights.
1. CLINTON STATE PARK
If you love spending time exploring nature, look no further than Clinton State Park. Just a couple miles outside of Lawrence, the park has anything and everything you might want to do. You'll find an 11-hole disc golf course, 25 miles of hiking and biking trails, including a five-mile cross-country ski trail, flatwater paddling and swimming at Clinton Lake and two ponds for fishing. There are nearly 400 campsites if you decide you need a couple days (or weeks) to see it all.
2. KAW RIVER TRAIL
Here's a fun fact: Kansas is the only state to have two designated water trails, one of which is along the Kansas River (known as the 'Kaw' to locals). We suggest you launch into the river west of Topeka, in Wamego or Junction City, to paddle through the Sunflower State's iconic prairieland for more than 100 miles. Bring a lunch and take a leisurely paddle out to one of the picnic-worthy sandbars. There are even a handful of riverside campsites if you want a multi-day paddle—just make sure you secure your boat and set up far away from the water line!
3. TALLGRASS PRAIRIE NATIONAL PRESERVE
Explore some of the planet's remaining tallgrass prairie and watch for grazing bison on the 40 miles of trails at the almost 11,000-acre Tallgrass Prairie National Preserve. When the bulk of America's tallgrass prairie disappeared—carved up in the name of progress by plow-wielding pioneers in the 19th century—a small section of it was preserved here. Plan your visit in the fall, when the grass will be over your head.
4. WILDWOOD OUTDOOR ADVENTURE PARK
Before continuing west to Milford State Park, head about 10 miles north of I-70 to the town of Manhattan, home of Kansas State University. For adventure-lovers, it's also home to the Wildwood Outdoor Adventure Park, with seven zip-lines and hiking trails. Zip through the trees and learn a little something about the Flint Hills from your guide at the same time. The park is open year round and safety is a top priority. All you have to worry about is enjoying the view!
5. MILFORD STATE PARK
Just outside Junction City, Milford State Park clings to the shores of Kansas's largest lake—the 15,709-acre Milford Reservoir. For land lovers, the park's nearly eight-mile Eagle Ridge Trail rambles through airy, wildflower-tinged prairie landscape. But the park is really known for fishing—walleye, crappie, largemouth and smallmouth bass, white bass, and catfish can all be caught here. A huge wildlife area is on the west side and you can usually spot a bald eagle or two over there in the winter.
6. ROCK CITY AND MUSHROOM ROCK STATE PARK
Just north of I-70 and south of Minneapolis (Kansas), lies the appropriately named Rock City, where more than 200 Dakota Sandstone boulders dot the landscape. The spherical rocks are the result of millions of years of erosion, dating back to the Cretaceous period when the area was covered by an inland sea. Today, you are free to run around and climb these unique boulders. There are a few established boulder problems, but it's mostly a create-your-own-line kind of place.
About an hour south of Rock City is another of Kansas' geological oddities—Mushroom Rock State Park. The tiny park was once a landmark for pioneers and used as a meeting place by Native Americans. The mushroom-shaped formations are easy to spot and are fun to photograph.
7. KANOPOLIS STATE PARK
Nestled in the Smoky Hills on the shores of the 3,500-acre Kanopolis Reservoir, the state's oldest park is also one of Kansas's most stunning locations. South of I-70 and west of Salina, the 12,500-acre Kanopolis State Park features more than 30 miles of rugged trails for hikers and mountain bikers. You'll trek over rolling hills, through open prairie and woodlands filled with wildlife, past sandstone bluffs, and into Horsethief Canyon. Head over to the northwest section of the park's wildlife area to see the Faris Caves, which were carved by early pioneers and used as a school house and living area.
8. WILSON STATE PARK
Savor some of the best mountain biking singletrack in Kansas at Wilson State Park, outside Sylvan Grove. The Switchgrass Bike Trail has been designated as an Epictrail by the International Mountain Biking Association, consisting of 20+ miles of uninterrupted singletrack, snaking through a stunning backdrop. Aside from mountain biking, the state park also offers paddling access to the 9,000-acre Wilson Reservoir. Wilson Lake has beautiful, crystal blue waters that are unlike any other in whole state, thanks to the high salt content from the Saline River, which feeds into the lake.
9. CASTLE ROCK
Rising above western badlands, the freestanding spire known named Castle Rock is more than just a geological anomaly. This towering pillar of limestone and shale is also rich with historic lore. Named by a survey team in 1865, Castle Rock served as landmark along the Smoky Hills Trail. The route was famously used by the Butterfield Overland Dispatch in the middle of the 19th century to ferry mail, freight and passenger across the state to Colorado. It was also notoriously vulnerable, frequently attacked by Arapaho and Cheyenne defending their historic hunting grounds from encroaching pioneers, and ultimately made obsolete by the arrival of the railroad. Note: Castle Rock is on private land, so be respectful of the property when you visit.
10. LITTLE JERUSALEM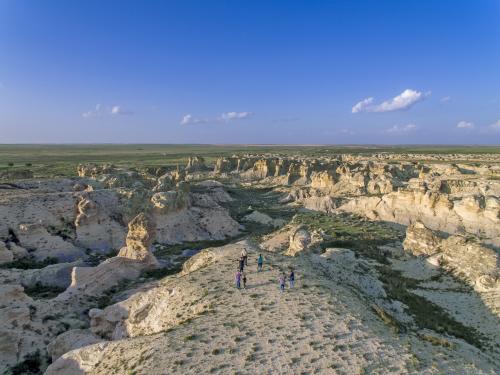 After a few years of anticipation, Kansas' 28th state park is open for visitors in 2020 and it was worth the wait! It may not be evident at a glance, but long before it was a US state (about 85 million years before), Kansas lay at the bottom of a vast ocean. Relics of this aquatic past can be found scattered throughout the plains, and now the largest Niobrara chalk formations in the state are available for the public to visit, thanks to a partnership between The Nature Conservancy and the Kansas Department of Wildlife, Parks & Tourism. Two permanent hiking trails allow visitors to explore the unique formations and view them from various outlook points, some of which tower more than 100 feet above the nearby Smoky Hill River. You can stretch your legs in the unexpected, natural beauty the state offers. Pictures do not do this park justice, it must be experienced!
11. MOUNT SUNFLOWER
In the far reaches of western Kansas, almost in Colorado, is Mount Sunflower. With an elevation of 4,039 feet, it's the highest point in the entire Sunflower State. The destination is more hill than mountain, and more a homage to Kansas than a hike. Mount Sunflower is actually located on the Harold Family Ranch, homesteaded over century ago by Edward and Elizabeth Harold in 1905, but is open to the public and all visitors are welcome. The pinnacle is appropriately adorned with a sunflower sculpture—crafted from metal railway scraps. It includes a standing invitation from the Harolds to swing by the ranch house and regale the family with the story of your "trials and tribulations to the lofty summit".
There's really no wrong way to explore the outdoor adventures that Kansas has to offer, so the next time you are cruising along I-70, pick one of these spots to stretch, explore, or even spend the night. And who knows? Maybe you'll end up extending your road trip by a week or two to make sure you see them all!
Originally written by RootsRated for Kansas Department of Wildlife, Parks, and Tourism.