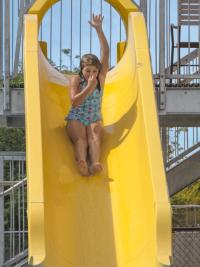 1. Wild Water Parks
Splash into fun at Salina's Kenwood Cove Aquatic Park, with 1,400 feet of slides, a lazy river, wave pool, lap pool and kids' play area. Also in the north central part of the state, visitors to Beloit can cool off with a lazy river and slides at Chautauqua Swimming Pool on the banks of the Solomon River. Near Wichita, Derby's Rock River Rapids Aquatic Park features four speedy slides, one that's enclosed for surprising twists and turns in the dark. Water fun is just as wild in the west. Doc's Plunge at western-theme Long Branch Lagoon in Dodge City sends riders up a near-vertical wall before they plummet into a pool. At Garden City's indoor Parrot Cove Waterpark, riders descend four stories into a giant bowl on the Screamin' Tsunami. Kids love the pirate ship and 500-gallon dump tank at Liberal's Adventure Bay Family Water Park. Two speed slides and a lazy river at Colby Aquatic Park keep you refreshed near Interstate-70 in the northwest.
2. Climb + Zip
After you come face-to-face with 40 life-size, animatronic dinos at Field Station: Dinosaurs in Derby, stay there to tear through America's only challenge course inside a geodesic dome. The Kansas Climb boasts four stories of climbing nets, rope walks and other aerial skill-builders. A 77-step climb kicks off the Tower Tour with Zip KC in wooded hills near Bonner Springs. From the top, participants fly across the forest on a total of five lines, reaching speeds up to 50 mph. Ziplines up to 1,400 feet long await at Wildwood Adventure Park among the undulating Flint Hills in Manhattan.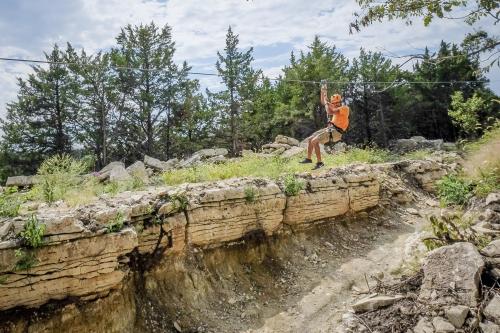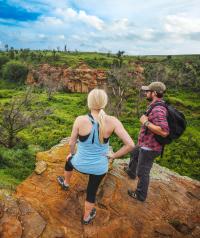 3. Epic Hikes
Named for this rugged, rolling region in southeast Kansas, the Chautauqua Hills Trail at Cross Timbers State Park provides a mash-up of open Flint Hills prairie and heavily wooded terrain. Follow the yellow trail markers along the 11-mile trail near Toronto for the most scenic variety, including shoreline, bluffs and columbine flowers that bloom among large rocks. Trails get rockier at Elk City State Park west of Independence, especially for hikers along the 15-mile Elk River Hiking Trail. Explorers are rewarded with panoramic hilltop views of Elk City Reservoir and sightings of the large pileated woodpecker. Sandstone canyons greet visitors to Kanopolis State
Park in the heart of the state. On the looping Horsethief Canyon trails, rock-hop across Buffalo Creek, pass caves and climb over sandstone slabs to a stunning view of the prairie below.
4. Up in the Air
Fly back in time with Stearman Sky Tours in Benton. You get the front seat in a two-person open-cockpit biplane used for training in World War II. Or jump out of a plane at Skydive Kansas State at Abilene Municipal Airport. Safely hooked to instructors, divers reach 120 mph as they free fall from 2 miles up. Train for that big plunge at iFly, an indoor skydiving center in Overland Park, where a huge wind tunnel keeps you aloft. Nearby Old World Balloonery offers aerial views sans the high speeds. Join up to five friends for a float above the countryside.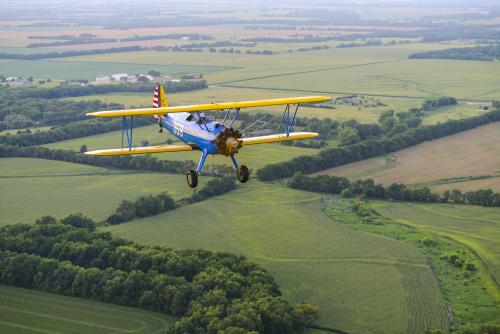 5. River Routes
The Arkansas River National Water Trail winds 192 miles from Great Bend to the Oklahoma border. Join Arkanoe for a 5-mile kayak, canoe or inner tube trip in Hutchinson, where the river is narrower—and faster. Stretching 173 miles from Junction City to Kansas City, the Kansas River National Water Trail offers changing water levels and scenery. Newbies should use an outfitter such as Dirty Girl Adventures. Fall brings its own river fun, like the Little Apple Glow Paddle in Manhattan (late October). Kayak at night on the Kansas River from Fairmont Park to Linear Park, then eat s'mores under the stars.
6. Pedal Power
Though more than 20 rail trails for bikes have been built (or are in progress) across the state, the award for longest goes to the 117-mile Flint Hills Trail State ParkW from Osawatomie to Council Grove. This path, with its signature miles-long prairie views, connects with the Prairie Spirit Trail State Park, the only other bike trail designated as a Kansas state park. Pedal 51 flat miles from Ottawa to Iola, and brake at a former Santa Fe Depot in the midpoint town of Garnett to picnic and learn local railroad history. For hillier biking, conquer the 25-mile Switchgrass Trail at Wilson State Park near Sylvan Grove. Fittingly known as the Roller Coaster, this trail was rated Epic by the International Mountain Bicycling Association.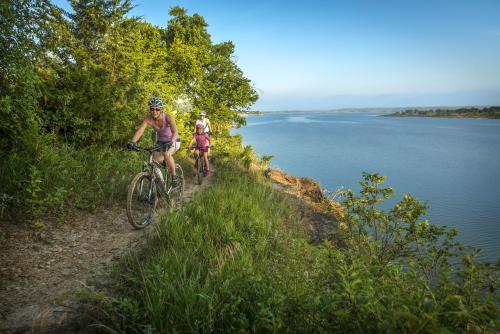 7. Extreme Drives
Two adrenaline-rush driving experiences keep their engines revved at opposite ends of the state. In the southwest, get serious air at Syracuse Sand Dunes Park, where you can drive your ATV, SUV, motorcycle or buggy across 1,300 acres of hills, bowls and flats. In the northeast, fulfill your need for speed at the Kansas City Speedway. The Richard Petty Driving Experience gives die-hards the opportunity to take multiple laps around the track in a NASCAR racer.
8. Amazing Races
Mix work(outs) and play at adventure races—fitness-focused scavenger hunts. The Break Up Adventure Race (March 21) asks teams to reach checkpoints on foot or bike at Acorns Resort in Milford. Two-person teams run, bike and canoe to fetch artifacts at Eudora's Great Kaw Adventure Race (September 26). Stay for the post-race party. Orienteer Kansas offers a slate of navigation-based races in northeast Kansas, like the Sunflower State Games in Topeka in July.
9. Cowboy Vibes
Horseback riding and evening s'mores around a firepit add a camp-like atmosphere to overnights at Circle S Ranch and Country Inn north of Lawrence. The plush inn—built to resemble a barn—features an attached silo with a hot tub. Or if you want to get more historical with your cowboy vibes, be sure to check out Dodge City and Abilene to experience the history behind this segment of pure Americana. 
10. Lake Life
Paddlers, boaters and water skiers enjoy the northeast's Perry Lake in warmer months, while waterfowl hunters flock to the 160 miles of shoreline in fall and winter. Geary County's Milford Reservoir is a favorite among anglers (it's well-stocked thanks to a nearby hatchery). By bank or boat, find catfish, walleye, and smallmouth and largemouth bass. Steady breezes have made Cheney Reservoir west of Wichita one of the nation's top windsurfing and sailing lakes.
Share the Journey
Get inspired by reading Kansas adventure stories—or share your own—at 38northfest.com. Named for the 38th parallel that runs through the state, the site offers creative (and often humorous) travel diaries worth perusing.
Find more adventures for the family at https://www.travelks.com/ with great discoveries across the state.