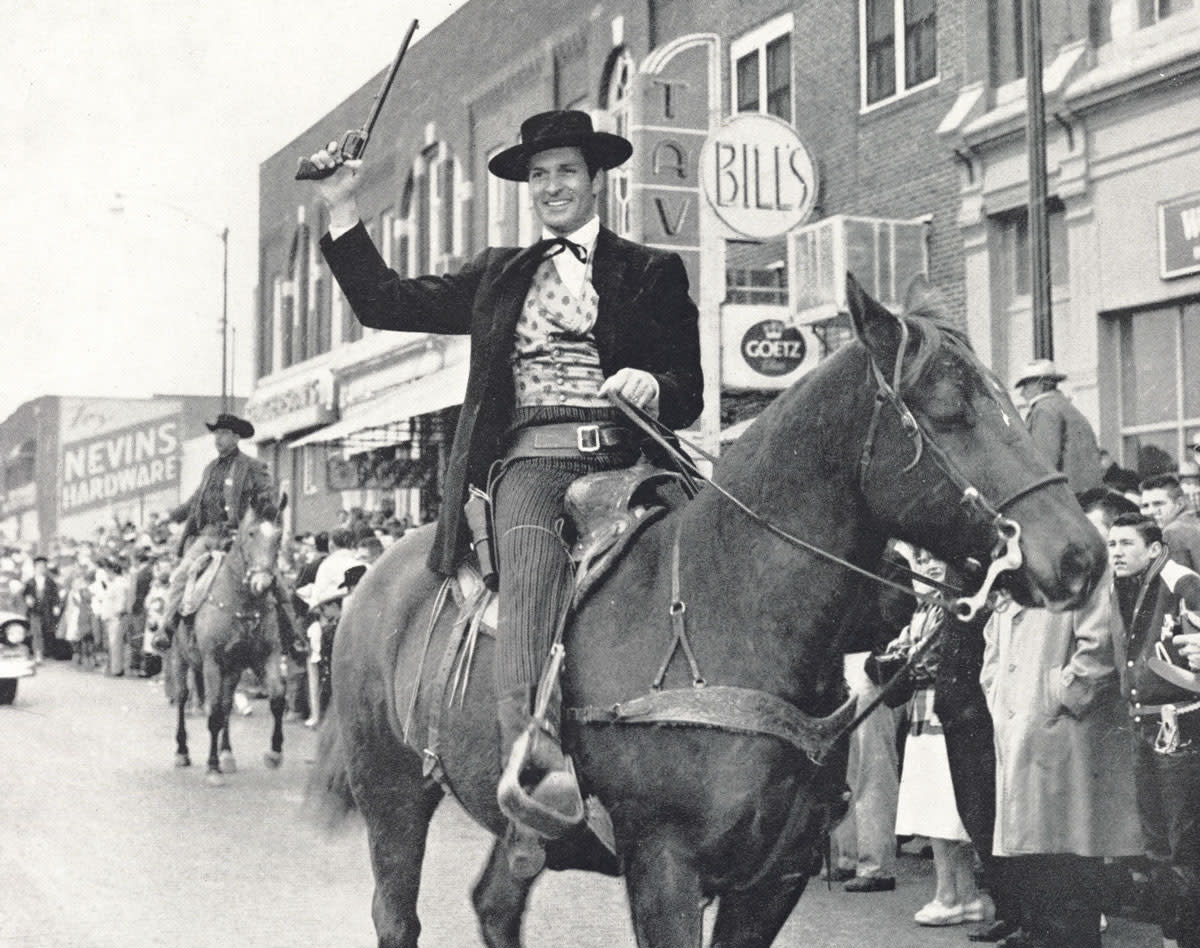 Dipping into our archives, we look back to when actor Hugh O'Brian visited Dodge City as his character Wyatt Earp from the 1950s-60s TV show about the famous lawman.
Story by Staff Writer | This story was originally featured in the March/April issue of 1958
DODGECITY, the Cowboy Capital of the nation, donned its Wild West attire recently to honor one of its best-known early-day peace officers, Wyatt Earp, who served on the cowtown's law force twice during the period 1876 to 1879.
The big drawing card for the one-day celebration was the appearance of handsome Hugh O'Brian, a familiar person to millions of television viewers as the popular Marshal Wyatt Earp of TV. O'Brian was ushered into Dodge in style, aboard the Santa Fe Railroad's historic old train, the Cyrus K. Holliday No. l.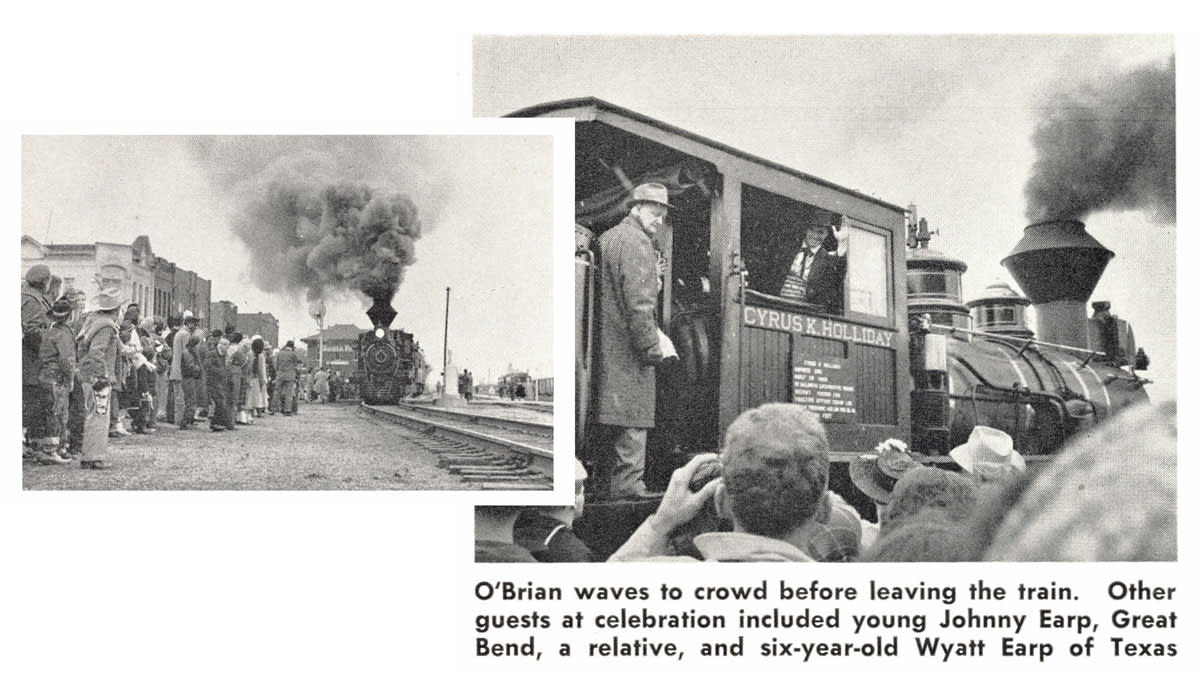 Mobbed by fans, many of whom traveled hundreds of miles to see him, O'Brian mounted a horse on Front Street and rode through town to Boot Hill for the ceremonies of the day. There he crowned two queens-Miss Jo Ann Smith as senior queen and Nikki Blevins as junior queen; helped lay the cornerstone for the replica of Front Street, now under construction; gave the youngsters some sage advice on gun handling; and ended the formal program by renaming Chestnut Street as Wyatt Earp Boulevard. An estimated 5,000 persons watched the activities, then adjourned to the City Auditorium for a free barbecue and public dance.
The TV version of Wyatt Earp is one of the many programs now on television that have been giving Kansas-and more particularly the old cowtowns of Wichita, Dodge and Abilene-millions of dollars worth of free publicity in recent years. At the present time two shows with a Dodge City background-Gunsmoke and Wyatt Earp-rank in the top 10 in popularity according to national TV surveys. Marshal Matt Dillon of Gunsmoke is a fictitious character while the Wyatt Earp series is based on an actual personality.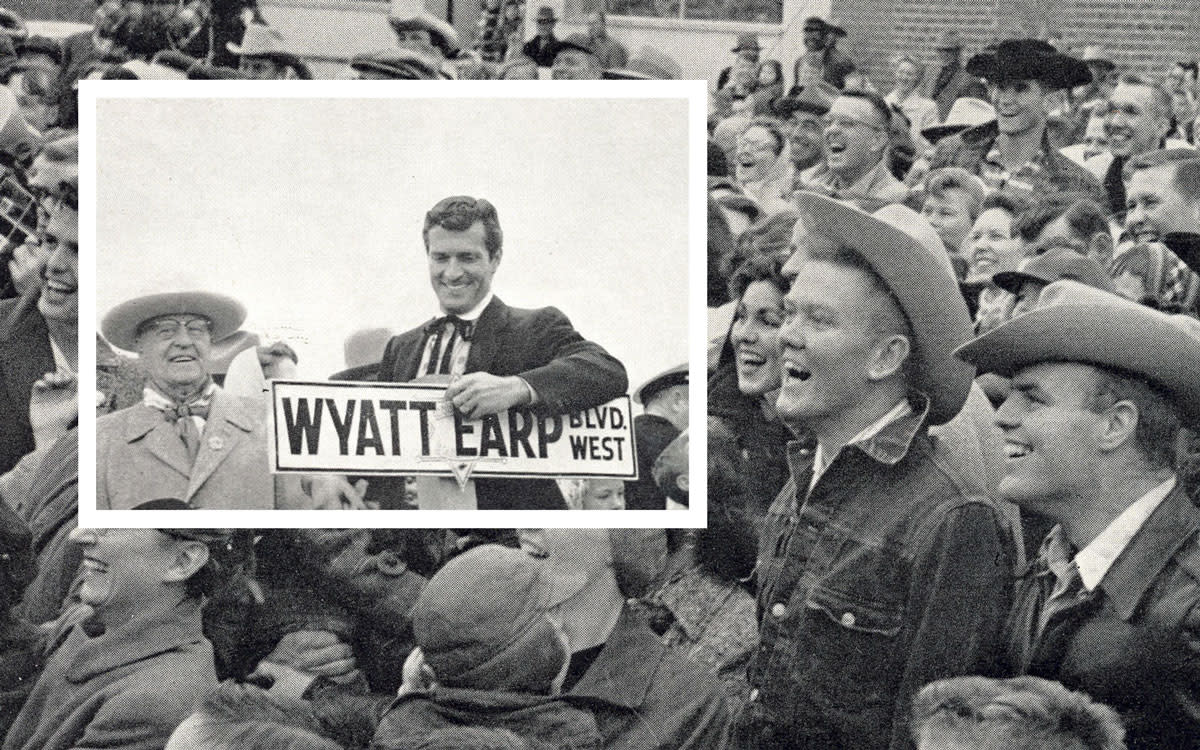 In real life, however, Wyatt Earp was never given the marshal's badge at Dodge City but served there as deputy marshal under two men, L. E. Deger and Charles Bassett. Earp started his law enforcing career in Kansas at Wichita in 1875, was there for one year as a policeman, then moved on to Dodge City in the spring of 1876. He served as deputy or assistant marshal for a year, went to Texas for a year, then returned to Dodge in May 1878 as assistant marshal until September 1879. At that time he resigned and left for New Mexico, never returning to Kansas as far as is known.