Photography Michael Pearce
Who's ready to fish? A Kansas spring provides fishing opportunities for both new and seasoned anglers
Kansas' spring spawn is arguably the state's biggest fishing event of the year. The fertile waters in lakes and reservoirs support large quantities of quality-sized fish valued for their taste. One of the favorites is crappie, with its light flavor and substantial filets. During the spring, these fish gather in the shallows and can be easily caught by anglers of all skill levels.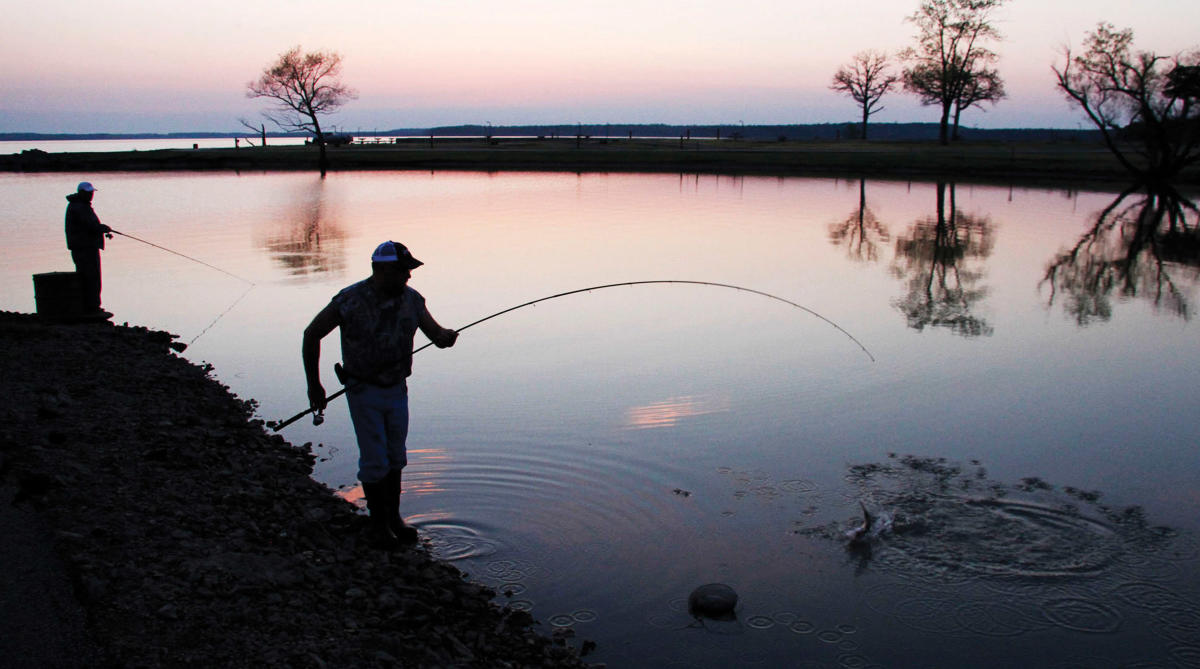 When to Catch
Crappie don't follow calendars. Their spawning season is determined by factors such as the length of daylight and water temperatures. In general, Kansas crappie start heading to the shallows when the water temperature climbs into the mid-50-degree range. The full spawn, with males defending territories and females laying eggs, comes when that water temperature is between 60 and 65 degrees.
That's usually sometime between mid-April and the end of May, some of the most pleasant days of the year to be out on the water.
Small, shallow ponds and lakes warm much faster than large reservoirs. A rocky shoreline with exposure to the sun will be the first place at a lake to have water warm enough for spawning. Shade-covered shorelines near deep water will be the last to warm.
The crappie spawn on our southern border may begin two weeks ahead of the spawns near our northern border because of warmer air and water temperatures.
The Kansas Department of Wildlife and Parks (KDWP) posts fishing reports for nearly all public waters on their website, ksoutdoors.com. All fishing regulations and license requirements are also on the site. Hopeful anglers can also check with local bait shops or fishing groups to see when the spawn has begun for a particular area.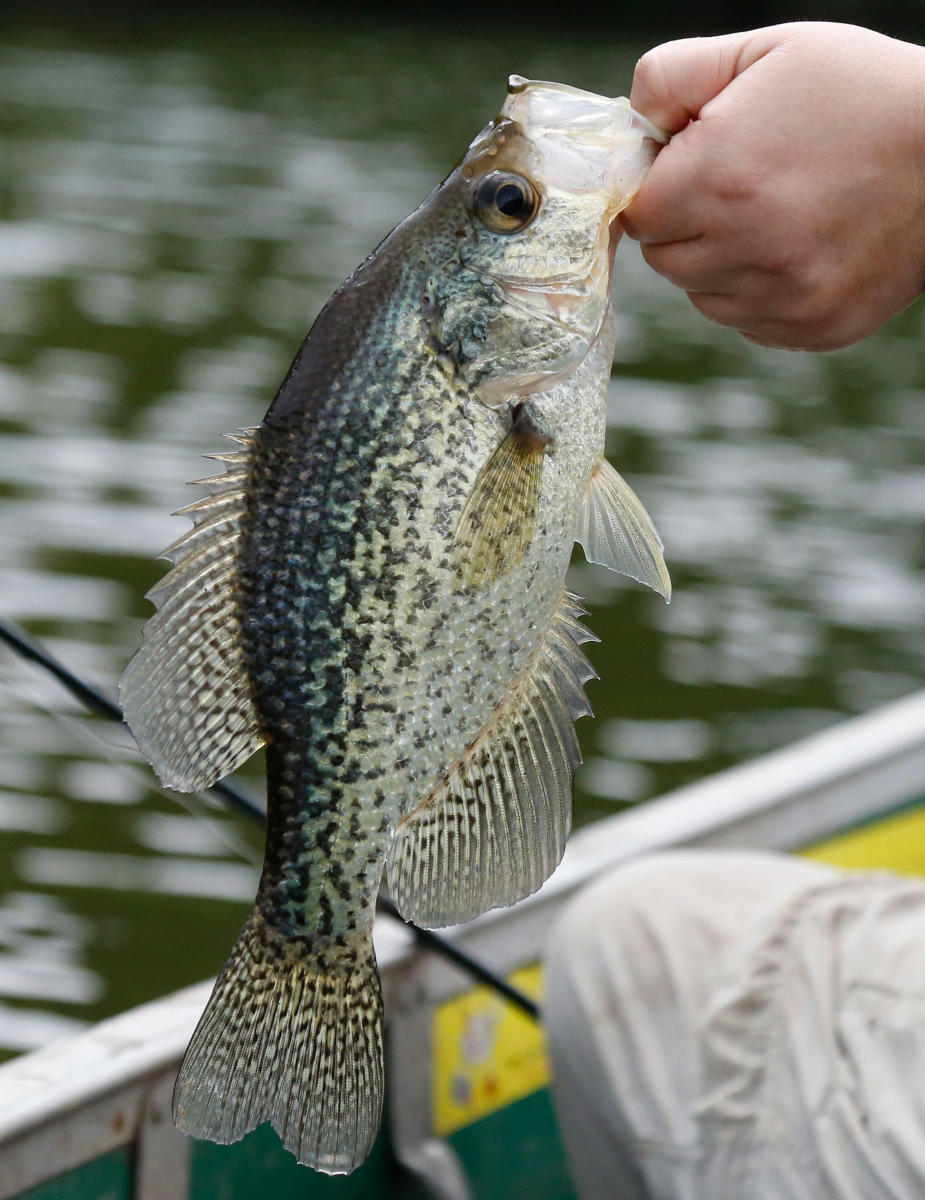 How to Catch Them
You can catch crappie from an expensive boat with expensive gear … but you can catch the fish just as well from the shore and with a rod and reel you bought at a garage sale for $1. In fact, if there are any advantages, they might be in relatively flimsy rods that can detect the soft bites of a crappie. Light line between 4- and 8-pound test also helps.
Bobbers and minnows are often best for catching crappie. The bobber should be just big enough to not be pulled under by the weight of the hook, a small split-shot on the line and the swimming minnow.
Small marabou or soft plastic jigs can replace the minnow, and anglers can cover more water casting the float and lure. The set-up should be reeled in slowly, letting the jig rest often. Experiment with depth of the bait, lure size and color, if needed. Try to find a pattern, such as how deep the crappie seem to be or if they're around flooded brush or rocks.
Many rely on a fishing tactic known as "doodle-socking." Anglers use a fishing rods as long as 15 feet and move along a shoreline, lowering a jig into likely-looking areas. It can be done from a boat, along the shoreline or by wading in the shallows.
The sport of fly-fishing continues to grow in Kansas, and every year more and more find the joy in using the gear for catching crappie. Minnow-imitating flies work well, such as small streamers or small jigs fished below a float.
Where to Fish
Good crappie fishing is within an easy drive of nearly all cities and even the most remote ranches of Kansas. Locations include our 20-plus sprawling federal reservoirs and hundreds of small state, city and community lakes. The state's Walk-In Fishing Access program has also leased hundreds of privately owned ponds and stream banks for free public angling access. Here's a look at the best of the best according to KDWP fisheries biologists.
Western Kansas
•     Sebelius (Norton) Reservoir (Kansas' highest-ranked crappie reservoir)
•     Lake Scott (Kansas highest-ranked crappie lake)
Northeast Kansas
Southeast Kansas
North-central Kansas
•     Ottawa State Fishing Lake
•     Jewell State Fishing Lake
South-central Kansas
•     Kingman State Fishing Lake
•     McPherson State Fishing Lake
•     Council Grove Reservoir