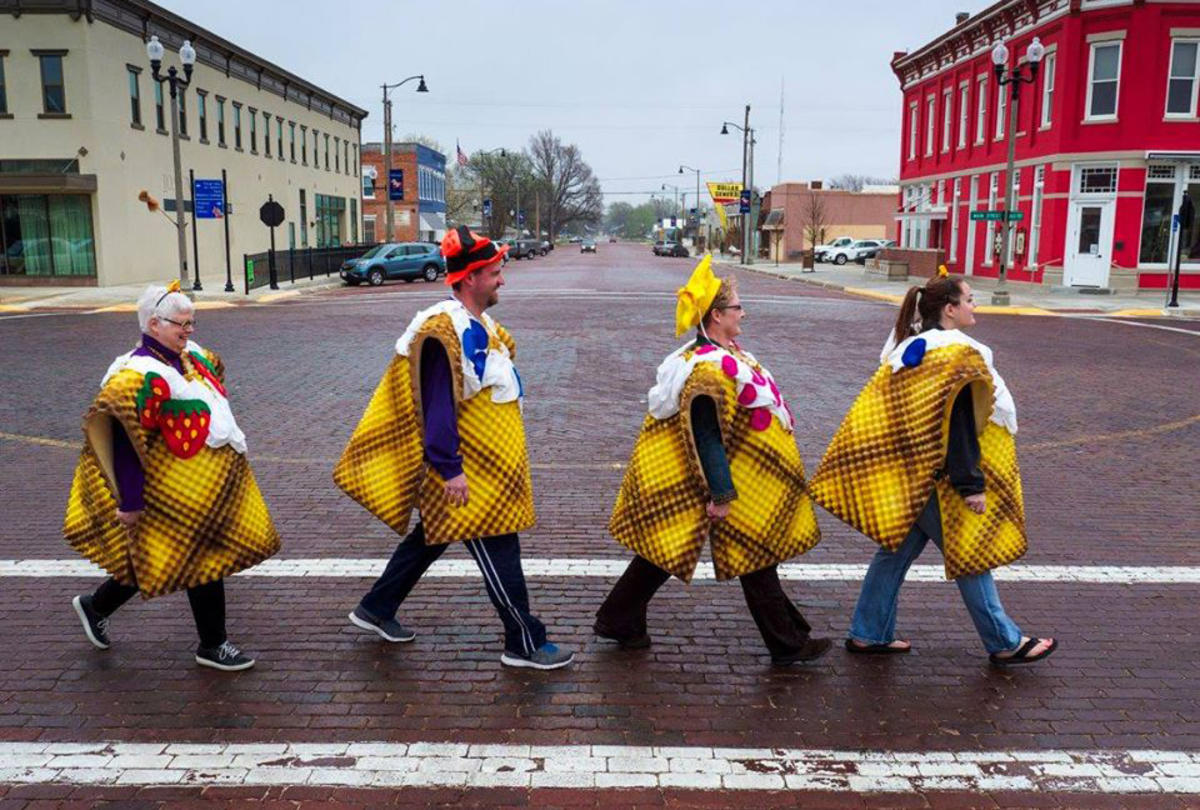 (Photography courtesy of Jim Richardson & Lindsborg Vaffeldagen)
Våffeldagen (pronounced "voh-full-doggen") is a traditional Swedish holiday with historic ties to Vårfrudagen, or the Feast of the Annunciation, which celebrates the day when, according to the Bible, the Virgin Mary was visited by an angel and told she would give birth to Christ.
As far as we know, however, Mary didn't mark the occasion with waffles. That part of the holiday comes from an odd linguistic mix-up, according to Carla Wilson, who started Lindsborg's Våffeldagen seven years ago.
"It originally started out as a religious holiday, and through dialect corruption and misspelling, it went from 'The Day of Our Lady,' Vårfrudagen, to Våffeldagen, which means 'The Waffle Day,'" Wilson says. "It's literally lost all religious meaning whatsoever, but it's observed in Sweden still, to this day."
In Kansas' favorite "Little Sweden" town of Lindsborg (celebrated in March), Våffeldagen is one of several events throughout the year that celebrate the town's Swedish heritage. Local establishments offer waffle-based specials throughout the day. Even the Öl Stuga, a local watering hole, has an offering: the "waffle shot," a distinctly breakfast-flavored (and surprisingly delicious) concoction of orange juice, butterscotch schnapps and Irish whiskey.
 
ARTICLE CONTINUES AFTER PHOTOS
Other activities during Våffeldagen vary from year to year (last year's events included a selfie booth and giant puzzle) and include some special sales and events at downtown businesses. Visitors can split their waffle-based fun with visits to Lindsborg's other local attractions, such as the Birger Sandzén Memorial Gallery at Bethany College.
Visitors can also hang out with the town's "Waffle People," local volunteers who dress up in full waffle-themed regalia and wander the town, handing out goodies.
Wilson says donning the costume is her favorite part of the event. "I guess I like the nonsense of it," she says. "One year, the city rec program was having a soccer game, so we just charged the field and started playing soccer with these kids in our waffle costumes."
Wilson says the event has helped foster relationships with visitors to help shake off the last dregs of winter.
"Every year I'm just amazed at how many people come to town to eat waffles and goof off and have a fun day."
More Articles You'll Enjoy