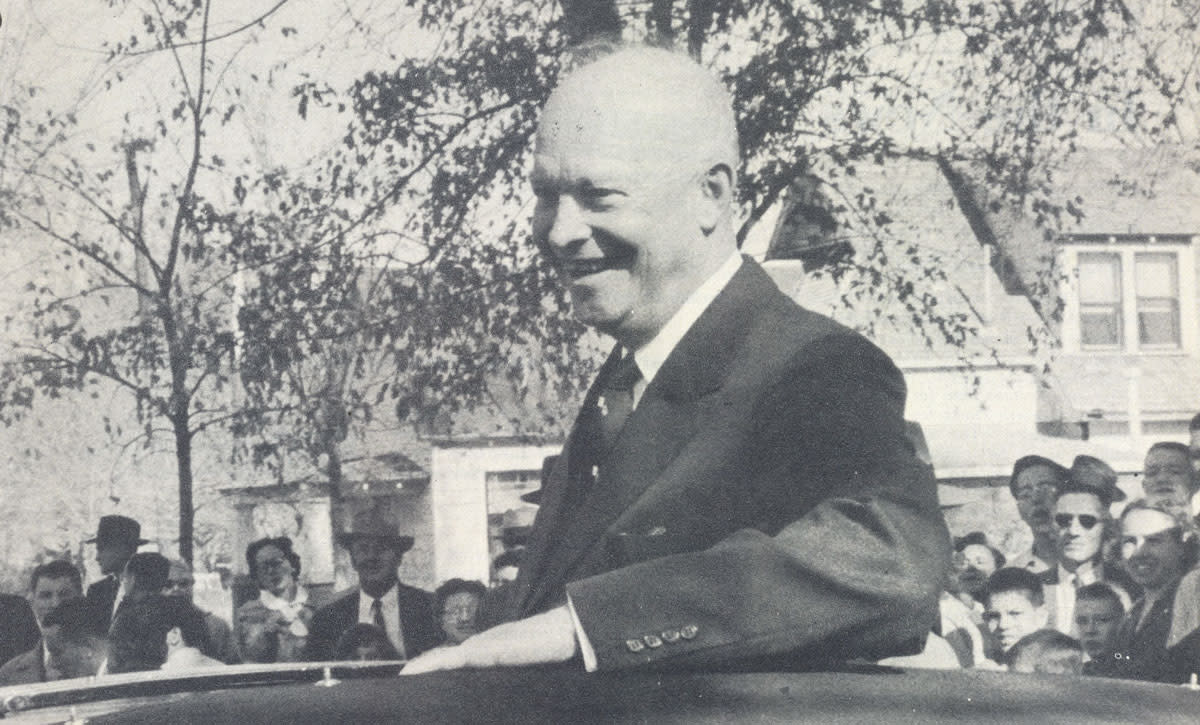 In this "From the Archives" article, we look back to when President Dwight Eisenhower returned to Abilene for the dedication of the Eisenhower Museum.
Featured in the January/February issue of 1955
It was dusk in Abilene. A large crowd of several hundred people, complete with a brass band, had gathered in front of the Hotel Sunflower. They were talking quietly and waiting patiently in the mild November evening. Military police formed a great semi-circle around the entrance to the hotel, keeping it clear. In the lobby, state highway patrolmen and members of the U. S. Secret Service checked signals and took their stations. Photographers collected in a cluster at the head of the hotel's short stairway. P
 
A shout went up along Third Street. And, as a convoy of police cars and sleek convertibles pulled up in front of the hotel, the shout, was taken up by the crowd there. "HI, IKE!" they yelled as the band burst into the strains of Hail to the Chief. With this greeting, the President of the United States was welcomed back to his old hometown.
In the two years since his election as the President of the United States, Dwight D. Eisenhower has visited his boyhood home at Abilene just twice. His first visit, a year ago last October, was a quick business trip to check on the progress of the new Eisenhower Museum being built near his boyhood home in Abilene by the contributions of his fellow Kansans and non-Kansans throughout the nation.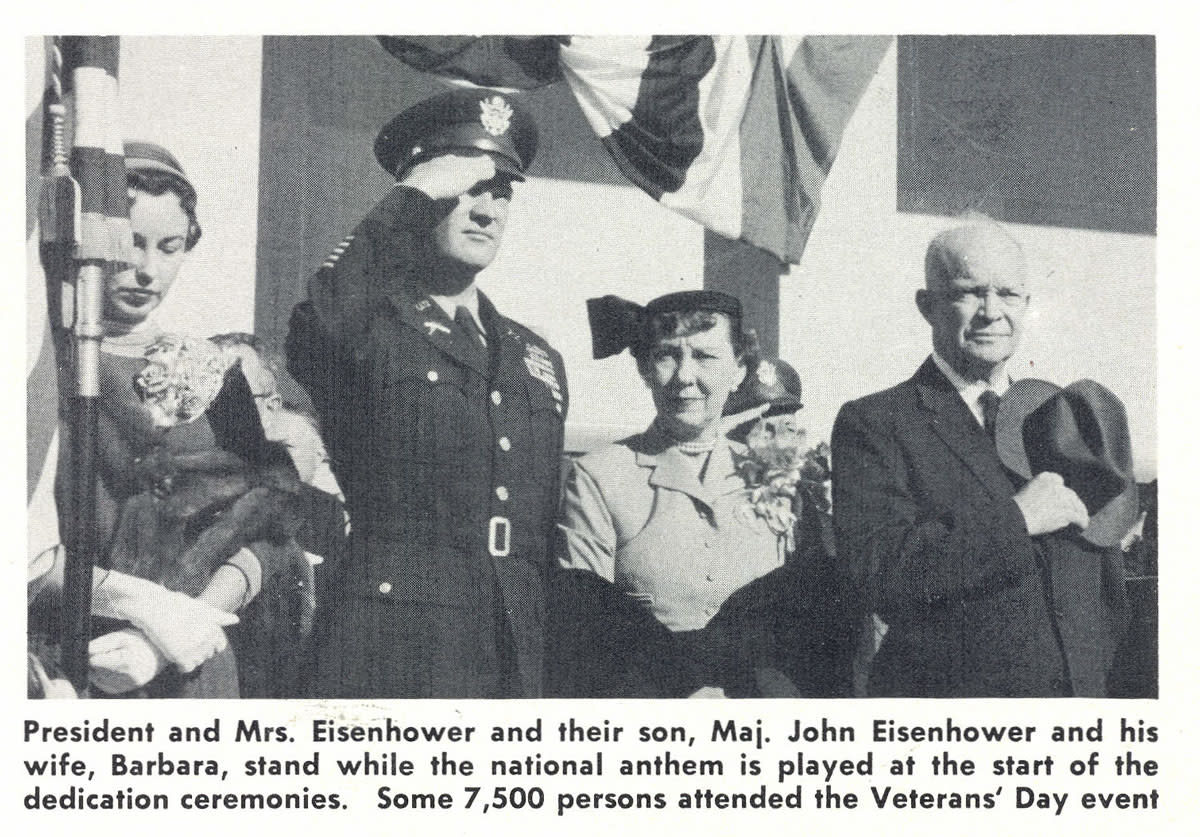 His second trip, last November 10·11, combined pleasure with business. The business part of the trip was concerned with Veterans' Day ceremonies dedicating the completed $325,000 museum-memorial and opening both wings to the public. Two other Eisenhower brothers, Milton and Earl, were on hand to help out, as was the widow of another brother, Roy. Milton delivered the principal address while the President limited his remarks to a few minutes of extemporaneous talk in which he humbly characterized the new museum as a project dedicated to the future citizens of America rather than as a tool for self-glorification.
President and Mrs. Eisenhower took advantage of the Kansas trip to get together with their son. Maj. John Eisenhower, and his family from Fort Leavenworth, who boarded the presidential plane at Kansas City, Kans., and went to Abilene with them. The night before the dedication, the President and his family went out to the old Eisenhower family home and spent an hour in the house that has been preserved just as it was when the President's mother died in 1946. The next morning before the dedication ceremonies, the group visited the cemetery at the northwest edge of Abilene to place floral wreaths upon the graves of the President's parents, Mr. and Mrs. David Eisenhower. After the ceremonies, the Eisenhowers motored to Salina to board the Columbine for the return flight to the East.