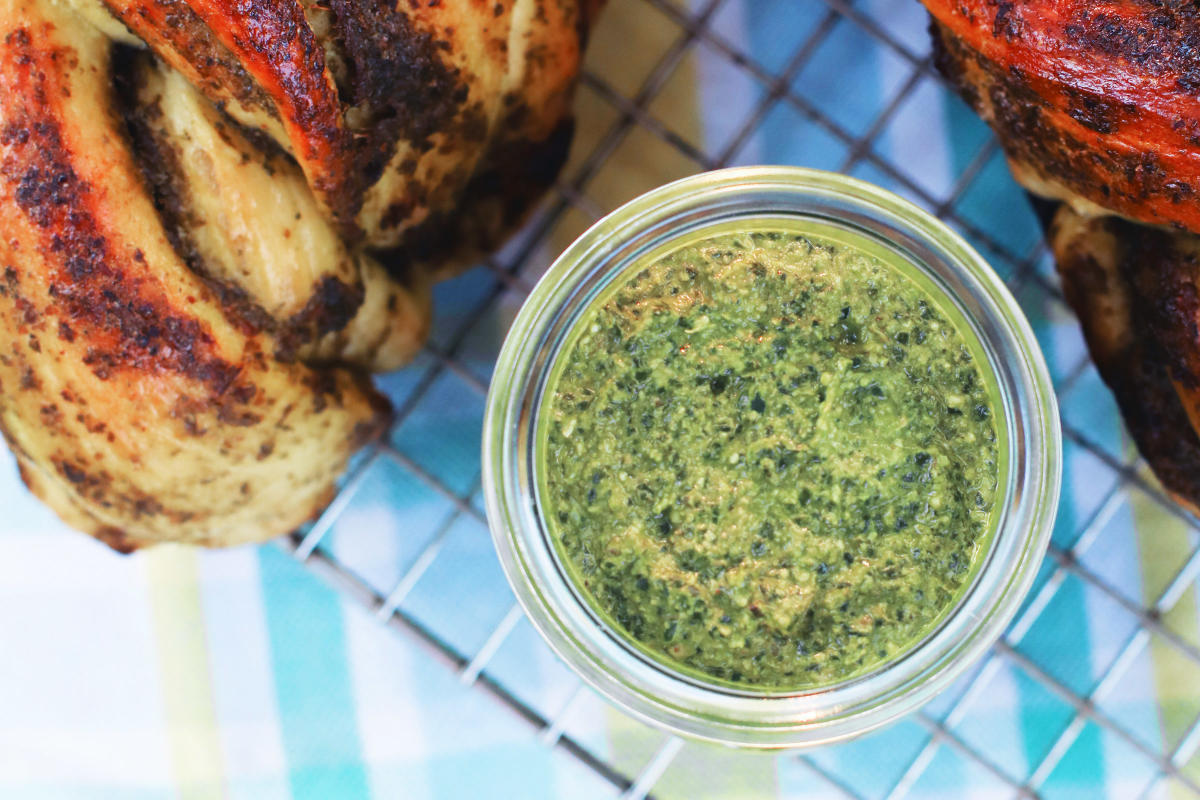 "Dandu culinary fusion" is evident in Kamila's version of spiced pesto, which can be used on pizza and bruschetta, in pasta, as a marinade, and spread on grilled cheese sandwiches. It is also an essential ingredient in her savory bakka-style twisted bread, a feast for the eyes as well as the palate. | Featured in Taste of Kansas: Danduland


Yield: About 1 cup

 
Ingredients
•     3 to 4 garlic cloves
•     ¼ cup pine nuts, toasted (almonds or walnuts may be substituted)
•     4 green chilies (less or more to taste)
•     2 cups packed basil
•     Salt, black pepper to taste
•     ½ to ¾ cup olive oil, and extra for covering finished pesto
•     2 tablespoons lemon juice or to taste
•     ¼ to ½ cup Pecorino Romano or Parmesan cheese
Directions
1.    Pulse garlic, toasted nuts and green chilies in food processor until coarsely chopped.
2.   Add basil, salt and black pepper
3.   Gradually add olive oil and lemon juice, process until fully incorporated and smooth. (Begin with lesser amounts and add more to achieve desired consistency.)
4.   Add cheese and pulse lightly to incorporate. Check for seasonings.
5.   Place in a jar or covered container. Cover top of pesto with a layer of olive oil to protect from darkening. Keeps in refrigerator for several weeks.