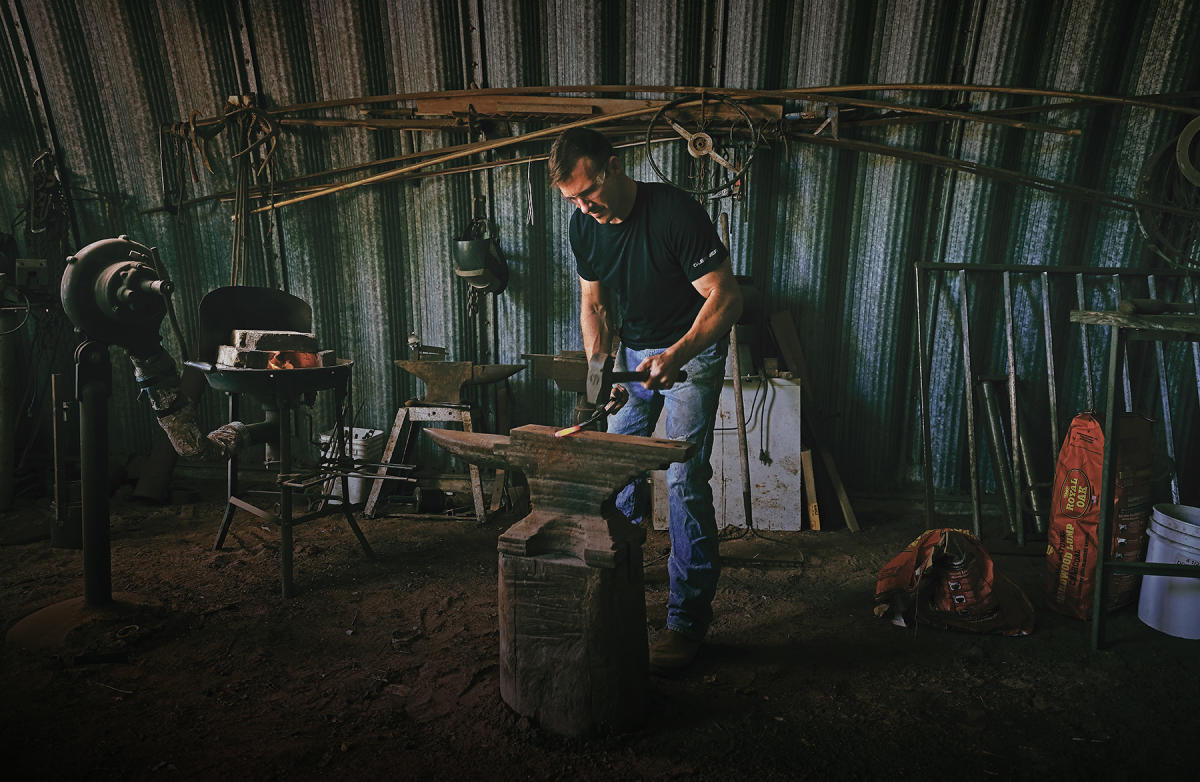 Kansas has changed rapidly over the past decades, with some 70 percent of all its citizens now living in metropolitan areas.
That means it is increasingly rare to live in a rural region. But across the state, there remain thousands of people who settle in and thrive in smaller communities and on farmlands.
Here are three stories of people and families who could have taken opportunities in urban areas throughout the nation but became rural by choice.
'I wanted to be here'
Tayla Kimball McNally is the fifth generation in her family to live in the Gyp Hills of Barber County, on land that her ancestor Jasper Kimball bought in 1904. She and her husband, Pake, are raising their 8-month-old son, Jasper, on this property. So, he is now the sixth generation.
Tayla attended Colby College and then lived and worked in South Carolina and Georgia. She returned home following her father's death in 2005.
"I worried about what would happen to the family farm," says Tayla. "I wanted to be here. I wanted to make sure the farm stayed as it was. I had big plans for it at the time. I still have big plans—training horses."
For now, Tayla works two days a week at a local veterinary clinic and the rest of the time takes care of Jasper. She says rural Barber County is her ideal place to do this. "Now that we have a son, I can't imagine living anywhere else," Tayla says. "He'll get to go riding out on the pastures, just like I did growing up."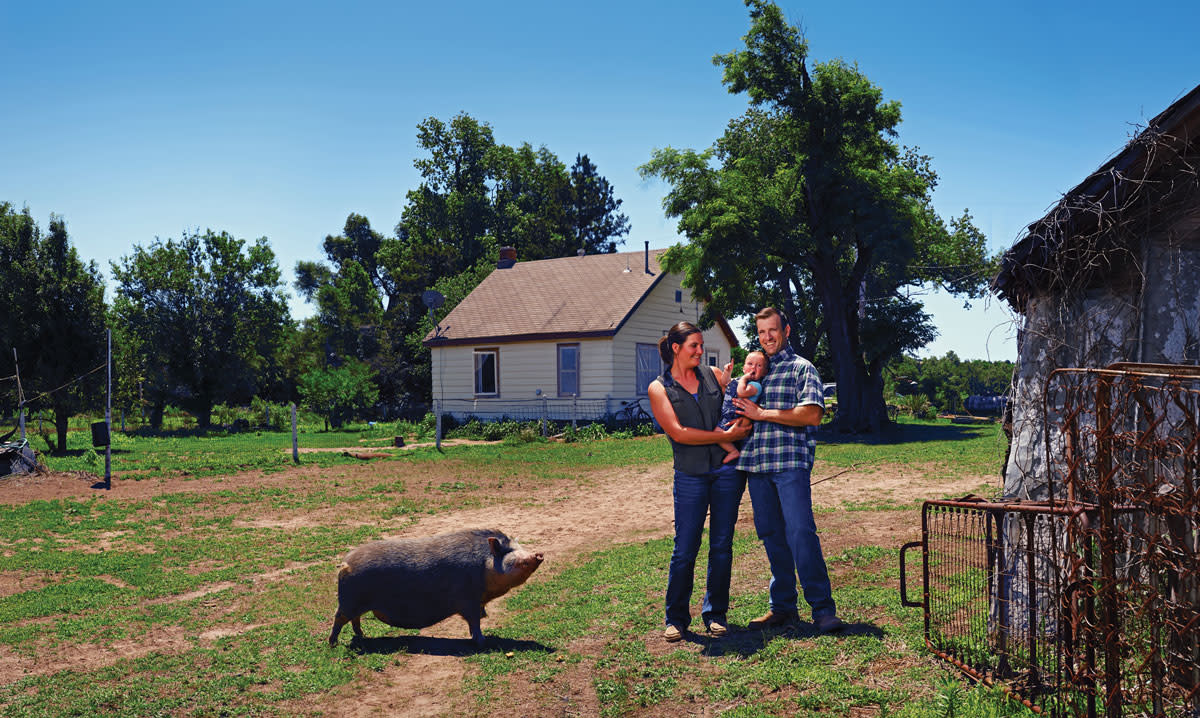 Pake has also found his niche in the country. A former wildland firefighter and blacksmith, the 33-year-old has created a line of customized workout equipment, particularly for firefighters, police officers and jujitsu enthusiasts. For him, Barber County is also home, and he is the third generation to live in the area that he says he wouldn't trade for anything.
"We live on a dead-end road with a multimillion-dollar view," says Pake. "Living in a town would be handy at times, but you can't beat the quiet and solitude out here."
"The peace," Tayla adds, "makes up for any inconvenience."
'A connection and responsibility to it'
Jason Schmidt is a fifth-generation farmer on land that goes back to his Mennonite ancestors, Henry and Maria Schmidt, who emigrated from Russia and homesteaded the farm near Newton in the 1870s.
As a student, Jason spent time in South Africa in an exchange program and lived for a while in Colorado, where he learned organic farming and grass-fed grazing methods. He realized he wanted to try those on his own land one day.
"Initially, I said the way I want to farm is more important than where I want to farm. But then, more and more I realized that location might be just as important as how I want to farm. I felt a pullback to the landscapes and communities I grew up in," he says. "I felt a conviction and responsibility to it."
By the time he returned to his family's land, it was with his wife, Carol Longenecker Schmidt, who both works remotely and commutes to her job as a state attorney in Topeka. Though she grew up in Virginia, she has been willing to give rural Kansas a try—for herself and for the couple's two children, Greta and Ethan.
"I appreciate the quiet, living close to family and having space for the kids to explore outside," Carol says.
Working each day on the farm, Jason has slowly made it his own. He switched the dairy herd from Holsteins to Jerseys, getting away from grain feeding and exploring the environmental benefits of managed grazing. He is trying direct marketing and—for the first time—making cheese in response to lower milk prices, but also because it has connections to his family's past.
Grazing Plains Farm has hired a cheesemaker and is making cheese curds and Havarti cheese. Schmidt sells to a local grocery and coffee market in Newton, the Grace Hill Winery near Whitewater and to the Farmers Market in Wichita. He also plans to use an old Mennonite recipe from Prussia to create Tilsit, a pungent, semihard yellow cheese.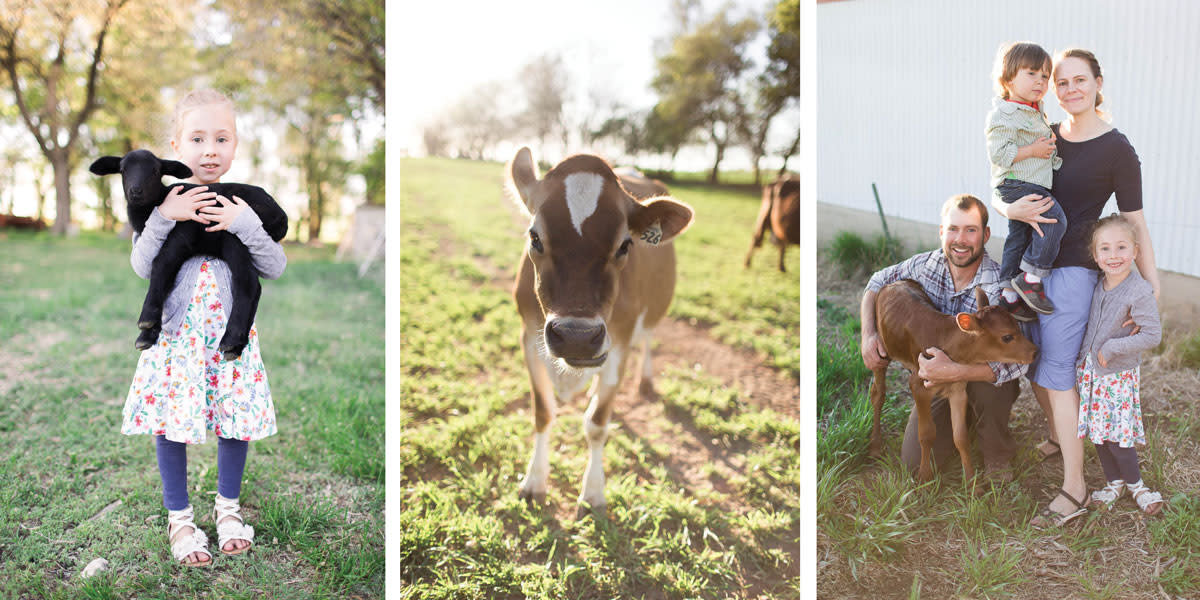 Jason has also adopted a family tradition of renaming the farm, as has each generation before him. His parents called it "Sweetwater Holstein Dairy Farm," but Jason and Carol chose "Grazing Plains Farm."
"I wanted to describe the location and farming practices," says Jason, "its location and identity for how I want to farm."
Singing a new tune
Born in California, Rankin Fisher first came to St. John, Kansas, in 1974 when his dad chose the area for semi-retirement. Graduating from high school in 1984, Fisher returned to California to serve in the U.S. Navy, later became an ecumenical music coordinator for the naval base in San Diego and spent 30 years as a professional opera singer.
But in 2015, he found himself yearning for family and friends back in St. John.
"One of the reasons I came back was to have my own life to myself," Rankin says. "It doesn't mean becoming a hermit. I wanted to come back and live simple, have fewer worries."
He soon took a post as the night manager at White's Foodliner, the local grocery store that community members had worked to keep open. Residents soon knew Rankin as the man in the store's singing commercial videos that were posted online. He's worn tuxedos, kilts and white suits while singing to announce store specials. Since the store opening in October, he's produced a video for Christmas, Valentine's Day, St. Patrick's and Mother's Day.
"There are no small roles, just small actors," Rankin says. "I am a big actor in St. John, and what matters to me and the Foodliner is trying to keep the town and area happy. The videos are always food for conversation."
And for Rankin, the best place for that dialogue is the land he chose to stage his encore.
More Articles You'll Enjoy