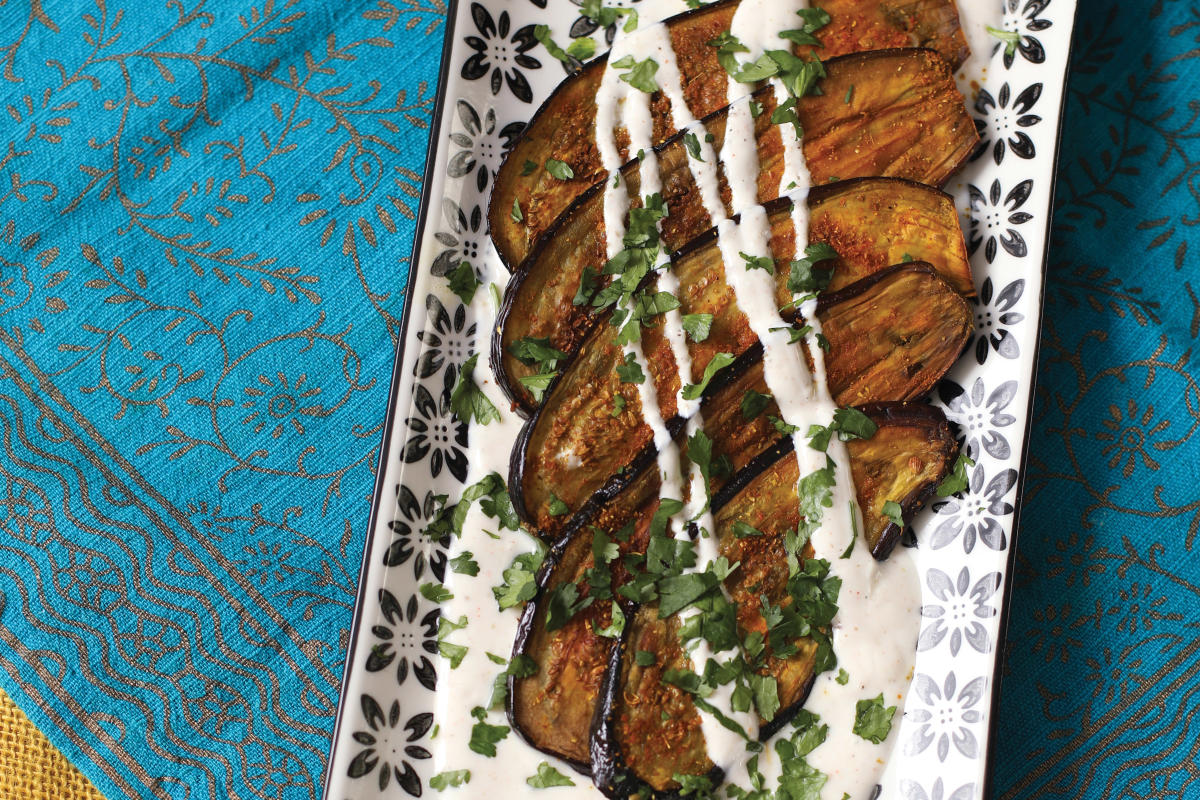 Dandu's garden includes more than a half dozen varieties of eggplant. She makes the occasional eggplant parmesan but prefers to roast or grill her eggplants. This particular recipe can be adapted to the grill. | Featured in Taste of Kansas: Danduland 


Yield: About 4 side servings

 
Ingredients

Eggplant
•     3 to 4 long eggplants or 1 large, cut into ¼-inch slices
•     Olive oil
•     ¼ teaspoon turmeric powder
•     ½ to 1 teaspoon chili powder
•     ½ to 1 teaspoon coriander powder
•     ¼ teaspoon black pepper
•     Salt to taste
 
Yogurt Sauce
•     1 cup plain yogurt
•     cup buttermilk or water
•     ¼ to ½ teaspoon each: chili powder, paprika, cumin powder and coriander powder
•     Salt to taste
•     2 tablespoons fresh coriander leaves (cilantro), chopped, if available
Directions
1.    Preheat oven to 425 degrees F.
2.   Place foil or parchment paper on baking sheet for easy clean up.
3.   Place eggplant slices on baking sheet, spray or brush with olive oil.
4.   Mix all eggplant spices together in a small bowl. Sprinkle over eggplant slices; turn and repeat.
5.   Bake/roast about 25 to 30 minutes or until golden brown. Remove from oven and allow to cool.
6.   Yogurt sauce: In a medium bowl, mix all sauce ingredients until combined. Spread some yogurt sauce on serving plate/platter. Place eggplant slices on top of yogurt sauce and drizzle with additional sauce. Sprinkle with coriander leaves.