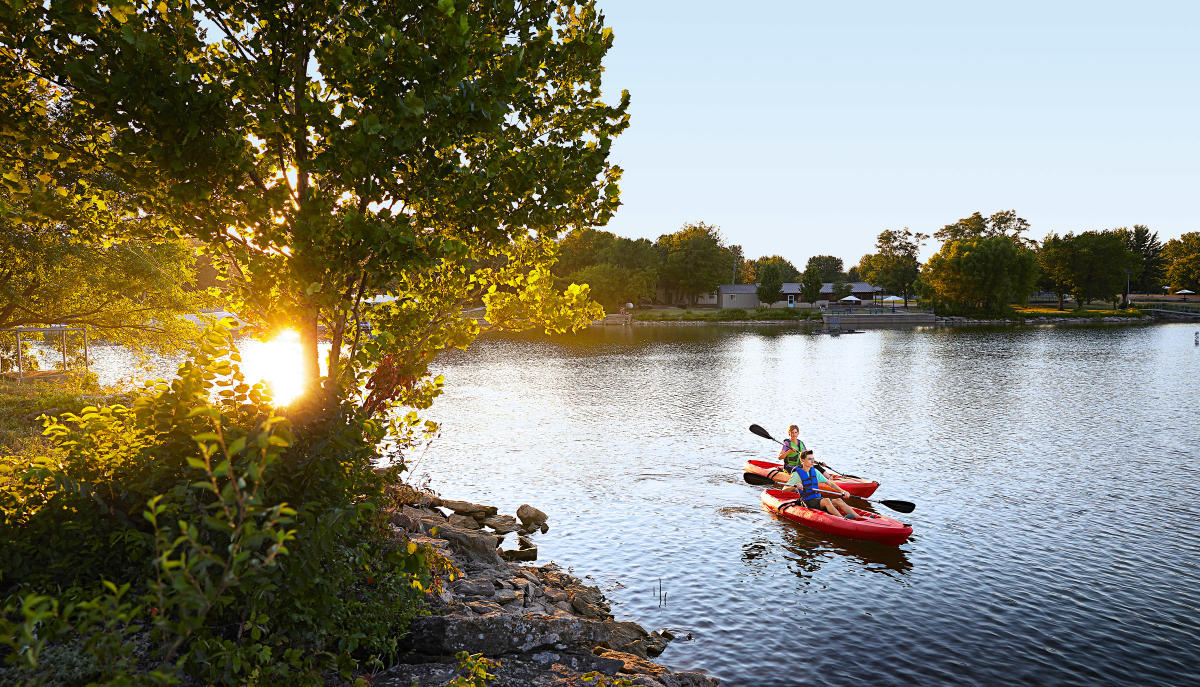 Photography by Kansas Tourism
Blair Sutton loves all sorts of outdoor adventure, including kayaking the lakes and rivers of Kansas. It's a sport that benefits from repeat, year-round trips along the same route, he notes, because seasons in Kansas bring big changes in the water flow and landscape—vistas open as the leaves fall and bird migrations bring in waves of wildlife.
With a wide network of state parks and plenty of access points along the state's two National River Trails (the Kansas River and the Arkansas River), Sutton says there is plenty of opportunities to paddle. "On an evening after work, grab your kayak and go to a local county fishing lake or Army Corps of Engineers reservoir," he says. "You can paddle for a couple of hours to take in a great evening sunset."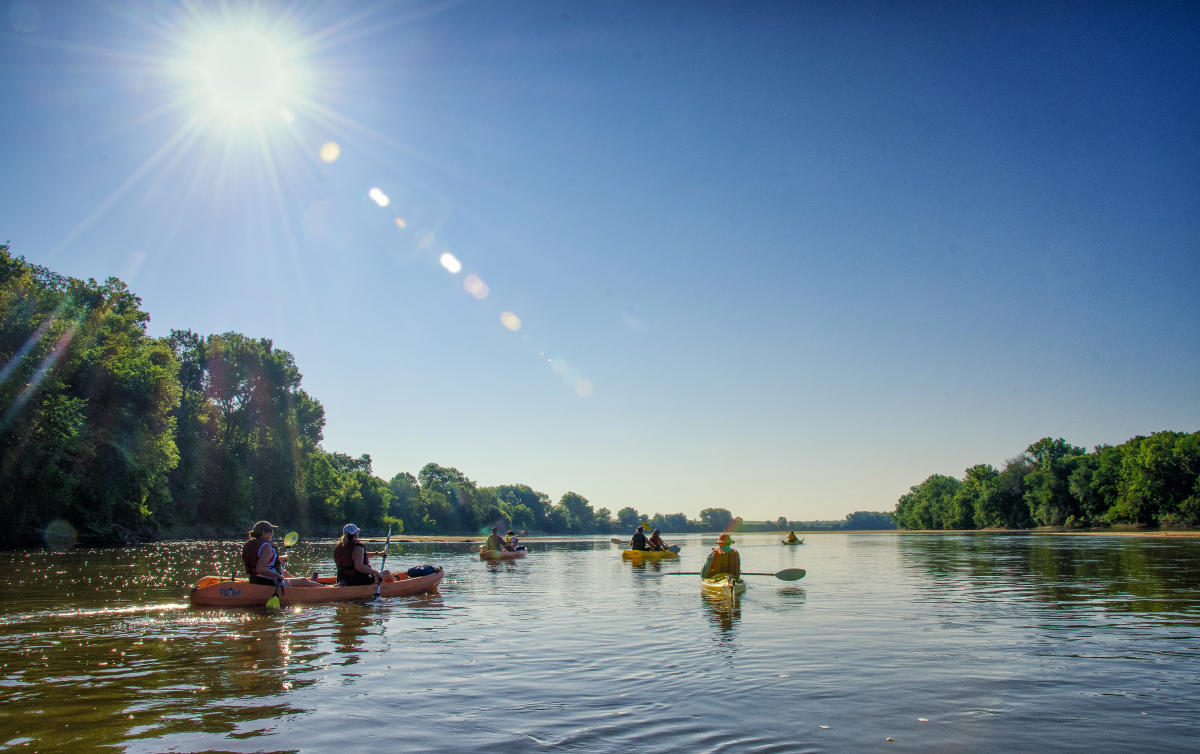 Sutton does note that the state's river conditions can vary greatly from week to week. Organizations such as the Friends of the Kaw advise on river current strengths for safety, and ranger staff at state parks can caution when conditions might be hazardous at the park lakes. But ultimately, every kayaker or canoe paddler is responsible for outfitting themselves with essential safety gear.
"Before you put your kayak in the water," Sutton says, "make sure you know the water conditions and have a plan. Next, grab your sun protection, hydration and life jacket."
Blair's Paddling Tips & Gear List
A life jacket specifically made for kayaking has pockets for small items and a high waist-cut so the jacket doesn't interfere with the kayak seat.
 
Include gear that tames the elements as much as possible. Mosquito repellent and high-SPF sunscreen (one specifically for your face and one for the rest of you) will make sure mosquito bites and sunburn don't spoil an otherwise serene day on the water.
 
A waterproof bag will protect your wallet and cell phone.
 
A wide-brimmed hat will keep the sun off your face and neck.
 
Polarized sunglasses with a strap provide the clearest view to enjoy sunrises and sunsets.
 
Shoes with toes protect your feet when you are launching and landing your kayak.
 
Gloves without fingers allow dexterity while protecting your hands from blisters.
 
If you can afford to upgrade, lighter paddles will make it easier on your arms and shoulders on a long day.
 
You'll be glad to have a pump to get the water out of the kayak.
 
An insulated water bottle will keep water refreshing on hot days. Bring 16 ounces of water per person per hour on the river. Keep our lakes and rivers clean by avoiding disposable bottles.
 
When it comes to kayaks, the modern boats are a lot more comfortable, with better seats and better padding.