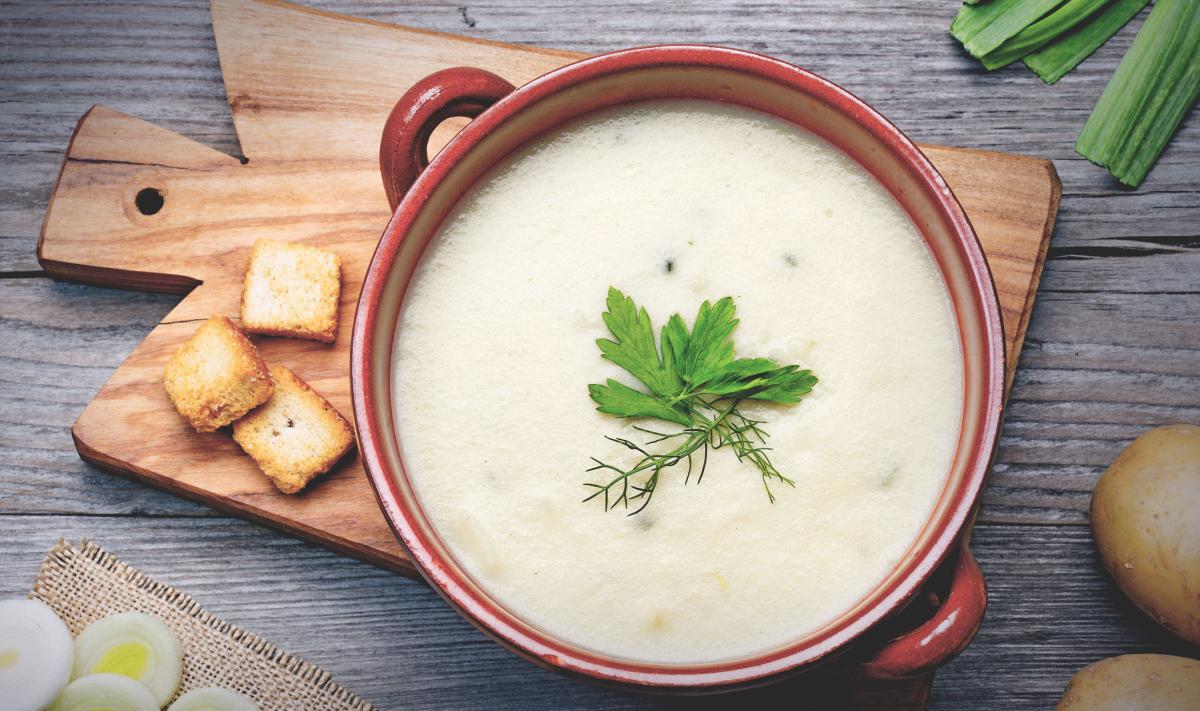 Featured in the fall 2013 issue of KANSAS!
 
Ingredients
• 4 large leeks (about 2½ pounds)
• 3 tablespoons butter
• 3 pounds russet potatoes ?(4 large bakers)
• Heaping teaspoon kosher salt, ?or to taste
• 2 cups milk
• Unsalted poultry or vegetable stock or additional milk
• Freshly ground white pepper
• Snipped chives, for garnish
 
DIRECTIONS

Slice the white and pale green parts of the leeks (everything that is closer to white or yellow than green) crosswise and place in a bowl of water. Pull apart the rings and swirl to remove any dirt. Lift the leeks out of the water and drain in a colander. Use the same water to wash the heavy green tops; save these for poultry or vegetable stock. Melt the butter in a soup pot over medium-low heat.
Add the leeks and cook, stirring occasionally, until wilted.
Meanwhile, peel the potatoes and cut into 1-inch cubes. Add the potatoes to the pot with water to cover. Add the salt, bring just to a boil, and simmer over low heat until the potatoes and leeks are both tender. Remove from the heat and let cool. Purée the soup in a blender in batches, and then strain it through a coarse sieve; or better still, put the soup through the medium disk of a food mill which purées and strains in one action. The soup base can be made to this point up to two days ahead of time and refrigerated.
Combine the soup base and milk, and add stock or more milk as needed to bring the volume up to three quarts. Season to taste with salt and pepper and reheat over moderate heat, stirring frequently; do not let the soup boil after adding the milk.
More Recipes for You to Enjoy