The historic riverfront town in eastern Kansas is known for spooky homes, ghostly legends and things that go bump in the night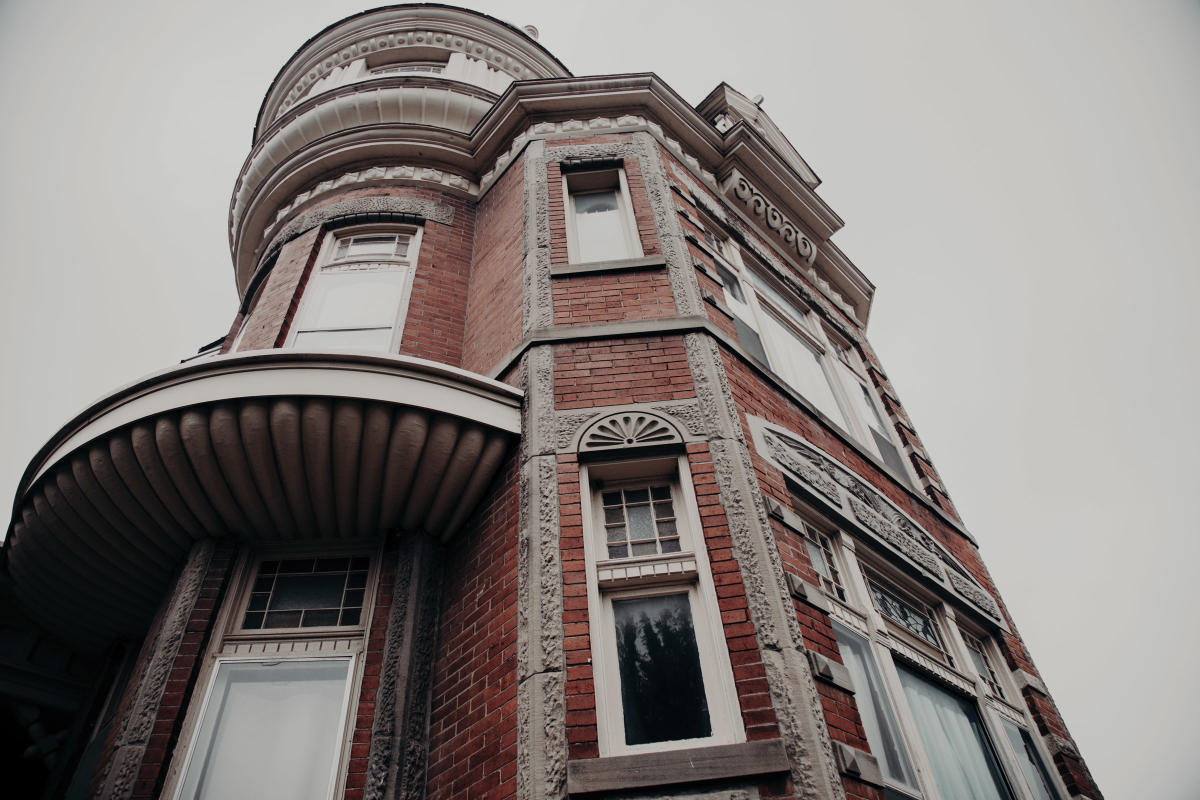 Story by Beccy Tanner with Lisa Waterman Gray & Photography by BriJoRae' Pusch-Zuniga
It's that inexplicable feeling between slight apprehension and mortal fear one might have when tippytoeing among reputedly haunted sites in Kansas.
Every region of Kansas has one of these heebie-jeebie–giving sites, if not several.
Go during the day. Or at night, if you dare. It doesn't matter when. You are likely to have a feeling you aren't alone.
And depending on whom you ask, you might not be.
The Harris Poll, a market research and analytics company, conducted a survey in 2013 showing that roughly 42 percent of Americans believe in ghosts. And most who don't believe in ghosts are not averse to encountering them. Touring haunted locations has become a popular pastime.
Nationally, ghost hunting has been featured on television shows and is the subject of countless books, YouTube videos and events across the nation. The popularity of the TV shows and movies has created a niche market—paranormal tourism.
In fact, one of the most popular blog posts on TravelKS.com, the state's official tourism website, is one that details the 13 spookiest places in Kansas.
But of all the haunted spots in Kansas, Atchison is best known for apparitions. According to Lisa Hefner Heitz's 1997 book, Haunted Kansas: Ghost Stories and Other Eerie Tales, the city along the banks of the Missouri River is the most haunted town in Kansas.
"Atchison appreciates its ghosts. Atchison cultivates its ghost stories. This historic and beautiful Kansas town along the banks of the Missouri River abounds in legends of all kinds—ghost legends in particular," writes Heitz. "Nestled among the hills and river bluffs, Atchison has a unique sense of history, demonstrated in its commitment to preservation of its historic landmarks, original brick streets, magnificent 19th-century mansions … [and] a truly impressive collection of ghosts!"
Go to the visitatchison.com website, click on "Haunted Atchison," and you'll discover that there are a plethora of places in town for those who enjoy otherworldly diversions, making the city a hotspot for ghost-seeking tourists.
The haunting experience is big business.
"I would say that 90 percent of the online traffic that we see through our websites and social media is haunted-related," says Andrea Clements, deputy director for the Atchison Area Chamber of Commerce. "And I would say maybe 70 percent of the visitors that we see here at the Visitors Center or interact with are here because of something related to haunted."
Since Heitz's book came out, national celebrity ghost hunters have flocked to the city.
"It has just skyrocketed," Clements adds. "I think it's [a factor with] the unknown. I think with people, even if they are not true believers in the paranormal world, there is still a level of curiosity. It's something you can explore on your own and take in as much or as little as you want."
During the Covid pandemic, interest in Atchison's ghostly tours increased, Clements says, in part because families could tour haunted places together by making reservations and not be exposed to others.
But the height of ghost tourism season is always in the fall, toward Halloween. And this year, as always, Atchison—with all its haunts and ghosts—will be waiting.

The McInteer Villa
It is a monstrous two-and-a-half–story mansion encompassing nearly a city block.
When I visited in late spring, dark rain clouds hung heavy over the villa and its four-story turreted tower.
Spooky?
Indeed. And that is why it has become such an attraction.
John McInteer, for whom the mansion is named, was an Irish immigrant who settled first in Philadelphia, then Indiana, and finally in Kansas by the early 1860s. Having made a fortune manufacturing harnesses and saddles that he sold to Euro-American settlers moving into the West, he built his namesake Queen Anne brick mansion in 1889–1890.
Over the decades, when it was not used a private residence, the McInteer was a rooming house. It is also believed to have been the site of nine deaths, a fact that—if you believe in such occurrences—accounts for its numerous reports of haunting.
Stephanie Neal, the current owner, offers tours and overnight stays in the home, now decorated with a haunted house motif. The house feature skeletons, skulls, Chuckie Dolls and other creepy factors along with gorgeous woodwork, winding stairs, stained glass windows and wood floors that creak in the night.
Neal said she became interested in searching out paranormal experiences about eight years ago. That's when she and her husband spent a night at the Crescent Hotel in Eureka Springs, Arkansas, long considered one of the most haunted hotels in America. There, she had a haunting experience with room service and a squeaky food cart—though that type of service wasn't offered when she heard it—at 3 a.m.
After the Neals and Stephanie's father bought the McInteer in 2018, they began having their own experiences in Atchison.
After he installed a chandelier on the first floor, Jeff heard a woman's voice tell him "That looks nice."
He was, of course, alone.
Paranormal experiences, Stephanie Neal says, are a little like riding a roller coaster.
"You get that really nervous feeling and then you want to do it again," she says.
Visitors who spend the night are encouraged to bring their own bedding. Beds are full and twin size, not king or queen.
Those who don't want to spend the night may tour the house in a group of up to 10 people.
Neal says visitors come to the home for many reasons, but mostly out of curiosity.
"I have a woman who's probably been here 10 times with her daughter," Neal says. "I think they enjoy the scared feeling. They've made friends with the spirits in the Villa. She says, 'Hi Frank!' I mean, she knows more about who is roaming the house than I do. And then other people like the history—what might have happened here. Others are more scientific about it."
Those scientific-approach visitors have included Brian Murray and Richel Stratton, paranormal investigators on the A&E television show Ghost Hunters.
Murray noted they were particularly intrigued after a backpack weighing 50 pounds fell off a couch inside the villa.
"Richel and I would say [McInteer Villa] was very active," Murray wrote in an email. "We had a very large group inside McInteer, and we still had footsteps, shadows, whistling, and objects moving."
Neal welcomes visitors who bring in cameras, gadgets and meters. "I like that they do this, but I like to hear things with my own ears because, to me, that is a little more terrifying."
Indeed, as she is showing visitors the second floor there is a small noise.
"Did you hear that? It was like someone whispered 'Hey!'"
In the visitors' book, people share other experiences. Erik Knapp, who stars in the paranormal reality show Hunting the Haunted, wrote in the journal on November 10, 2019, "this place is amazing! We had some crazy things happen to us over the weekend we were here. This place definitely overwhelmed some of our guests and 100 percent gets my haunted location approval. Thank you Kansas, it's been real."
And still another visitor on October 10, 2020, wrote from the group Women Investigating Spirit Phenomena, "…we saw 2 stick figures that were in the Attic and on the 1st and 2nd floors as well. Did not go to basement, had a bad feeling about that. Our music box went off. A lot! Had to shut it off in the Library as it would not stop. K2 meters went off in many rooms. Lots of activity in the kids room, but none in Lucy's room or Goldie's room. Saw a couple of shadows and curtains moving. Will review tapes (video) once we get home."
Neal says the actual ghost population might be larger than she realizes.
"I don't know how many spirits are here. I've been told there are lots of children here who play hide and seek. I've heard babies, men and women. I heard little kids and heard someone with a British accent."
Murray said he plans on returning to the haunted mansion.
 "McInteer Villa is absolutely haunted, and we will be back for more haunts," he wrote.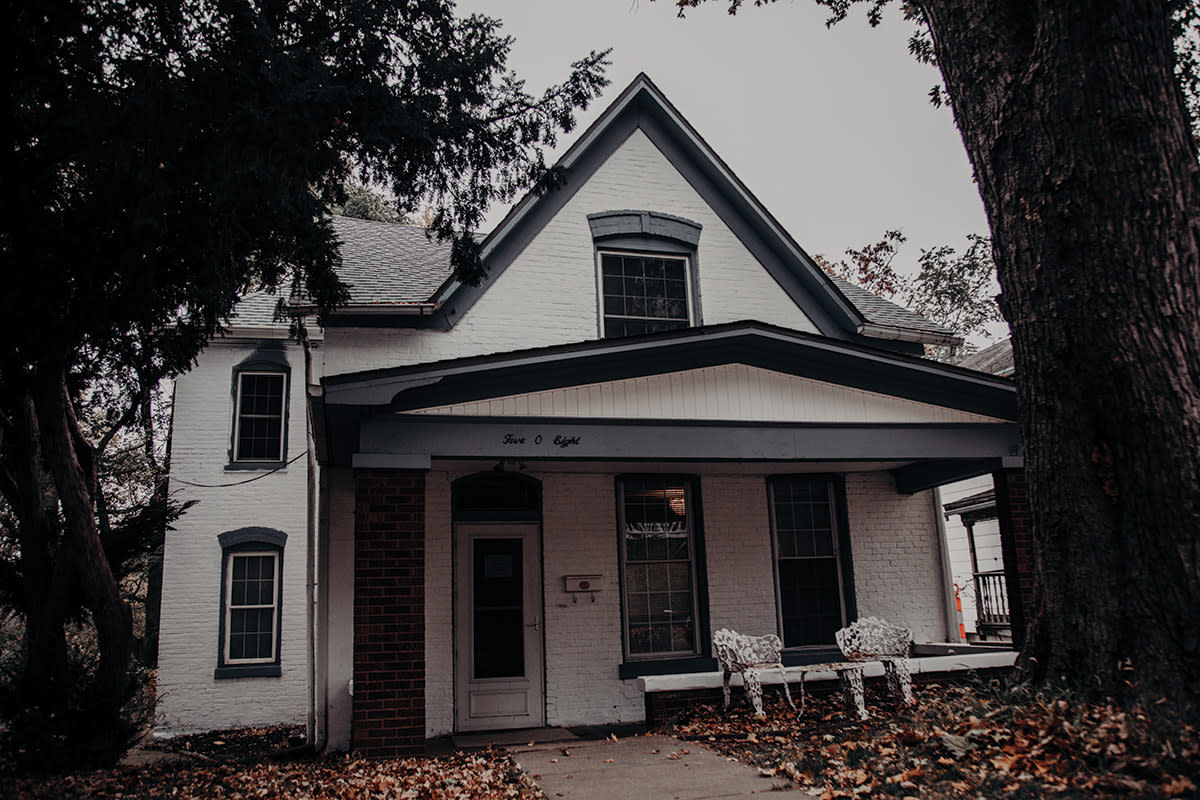 The Sallie House
As haunted as the McInteer Villa is reported to be, the title for the most haunted home in the most haunted city most often goes to the Sallie House.
Built sometime between 1867 and 1871, the Sallie House became the residence of Dr. Charles C. Finney, who is believed to have used the downstairs front rooms as an office and patient examination space in the late 1800s. The story goes that one night, a mother rushed in with her 6-year-old daughter, Sallie, who was suffering from abdominal pain. The doctor thought it was appendicitis and that the young girl was in danger of her appendix soon bursting.
In a rush to perform life-saving surgery, the doctor administered anesthesia, but it had yet to take full effect by the time he began to operate. The girl screamed in pain and soon died on the operating table. Her spirit would become the first that is believed by some to haunt the premises.
The Finney family continued residing in the house for the next several decades, and then a single woman lived there for the better part of the middle of the 20th century. It wasn't until Tony Pickman and his wife, Debra, moved into the house in 1993 that the house gained notoriety.
Over the course of the next two years, Debra and Tony noticed strange apparitions. Tony would suffer mysterious cuts, rashes, and abrasions, and the house would manifest abnormal cold spots, all of which were documented by Sightings in a series of in-depth reports and later examined by numerous other national and local programs. Sightings was the first to document the phenomena, but the details have since found their way into the vernacular of those who follow the paranormal.
Video tours of the home have appeared on A&E, the Travel Channel, the Discovery Channel, Syfy, and in other national media outlets. Many who tour the house or stay overnight have reported seeing apparitions or hearing voices during their visits. Others have claimed to witness toys moving in a child's room or noticing a girl's voice from a bedroom closet.
For the past years, the Sallie House has been owned and operated by Visit Atchison, the city's official tourism office. The organization arranges all tours and overnight stays and includes the home as part of its official tour of the city's most haunted locations.
Here a Haunt, There a Haunt
Ghost-story writer Lisa Hefner Heitz notes that Atchison "scored additional points for its innovative yearly salute to its least visible residents" through its Haunted Atchison Trolley Tours, which takes riders past the most haunted areas of town during the fall. In addition to McInteer Villa and Sallie House, be sure not to miss these other haunted Kansas locations …
Spirit's Mile
According to legend, on this spot along K-7 Highway, witnesses have seen misty apparitions standing on the roadside and the likeness of deceased friends passing by in cars.
The Braun Home
Built by German immigrant Henry Braun, this house remained a family home for many years after Braun's wife, Anna, died here and then continued to visit as a spirit. She has been believed to send keys flying from a pegboard and to play the parlor piano.
The Shisler House
Visitors to this late-1800s home have reported hearing footsteps, noticing sudden chills, and spotting unexplained movement of furnishings. The incidents are often attributed to a young girl who died from rheumatic fever in the house.
622 N. 4th Street
Unexplained orbs have appeared in many photographs taken of a framed picture inside this Victorian home. Paranormal investigation even captured footage of orbs emerging from the picture. Docents have also reported hearing mysterious footsteps coming from the upstairs.
101 Commercial Street
Built in the 1870s, this building has served as a railroad office, a boarding home, a brothel and a restaurant. After the building became a restaurant, managers reported that lights turned off when nobody was near a switch and that unexplained footsteps could be heard from the upstairs.
Theatre Atchison
Several ghostly encounters—including doors rattling and voices calling out—have been reported from this late 1940s building.
Waggener Home
Built in the mid-1880s, this ornate Victorian home has appeared on the Travel Channel in a segment about its reported history of mysterious gargoyles and hauntings.
Evah C. Cray Historical Home Museum
Various apparitions and unexplained sounds have been reported at this house, believed to have been built over the city's first graveyard.
More Articles You'll Enjoy