A first-hand account of a night spent in the McInteer Villa, one of Atchison's most haunted homes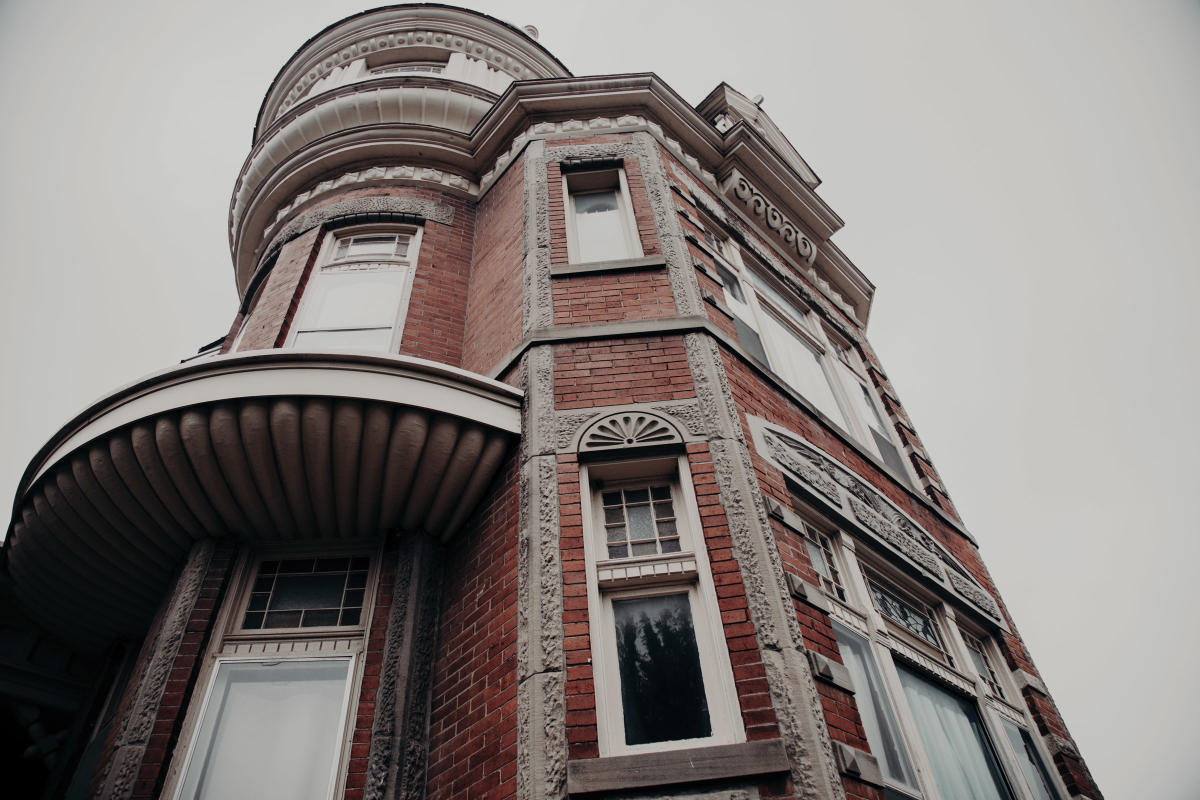 Photography by BriJoRae' Pusch-Zuniga
In the midst of a pandemic, KANSAS! magazine called, wanting to know if I'd spend a night in Atchison's haunted McInteer Villa.
I've been asked to do many things in my journalism career, but this was a first.
Sure, I said, but could I take a friend with me?
I took two.
First was Diane Getty, a friend from St. John since kindergarten. She's a no-nonsense kind of farm woman who has your back and doesn't put up with foolishness.
Next was Kent Burklund, a retired calibration technician from Wichita's Spirit Aerosystems. He's a gadget guy who counters with logic and common sense when it comes to approaching the seemingly inexplicable.
The two were a great combination for a night of thrills and chills.
But even then, I wasn't taking chances.
I decided we would all sleep in the same room.
Even though we were all well beyond our sleepover party days, we laid our sleeping bags on the floor close enough to watch over one another.
Diane later moved her sleeping bag to a Victorian fainting couch in the front room, but we were still all gathered on the first floor because we didn't want to negotiate the winding stairs on the second floor or attic. It was more convenient that way, but I also knew that if we were spooked, we could get out quickly.
Little did we know what awaited.
At 8:30 p.m., we heard footsteps on the stairs.
A quick investigation revealed this was Kent, setting up two digital cameras and specifically a REM-pod, a Radiating EM Antenna Paranormal Ghost Hunting Tool, loaned to us by Stephanie and Jeff Neals.
As he was setting up his equipment, a door on a second-floor room mysteriously popped open as he walked by. That wasn't Kent.
"At the time, I thought it was an old door. I thought well, it's just the vibration and the walking that popped it open. But the door just opened right as I walked by," Kent said.
While he had the cool gadgets, I was tasked with a K2 meter, a magnetic field detector that can detect energy such as that found in electrical outlets, cell phones and perhaps … ghosts?
Its lights flashed occasionally for no reason I could explain.
At 8:46 p.m., Kent spoke directly to the ghosts, asking them to make themselves known.
Nothing happened.
Or so we thought.
Things got spookier as the night went on.
In the middle of the night, I accidentally knocked over a life-size decorative witch doll who shook and trembled as I caught her and put her back in place.
Diane said she was "creeped out" by some of the decorations in the house but that had more to do with décor preference than paranormal activity.
"I had a lot built up in my mind," Diane said. "But I don't feel like there were any odd experiences while we were there."
Call us boring old folk, but it was the architectural details of the house that fascinated us the most. The villa features exquisite woodwork, carved wood railings and stained-glass windows. According to the house's nomination form for the National Register of Historic Places, it was built around 1889–1890 for an estimated cost of $14,000. We wondered what it would cost to build today.
"Its chief significance is in its appearance; its remarkability is signified by the abundance and overabundance of ornamentation and detail in stone, brick, wood and metal," the form reads.
It is a fine structure.
But even nice architecture gives way to the imagination in the deep of the night.
At 3:30 a.m., I woke to the sound of low growling, a few feet from my head.
I was terrified—until I realized it was one of my fellow ghost hunters snoring. Not long after that, the middle cushion of Diane's Victorian couch was mysteriously pulled out from under her. If anyone asks, I'll blame a ghost for that one, a ghost who allowed me to sleep until daybreak.
By 7 a.m., we were dressed and ready to leave the house.
The only ghosts any of us had encountered were the growlers though, apparently, others had heard the same growling from somewhere around me.
Apparently, we all snored.
We discovered something else after reviewing Kent's footage and electronic records. Sometime during the night, the REM-pod was activated by something. The pod flashed for about 30 seconds and the brand-new batteries went dead. At the same time that the REM-pod activated, the video camera that Kent had placed in the attic recorded what appeared to be tiny flying objects, which when magnified resembled a headless torso.
"I don't have a clue what's going on with that type of paranormal activity," Kent said. "I don't dismiss it."
None of us did.
More Articles You'll Enjoy