A first-hand account of a couple's night spent alone in Atchison's infamous Sallie House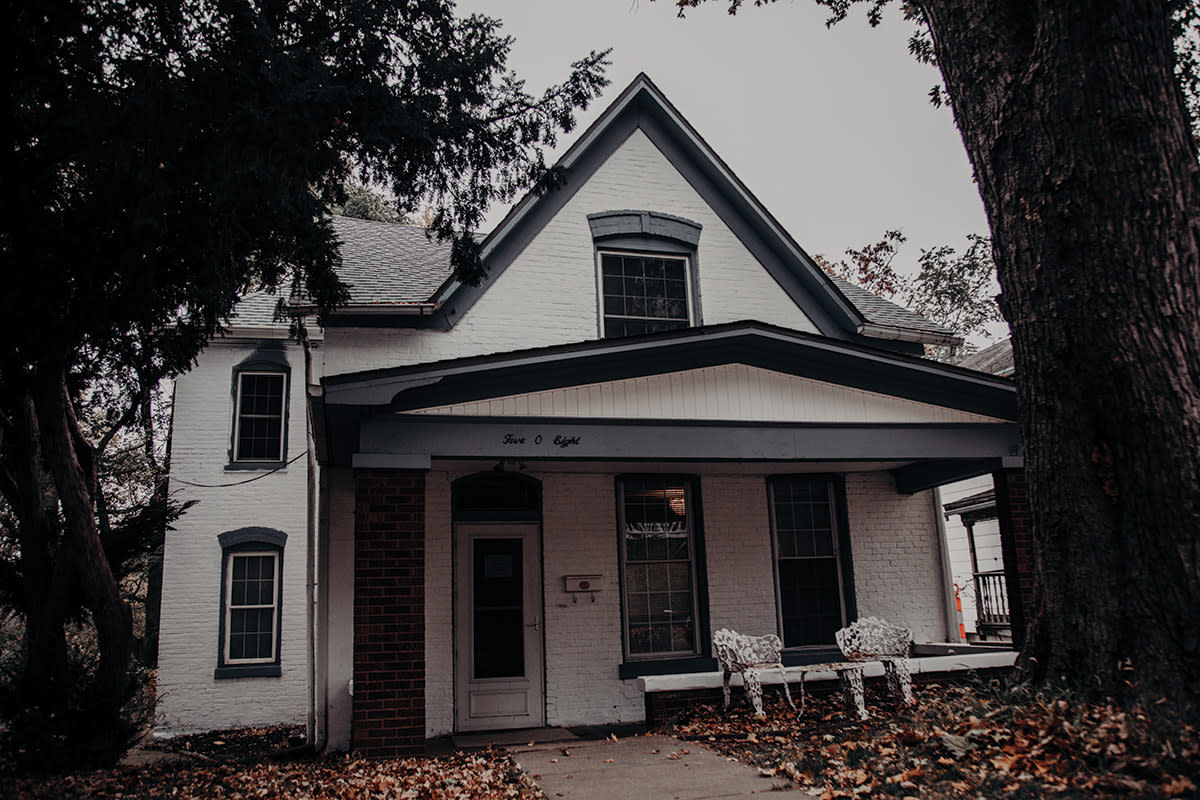 Photography by BriJoRae' Pusch-Zuniga

My wife, Tanya, and I prepared for our overnight stay at the Sallie House just as we might for any road trip. We packed a game to play and loaded up our tablet with a choice of movies to watch. Because it was December, we also brought warm clothes and sleeping bags just in case. And then there was the research theme—that part wasn't typical. Prior to our visit we read about reported hauntings and viewed several documentaries and episodes of the '90s paranormal investigation program Sightings.
Fortified with this knowledge, Tanya and I set out for Atchison on a clear winter afternoon. We hoped to enjoy a nice drive, visit an interesting location and leave with a story to tell the next time ghosts came up in conversation. Though we were well-versed in the particulars of the Sallie House, as well as what paranormal investigators suggest looking for when entering a haunted house, neither of us were traveling to the Sallie House as what you might call "believers." Had we been looking for portents, we might easily have found one when we had to detour from our route to avoid an SUV that had caught fire alongside Highway 59 about 50 miles south of our destination.
We arrived in Atchison as the sun was setting, pulled up on Second Street, parked and walked up to the Sallie House. As we explored the house, Tanya and I were struck by how much cozier the house seemed in contrast to its looming presence in paranormal lore, or simply in contrast to how large it seemed from the front sidewalk. The ground floor rooms were spacious, with the living and dining rooms taking up the better part of half the first floor. The décor was much like you would expect in a house last regularly occupied in the 1990s. The stereo—which is always left on because the house evidently likes it—was fuzzily playing Christmas music as we explored. It's certainly a unique contrast to hear the theme to National Lampoon's Christmas Vacation as you wander around a house with a reputation for being haunted, but it seemed quite normal after an initial inspection.
Since the house itself is in the heart of Atchison's historic riverfront and downtown area, we took some time to explore nearby downtown Atchison and the surrounding neighborhood before the sun and temperature dropped. We figured the ghosts—who had reportedly been haunting for decades if not a century—would not mind waiting a bit to haunt us. After about an hour, we headed back to the Sallie House.
"This is the weirdest Airbnb ever," Tanya quipped as we waited for paranormal guests and dug for silverware to eat the dinner we'd brought with us. The aura was more cozy than creepy. Aside from the clock in the corner of the dining room that chimed every quarter hour, the house was peaceful. Outside, the neighborhood was lit by streetlights, passing cars and homes decorated for the holidays.
The knocking began early—around 7 p.m. Some reports attribute it to spirits banging around the house, but it didn't sound any different from a typical furnace in a house that's over 150 years old. The home we live in is much newer, but the furnace makes nearly as much noise. Predictably, the heat would kick on about 30 seconds after we'd hear the noise though it was certainly unnerving that the knocking started barely five minutes after my mom texted to ask if we had heard any strange sounds.
We listened to knockings and Christmas music played by a St. Joseph radio station as we sat in a drafty, historic house on an old couch and played the game Qwixx at an octagonal table. It felt like a childhood sleepover at our grandparents' house, complete with a bathroom that smelled of bygone-era wholesomeness and old-fashioned bar soap. Ultimately, we turned off the chimes on the dining room clock, threw some sleeping bags on the bed in the upstairs bedroom and had a good night's sleep. If anything, we slept in much later than we would have at home, thanks to the absence of both poltergeists and our cats, who typically crawl all over us for breakfast.
For us, the visit was neither disturbingly paranormal nor boringly normal—it was … lovely. Next time we'll head out earlier in the day to spend some time in and around the town. Thanks for the hospitality, ghosts. Thanks for having us, Atchison. You're both pretty charming.
More Articles You'll Enjoy